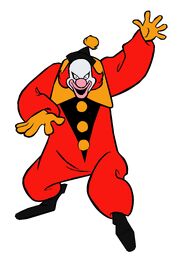 The Ghost Clown is one of the most recurring antagonists of the Scooby-Doo franchise.
History
Scooby-Doo! Where Are You?
He first appeared in the Scooby-Doo! Where Are You? episode, Bedlam in the Big top. He was secretly portrayed by Harry the Hypnotist. He dressed up as the Ghost Clown, He was seeking revenge against the circus because he was sent to prison after he was caught stealing at the circus. In his revenge, he dressed up like a clown and hid in the shadows to terrorize the circus by sabotaging equipment. When Mystery Inc. became involved in the conspiracy, he began turning them into his mindless slaves with his hypnotic golden coin (brainwashing Scooby into walking on a tightrope, Daphne into dressing up like a ballerina and riding a unicycle nonstop, and Shaggy into lion taming). Fortunately, other members of gang snapped them out of their respective trances. After a plan to capture him in a cage backfires, Scooby and Shaggy decide to turn the tables on the clown by making him inadvertently hypnotize himself into acting like a chimpanzee. Afterward, he is unmasked, unhypnotized, and sent back to prison.
Scooby-Doo! Unmasked
He was a common enemy in the 2005 videogame Scooby-Doo! Unmasked
Scooby-Doo! Who's Watching Who?
He was the second boss in the 2006 videogame Scooby-Doo! Who's Watching Who?
Scooby-Doo! Curse of The Lake Monster
He appeared in the 2010 live-action film Scooby-Doo! Curse of The Lake Monster.
Scooby-Doo! Mask of The Blue Falcon
He appeared in the 2013 film Scooby-Doo! Mask of The Blue Falcon.
Scooby-Doo! And The Curse of The 13th Ghost
He recently appeared in the 2019 film Scooby-Doo! And The Curse of The 13th Ghost.
Personality
The Ghost Clown (and by extension Harry the Hypnotist) is one of the most evil and sinister villains of the Scooby-Doo franchise. He took sadistic delight in bringing harm to his hypnotized victims when he programs them to do life-threatening circus acts and releases them from their trance just to rub salt on the wound. He is also excepionally greedy and spiteful as the reason why he was arrested was because he stole some money and seeked revenge against the circus for this even though they had every right to. He is implied to have a flexible side when it comes to terrorizing his victims as he doesn't just use hypnosis to handle them. He sabatoged the equipment some of the performers were using and he locked Fred in a costume closet.
Gallery
Trivia
The Ghost Clown was one of the first Scooby-Doo villains to actually attempt to kill one or all of the main characters.

Though how he does it has kept his attempt murders to be suitable for a kid's show. He doesn't directly kill Scooby, Daphne, or Shaggy, but he puts them in dangerous circus performer-like scenarios.
For some reason, the Ghost Clown likes to release his victims from their trances while in the midst of the dangerous scenarios. This is most like so that they'll end up accidentally killing themselves because they do not know how they got in these scenarios in the first place on account of being hynotized.

He does this to Scooby and Shaggy, but for some reason doesn't bother with Daphne.

The Ghost Clown's final capture is quite possibly the most unique captures ever performed by Mystery Inc., Shaggy and Scooby trick him into hypnotizing himself.
In 2008, a Ghost Clown action figure was released.
In 2019, Hallmark released a Scooby-Doo Christmas ornament with The Ghost Clown, The Creeper and the Phantom Shadow.
The scene where he hypnotizes Daphne is one of the more popular scenes in the show.
It is shown that whenever a victim of the Ghost Clown's hypnotism is brought back to their senses, they do not recall what happened to them when he brainwashed them. This is a little elaborated on when Daphne is released from her hypnosis as she said that everything went 'blank' when she was entranced.
His golden coin is basically a replacement for a pocket watch that most cartoons use as a hypnosis device.
He is also one of the first Scooby Doo villains whose secret identity the Gang did not meet.

Villains
Community content is available under
CC-BY-SA
unless otherwise noted.