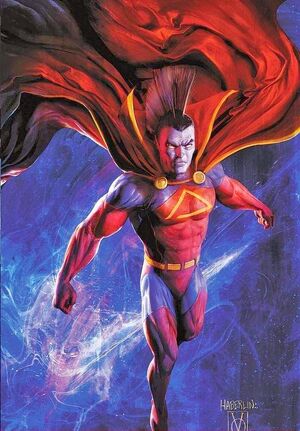 Gladiator (real name: Kallark) is a powerful cosmic on & off anti-villain from the Marvel comics universe. He is the praetor leader of the Shi'ar Imperial Guard and the bodyguard of the rulers of the Shi'ar empire.
He interacts mostly with the X-Men but he was also at odds with Thor, the Fantastic Four and the Guardians of the Galaxy as well as any superhero he considers a threat to the empire.
After the tragic Death of Lilandra, he became the majestor of the Shi'ar empire.
His antagonistic role towards the heroes is mostly due to his loyalty to the laws of the Shi'ar empire which led him to obey the orders of psychopaths like D'Ken and Vulcan.
Story
Kallark is a member of the Strontian race, and was born under Shi'ar rule. All Strontians are born with the capacity for great strength and various superpowers, but can only use them when they are completely devoted to a purpose. Fearing a Strontian rebellion, the Shi'ar emperor ordered Kallark, among other Strontians, to kill the Strontian elders. Only Kallark was devoted enough to carry out the order, and the others were killed when their wavering commitment rendered them weak. As a reward for his actions, Kallark was named the Praetor (leader) of the Shi'ar Imperial Guard.
When the X-Men come into conflict with the Shi'ar empire regarding the Phoenix entity, Gladiator battles them first at the command of Emperor D'Ken, and then at the behest of his successor, Empress Lilandra Neramani. He later aids the X-Men against several renegade Imperial Guardsmen serving a Shi'ar traitor, Lord Samedar.
While pursuing a band of shape-changing Skrulls, Gladiator arrives on Earth and mistakenly attacks the Fantastic Four. With the aid of Spider-Man and Captain America, the real Skrulls are exposed and captured. Meanwhile, Lilandra's sister, Deathbird, stages a coup and becomes the new Shi'ar Empress.
After an alternate universe version of Gladiator has a bout with Thor,  the Earth-616 Kallark has an encounter with a rogue alien.
Deathbird commands him to lead the Imperial Guard against the space pirate Starjammers and superhero team Excalibur, but orders a retreat after learning the rebels are led by Lilandra.
Gladiator briefly comes into conflict with the X-Men again when he is mentally controlled by a Warskrull, posing as Charles Xavier. He then encounters several members of the Avengers during the Kree-Shi'ar War.
Along with Beta Ray Bill, Ganymede, Jack of Hearts, Silver Surfer and Terrax the Tamer, Gladiator is captured by Tyrant with the intention of harnessing their power as a weapon for universal domination. Tyrant is defeated after the intervention of his creator, Galactus.
When many of Earth's heroes vanish after defeating Onslaught, Lilandra (who has resumed control of the Shi'ar) orders Gladiator and many of the Imperial Guard to help protect Earth.  He later aids the X-Men again during an encounter with Galactus. He is present when Galactus dies.
After thwarting an assassination attempt on Lilandra,  Gladiator plays a role in temporarily turning Earth into an intergalactic prison.
Gladiator battles Thor at the request of Zarrko the Tomorrow Man, but is defeated. He later came looking for the X-Men to help him fight against the Phalanx; however, his aggressive arrival led him to blows with the X-Men's Cannonball (Sam Guthrie), and while he was defeated by the young mutant, he managed to get the help of several X-Men in stopping the invasion. Some time later, on Lilandra's orders, Gladiator returns to Earth and attacks the X-Men's home, but later learns that Lilandra was possessed by Cassandra Nova and frees her.
Liladra sends Gladiator to infiltrate the Kyln, an intergalactic prison, as a prisoner. He investigates rumors of a prisoner with the aid of Thanos and Star-Lord. The prisoner turns out to be an amnesiac Beyonder. Guided by thecosmic entity Living Tribunal, Gladiator fights the Champion of the Universe in an attempt to liberate the population of a planet the Champion had enslaved.
At the request of Lilandra, Gladiator returns to Earth on a mission to capture the Uni-Power and bring it back for evaluation. After an encounter with the Invisible Woman of the Fantastic Four, Gladiator invites the Uni-Power to return to the Shi'ar Empire as their guest. Although the Uni-Power agrees, it is captured en route by Krosakis, an energy leeching warlord who forces the Uni-Power into his body to become Captain Universe. Gladiator attempts to stop Krosakis but fails, with the warlord finally beaten by the Silver Surfer.
Gladiator is then commanded to stop the conqueror Vulcan, who is determined to destroy the Shi'ar empire as revenge against former emperor D'Ken for murdering Vulcan's mother. Gladiator captures and delivers Vulcan to a Shi'ar prison facility.
A Shi'ar agent, however, wishing a return to the days of D'Ken's rule, frees Vulcan and together with Deathbird the pair stage a coup and usurp Lilandra. Vulcan escapes with the aid of some rebellious Shi'ar and leads a successful coup against Lilandra, becoming the next Shi'ar Emperor. Gladiator does not like Vulcan, but is honor-bound to serve him.
Vulcan consolidates his rule over the Shi'ar - with Gladiator reluctantly assisting - as their forces destroy a race of ancient enemies, the Scy'ar Tal, and capture the rebel Starjammers. Vulcan begins to expand the empire, leading to a war with the Kree. When ordered to kill Lilandra, Gladiator abandons his post to protect her. During an attempt to return her to the throne, she is assassinated.
Vulcan is killed during a battle with the leader of the Kree, Black Bolt. With no one in line to inherit the throne, civil war threatens the Shi'ar empire. Gladiator accepts an offer to be Emperor to avoid further conflict.
Following the war with the cancerverse, Gladiator joins the Annihilators. With them, he protects Galador from the Dire Wraiths and opposes the Universal Church of Truth's attempt to revive the Magus. Gladiator's son, Kubark, also known as Kid Gladiator, is sent to Earth as a punishment and currently is enrolled in the Jean Grey School For Higher Learning to train and learn more about his powers. Later, Gladiator attempts to contact Kubark's bodyguard Warbird about the Phoenix Force's return to Earth. Gladiator orders them to leave the planet, but the close proximity of the Phoenix prevents the message from reaching Warbird. He then orders the preparation of his ship so he could go rescue his son and sends Death Commandos to kill the Phoenix's host.
During the Infinity storyline, Gladiator appeared as a member of the Galactic Council and he helps the Avengers fighting the Builders.
Powers and abilities
Gladiator possesses a number of superhuman capabilities as a result of his unique alien physiology including superhuman strength (capable of shattering a planet and give trouble to characters like Hulk and Thor), superhuman speed, stamina and durability (capable of withstanding planetary explosions), reflexes, heat vision (stated as "hotter than a star"); "frost breath," a regenerative healing factor, and warp speed flight (measured as "a hundred times the speed of light"). Gladiator's abilities increase and decrease in accordance with his level of confidence  and he is vulnerable to a certain form of rare radiation.
Videos
Trivia
Gladiator was created by Chris Claremont and Dave Cockrum as an homage to Superman and Mon-El from the Legion of Superheroes.

Villains
Comics
Abomination | Adversary | Ahab | A.I.M. | Apocalypse | Arcade | Archangel | Arkon | Avalanche | Azazel | Badoon | Bastion | Batroc | Belasco | Beyonder | Blastaar | Blood Brothers | Bolivar Trask | Blob | Brotherhood of Evil Mutants | Bullseye | Cameron Hodge | Cassandra Nova | Children of the Vault | Clan Akkaba | Count Nefaria | Crossbones | Dark Beast | Dark Phoenix | Dark X-Men | Deadpool | Doctor Doom | Doctor Octopus | Dracula | Emma Frost | Exodus | Fenris | Freedom Force | Friends of Humanity | Galactus | Graydon Creed | Hand | Hela | Hellfire Club | High Evolutionary | Holocaust | Horsemen of Apocalypse | HYDRA | Impossible Man | Juggernaut | Kang | Kid Omega | Kingpin | Krakoa | Kraven | Lady Deathstrike | Legion | Leper Queen | Lilith | Living Monolith | Lizard | Loki | Madelyne Pryor | Magneto | Magus | Mandarin | Marrow | Masters of Evil | Master Mold | Mesmero | Mikhail Rasputin | Mister Jip | Mister Sinister | Mojo | Mole Man | Morlocks | Moses Magnum | Mutant Response Division | Mystique | N'Astirh | Nanny | Nekra | Neo | Nimrod | Nitro | Obnoxio the Clown | Omega Gang | Omega Red | Onslaught | Orphan-Maker | Ozymandias | Pandemonia | Phalanx | Pilgrimm | Predator X | Proteus | Psycho-Man | Purifiers | Pyro | Quicksilver | Reavers | Red Ghost | Red Skull | Rhino | Right | Rogue | Sabretooth | Sat-Yr-9 | Sauron | Savage Land Mutates | Scarlet Witch | Sebastian Shaw | Selene Gallio | Sentinels | Serpent Society | Shadow King | Shadow Xavier | Shocker | Silver Sable | Silver Samurai | Simon Trask | Skrulls | Spiral | Stranger | Stryfe | Stephen Lang | Sublime | Sugarman | Super-Adaptoid | Supreme Intelligence | Toad | Trevor Fitzroy | Typhoid Mary | Tyrannus | Unus | Vulcan | Wendigo | William Stryker | Xemnu | Xorn
Movies
X-Men: Brotherhood of Mutants (Magneto, Mystique, Sabretooth & Toad) | Pyro
X2: William Stryker Jr. | Lady Deathstrike | Jason Stryker | Brotherhood of Mutants (Magneto, Mystique & Pyro)
X-Men: The Last Stand: Brotherhood of Mutants (Magneto, Dark Phoenix, Pyro, Juggernaut, Multiple Man & Mystique) | Omega Gang (Callisto, Psylocke, Quill, Arclight, Avalanche, Spike, Glob Herman & Phat) | Archangel
X-Men: First Class: Hellfire Club (Sebastian Shaw, Emma Frost, Azazel, Angel Salvadore & Riptide) | William Stryker Sr. | Magneto | Mystique
X-Men: Days of Future Past: Trask Industries (Bolivar Trask, William Stryker Jr. & Sentinels) | Magneto | Mystique | Toad | Horsemen of Apocalypse (Apocalypse)
X-Men: Apocalypse: Ashir En Sabah Nur/Horsemen of Apocalypse (Apocalypse, Magneto, Psylocke & Archangel) | Dark Phoenix | Mystique | William Stryker Jr. | Blob
Dark Phoenix: Dark Phoenix | D'Bari (Vuk & Jones) | Brotherhood of Mutants (Magneto & Selene Gallio) | Mystique
Villains
Comics
Alkhema | Annihilus | Badoon | Blastaar | Black Order | Collector | Celestials | Chitauri | Dark Avengers | Doctor Doom | Ego the Living Planet | Galactus | Garthan Saal | Grandmaster | Kang the Conqueror | Korvac | Kree | Loki Laufeyson | Maelstrom | Magus | Nebula | Ronan | Skrulls | Space Phantom | Super-Adaptoid | Super-Skrull | Supreme Intelligence | Thanos | Ultimus | Ultron | Universal Church of Truth | Venom
Movies
Guardians of the Galaxy: Kree Empire (Ronan the Accuser, Nebula, Korath the Pursuer, Sakaaran Mercenaries & Exolon Monks) | Yondu Ravager Clan (Yondu Udonta, Kraglin Obfonteri, Horuz & Vorker) | Garthan Saal | Eson the Searcher | Chitauri (The Other) | Moloka Dar | Monstrous Inmate | The Collector | Dark Elf | Thanos
Guardians of the Galaxy Vol. 2: Ego | Sovereign (Ayesha, Sovereign Admiral, Zylak & Sovereign Chambermaid) | Yondu Ravager Clan (Yondu Udonta, Kraglin Obfonteri, Nebula, Tullk, Oblo, Taserface, Gef, Retch, Halfnut, Brahl, Vorker, Narblik & Huhtar) | Abilisk | The Grandmaster | Thanos
Community content is available under
CC-BY-SA
unless otherwise noted.