She-Hulk Trailer Dropped - The Loop
Play Sound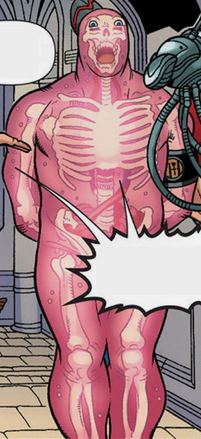 Glob Herman is a protagonist and former antagonist of the X-Men series. He is a young mutant who has skin that is completely transparent and made up of bio-paraffin, or "living wax" leaving his skeleton exposed. Though he lives among other mutants, Glob Herman easily stands out. Herman is known to be friends with Kid Omega, one of Professor X's top students.
Comic Book History
Betraying the X-Men
Glob Herman enrolled into the Xavier Institute for Higher Learning after Professor X was publicly revealed to be a mutant. Now Glob Herman has joined the Omega Gang, led by Kid Omega, as they make their own stand for mutant rights. With the Omega Gang, Herman attacked the humans whom they thought had murdered Jumbo Carnation, and later participated in the slaughter of a group of U-Men. When the Omega Gang instigated a riot at the Xavier Institute, Herman had Redneck light him on fire as he ran after a bus, filled with human civilians. Herman's plan was put to a halt by Beast, Cyclops and Xorn, who covered him in cement to put out the flames.
For his crimes, the X-Men sentenced him and the rest of the Omega team to fulfill various humanitarian works and aid those in need after serving a small sentence in human prisons.
From M-Day to the Hellfire Academy
After M-Day, Herman was the only one outside of Quire himself to not lose his X-gene, after finishing his humanitarian work, he returned to the X-mansion, now located in San Francisco and took part in the move to Utopia with the rest of the X-Men.
Recently, however Glob moved to the Jean Grey School For Higher Learning after Cyclops and Wolverine's spilt, he has made friends with Hellion and more recently Shark-Girl.
During a trip to the Savage Land, Wolverine told to Glob that he was expelled, and he had the time of the the exercise to prove himself worthy. Instead of it, Glob preferred join the Hellfire Academy in contacting Karl Lykos. He also tried to convince Quire, without succeeding. After the Hellfire Academy was defeated, Glob returned to the Jean Grey School.
Return to School and Becoming an X-Man
After returning to school, Glob became a much more docile presence. He became interested in pursuing romance, which led him to a mutant dating site. Unfortunately, this was a catfishing, as when he arrived for a date, he was ambushed by Purifiers who forced him to go back to the school with a bomb strapped to his chest under threat of killing his date. Though Logan attempted to stop him, he successfully bombed the foyer, after which Purifiers attacked the campus. Despite complying with their demands, Glob joined Logan in fighting against them, where he learned his date was also a Purifier in disguise. He and the rest of the mutants fought off the Purifiers, and began rebuilding the school.
Sometime after, Glob graduated from the school, becoming a full-fledged X-Man. Despite this, he saw little field action while the senior members took care of business more often than not. He, Armor, Pixie, and Rockslide were looking after the mansion and injured teammates when they were approached by Legion. Legion offered his assistance in defeating X-Man. Though they did not accept his help and later restrained them, he broke free from them and assisted the X-Men in a fight against clones of Jamie Madrox. When the four confronted X-Man, Legion  warped him into the Age of Apocalypse in his mind, and the four were brought in with him. Glob and Armor separated from Pixie and Rockslide because of conflicting ideologies on how to handle their situation. Once they found X-Man once again, he took control of Legion's mind, sending the four back to the real world. In the ensuing confrontation, most mutants fighting againts X-Man ended up sent to the Age of X-Man.
Age of X-Man
In the utopia of X-Man's mind, most mutants' brains were reprogrammed to fit into the fabricated history. Glob and many of his peers were once again students in this reality. Some property of Glob's waxy body prevented his from being rewired, however, and he retained memories of his life on Earth. He wrote of his past life in a book which he disguised as fan fiction, which was found and mocked by several of his classmates. Despite this, as cracks formed in the utopia, Armor and Rockslide joined his side as they searched for answers. They later connected with Anole, who was part of another rebel group who sent him to bomb a library.  The four became fugitives as the X-Men tracked them down, and though Glob successfully led them back to the beach where their battle took place, he failed to find the life seed and they were caught and imprisoned. Despite this, his work helped in exposing the deception of the Age of X-Man, and when the resistance grew too strong, X-Man conceded and let them back into the real world.
Krakoa
Glob, along with most mutants, became citizens of the mutant-only nation of Krakoa. Glob and Armor, along with Maxine and Manon, traveled to Kansas to bring their old classmates Beak and Angel Salvadore to Krakoa. Once there, they were attacked by a cartel, who trapped the mutants in the basement while holding Beak's parents hostage. While Boom Boom arrived to help them, Maxine and Manon used their telepathy to get two cartel members to shoot each other. Glob panicked at the bloodshed, and as they escaped, he demonstrated how to non-lethally incapacitate an enemy. Though Beack is shot by other cartel members, Glob helps carry him out to a truck to escape. As the mutants prepared to leave, the cartel leader killed both of Beak's parents, followed by himself. Back on Krakoa, Maxine and Manon telepathically removed Beak and Angel's memories of his parents' violent death, which Glob and Armor scold them for.
Movie History
Glob Herman served as a supporting antagonist in the film X-Men: The Last Stand. He was a mutant who had transparent skin and is a member of the Omega Gang which is allied with the Brotherhood of Mutants. During the attack on Alcatraz, Glob Herman was shot by a cure dart and changed from his glob form to a normal person, much to his discomfort. It is unknown what happened to him afterwards. ==  Gallery==

Movie Villains
Movies
X-Men: Brotherhood of Mutants (Magneto, Mystique, Sabretooth & Toad) | Pyro
X2: William Stryker Jr. | Lady Deathstrike | Jason Stryker | Brotherhood of Mutants (Magneto, Mystique, & Pyro)
X-Men: The Last Stand: Brotherhood of Mutants (Magneto, Dark Phoenix, Pyro, Juggernaut, Multiple Man & Mystique) | Omega Gang (Callisto, Psylocke, Quill, Arclight, Avalanche, Spike, Glob Herman & Phat) | Archangel
X-Men Origins: Wolverine: William Stryker Jr. | Sabretooth | Deadpool | Agent Zero | Blob
X-Men: First Class: Hellfire Club (Sebastian Shaw, Emma Frost, Azazel, Angel Salvadore & Riptide) | William Stryker Sr. | Magneto | Mystique
The Wolverine: Silver Samurai | Madam Viper | Shingen Yashida | Noburo Mori | Magneto
X-Men: Days of Future Past: Trask Industries (Bolivar Trask, William Stryker Jr. & Sentinels) | Magneto | Mystique | Toad | Horsemen of Apocalypse (Apocalypse)
Deadpool: Deadpool | Dopinder | Ajax | Angel Dust | Agent Smith
X-Men: Apocalypse: Ashir En Sabah Nur/Horsemen of Apocalypse (Apocalypse, Magneto, Psylocke & Archangel) | Dark Phoenix | Mystique | William Stryker Jr. | Blob
Logan: Essex Corp (Zander Rice, Donald Pierce, X-24 & Reavers)
Deadpool 2: Deadpool | Cable | Firefist | Dopinder | Juggernaut | Essex Corp (Headmaster) | Black Tom Cassidy | Sergei Valishnikov | Omega Red
X-Men: Dark Phoenix: Dark Phoenix | D'Bari (Vuk & Jones) | Brotherhood of Mutants (Magneto & Selene Gallio) | Mystique
The New Mutants: Essex Corp (Cecilia Reyes) | Demon Bear | Reverend Craig | Smiley Men
See Also
20th Century Studios Villains | Deadpool Villains | New Mutants Villains | Wolverine Villains | X-Men Villains

Villains
Comics
0101 | Abomination | Absorbing Man | Absalom | Acolytes | Adversary | Ahab | A.I.M. | Akhenaten | Alan Lewis | Amanda Sefton | Ani-Mator | Annihilus | Apocalypse | Arcade | Archangel | Arclight | Arnim Zola | Avalanche | Awesome Android | Azazel | Badoon | Barbarus | Bastion | Baron Karza | Baron Wolfgang von Strucker | Batroc | Beef | Beetle | Black Tom Cassidy | Belasco | Beyonder | Black Box | Blastaar | Blockbuster | Blood Brothers | Bolivar Trask | Blob | Bogeyman | Boomerang | Brood | Brotherhood of Evil Mutants | Brainchild | Bulldozer | Bullseye | Burner | Cameron Hodge | Carnage | Cassandra Nova | Children of the Vault | Chimera | Clan Akkaba | Coach | Computo | Constrictor | Count Nefaria | Creeps | Crossbones | Dark Avengers | Dark Beast | Dark Phoenix | Dark X-Men | Deadpool | Demon Bear | Doctor Doom | Doctor Rice | Dracula | Egghead | Emma Frost | Erik Killmonger | Exodus | Fenris | Freedom Force | Friends of Humanity | Frightful Four | Frost Giants | Galactus | Gamesmaster | Graydon Creed | Hand | Hela | Hellfire Club | Henry Peter Gyrich | High Evolutionary | Hobgoblin | Holocaust | Horsemen of Apocalypse | HYDRA | Impossible Man | Jackal | Juggernaut | Kang | Kid Omega | Kingpin | Klaw | Knull | Krakoa | Kraven | Lord Deathstrike | Lady Deathstrike | Legion | Leper Queen | Lilith | Living Monolith | Lizard | Loki | Mad Thinker | Madame Viper | Madelyne Pryor | Magneto | Magus | Malekith the Accursed | Mandarin | Marrow | Masters of Evil | Master Mold | Medusa | Maximus | Mesmero | Mikhail Rasputin | Mister Jip | Mister Negative | Mister Sinister | M.O.D.O.K. | Mojo | Mole Man | Morlocks | Moses Magnum | Mutant Response Division | Mystique | Mysterio | N'Astirh | Namor | Nanny | Nekra | Neo | Nightmare | Nimrod | Nitro | Norman Osborn | Obnoxio the Clown | Omega Gang | Omega Red | Onslaught | Orphan-Maker | Ozymandias | Pandemonia | Phalanx | Piledriver | Pilgrimm | Predator X | Proteus | Psycho-Man | Punisher (Earth-95216) | Purifiers | Pyro | Quicksilver | Reavers | Red Ghost | Red Skull | Reverend Craig | Rhino | Right | Rogue | Ronan | Sabretooth | Sandman | Sat-Yr-9 | Sauron | Savage Land Mutates | Scarlet Witch | Scorpion | Sebastian Shaw | Selene Gallio | Sentinels | Serpent Society | Shadow King | Shadow Xavier | Shocker | Silver Sable | Silver Samurai | Simon Trask | Skrulls | Spiral | Stranger | Stinger | Stryfe | Stephen Lang | Sublime | Sugarman | Super-Adaptoid | Super-Apes | Supreme Intelligence | Thanos | Thunderball | Thunderbolt Ross | Tiger Shark | Tinkerer | Toad | Trevor Fitzroy | Typhoid Mary | Tyrannus | Unus | Venom | Vulcan | Vulture | Wendigo | Whiplash | Whirlwind | White Rabbit | William Stryker | Wizard | Wrecker | X-Man | Xemnu | Xorn | Ymir | Zaladane
Movies
X-Men: Brotherhood of Mutants (Magneto, Mystique, Sabretooth & Toad) | Pyro
X2: William Stryker Jr. | Lady Deathstrike | Jason Stryker | Brotherhood of Mutants (Magneto, Mystique & Pyro)
X-Men: The Last Stand: Brotherhood of Mutants (Magneto, Dark Phoenix, Pyro, Juggernaut, Multiple Man & Mystique) | Omega Gang (Callisto, Psylocke, Quill, Arclight, Avalanche, Spike, Glob Herman & Phat) | Archangel
X-Men: First Class: Hellfire Club (Sebastian Shaw, Emma Frost, Azazel, Angel Salvadore & Riptide) | William Stryker Sr. | Magneto | Mystique
X-Men: Days of Future Past: Trask Industries (Bolivar Trask, William Stryker Jr. & Sentinels) | Magneto | Mystique | Toad | Horsemen of Apocalypse (Apocalypse)
X-Men: Apocalypse: Ashir En Sabah Nur/Horsemen of Apocalypse (Apocalypse, Magneto, Psylocke & Archangel) | Dark Phoenix | Mystique | William Stryker Jr. | Blob
X-Men: Dark Phoenix: Dark Phoenix | D'Bari (Vuk & Jones) | Brotherhood of Mutants (Magneto & Selene Gallio) | Mystique
The New Mutants: Essex Corp (Cecilia Reyes) | Demon Bear | Reverend Craig | Smiley Men
Television
X-Men (1992): Magneto | Sentinels | Sabretooth | Juggernaut | Apocalypse | Mesmero | Horsemen of Apocalypse | Mister Sinister | Omega Red | Brotherhood of Mutants (Mystique, Avalanche, Blob & Pyro) | Dark Phoenix | Master Mold | Bolivar Trask | Silver Samurai | Hellfire Club (Sebastian Shaw, Harry Leland, Jason Wyngarde, Donald Pierce & Emma Frost) | Reavers (Bonebreaker & Lady Deathstrike) | Supreme Intelligence | D'Ken | Deathbird | Graydon Creed | Red Skull | Toad | Sauron | High Evolutionary | Phalanx | Brood | Skrulls | Super-Adaptoid | Awesome Android | Mojo
X-Men: Evolution: Magneto | Brotherhood of Mutants (Mystique, Avalanche, Toad, Blob, Quicksilver & Scarlet Witch) | Pyro | Mastermind | HYDRA (Madame Viper & Omega Red) | David Haller | Juggernaut | Bolivar Trask | Sentinels | Apocalypse | Horsemen of Apocalypse | Mesmero | Sabretooth | Destiny | Arcade
Wolverine and the X-Men: Brotherhood of Mutants (Magneto, Mystique, Scarlet Witch, Juggernaut, Quicksilver, Avalanche, Blob, Pyro & Toad) | Dark Phoenix | Bolivar Trask | Sentinels | Sabretooth | Mutant Response Division (Colonel Moss) | Shadow King | Hellfire Club (Sebastian Shaw, Donald Pierce, Harry Leland, Selene Gallio, Emma Frost & Stepford Cuckoos) | Master Mold | Silver Samurai | Nitro | Mojo | Mister Sinister | Apocalypse
Marvel Anime: X-Men: Hellfire Club (Emma Frost, Martermind) | U-Men (Sublime)
Legion: Legion | Shadow King | Oliver Bird | Time Eaters
The Gifted: Sentinel Services (Jace Turner, Ed Weeks) | Trask Industries (Roderick Champell) | Ted Wilson | Hellfire Club (Fenris, Reeva Paype, Frost Sisters) | Benedict Ryan

Video Games
The Uncanny X-Men: Magneto | White Queen | Juggernaut | Sabretooth | Boomerang
X-Men: Madness in Murderworld: Arcade | Magneto | Juggernaut | Blob | White Queen | Mystique | Pyro | Wendigo | Silver Samurai
X-Men II: The Fall of the Mutants: Mystique | Avalanche | Blob | Pyro | Spiral
Spider-Man & X-men: Arcade's Revenge: Arcade | Carnage | Rhino | Apocalypse | Juggernaut | Selene Gallio | Sentinels | Master Mold
X-Men (1992): Brotherhood of Mutant Terrorists (Magneto, Mystique, White Queen, Juggernaut, Blob, Pyro, Wendigo & Living Monolith) | Sentinels
X-Men (1993): Magneto | Apocalypse | Sabretooth | Juggernaut | Sentinels | Ahab | Mojo
X-Men 2: Clone Wars: Apocalypse | Phalanx | The Brood | Magneto
X-Men: Children of the Atom: Magneto | Juggernaut | Omega Red | Silver Samurai | Sentinel | Spiral | Mojo
X-Men (1994): Magneto | Sebastian Shaw | Callisto | Sauron | Brood Queen | Omega Red
X-Men 2: Game Master's Legacy: Gamesmaster | Apocalypse | Mister Sinster | Exodus
X-Men: Mutant Apocalypse: Apocalypse | Juggernaut | Omega Red | Brood Queen | Sentinels | Acolytes | Exodus | Magneto
X-Men vs. Street Fighter: Apocalypse | Acolytes | Magneto | Juggernaut | Sabretooth | Rogue | Angel
X-Men 3: Mojo World: Mojo | Magneto | Master Mold | Trevor Fitzroy | Spiral
X-Men: The Ravages of Apocalypse: Apocalypse | Mister Sinister | Magneto
X-Men: Mutant Academy: Magneto | Mystique | Sabretooth | Toad
X-Men: Mutant Wars: Magneto | Mystique | Sabretooth | Apocalypse
X-Men: Wolverine's Rage: Lady Deathstrike | Sabretooth | Deadpool
X-Men: Mutant Academy 2: Magneto | Mystique | Sabretooth | Juggernaut | Toad
X-Men: Reign of Apocalypse: Apocalypse | Archangel | Magneto | Dark Phoenix | Juggernaut | Sabretooth | Silver Samurai | Sauron | Blob | Pyro
X-Men: Next Dimension: Brotherhood of Evil Mutants (Magneto, Sabretooth, Toad, Mystique, Juggernaut, Blob, Lady Deathstrike & Pyro) | Bastion | Sentinels
X2: Wolverine's Revenge: Magneto | Sabretooth | Wendigo | Lady Deathstrike | Juggernaut | Omega Red | Apocalypse | Mr. Sinister
X-Men Legends: Brotherhood of Evil Mutants/Acolytes (Magneto, Mystique, Blob, Pyro, Avalanche, Sabretooth & Toad) | Marrow | Juggernaut | Shadow King | Apocalypse | Master Mold
X-Men Legends II: Rise of Apocalypse: Apocalypse | The Brood | Lady Deathstrike | Sauron | Omega Red | Stepford Cuckoos | Deadpool | Mister Sinister | Dark Beast | Living Monolith | Mystique | Destiny | Blob | Emma Frost | Sebastian Shaw | Archangel | Selene Gallio | Quicksilver
X-Men The Official Game: Brotherhood of Mutants (Magneto, Sabretooth & Pyro) HYDRA (Silver Samurai & Deathstike) | Multiple Man | Jason Stryker | Master Mold | Mystique | Toad
See Also
Alpha Flight Villains | Deadpool Villains | Excalibur Villains | New Mutants Villains | Wolverine Villains | X-Factor Villains | X-Force Villains | X-Men Movie Villains