Jurassic World: Dominion Dominates Fandom Wikis - The Loop
Play Sound
| | | |
| --- | --- | --- |
| " | I don't wanna be your girl. (...) I just want to wrap myself around you. | " |
| | ~ Gloria to Jimmy Olsen before entrapping him. | |
Gloria was an alien Zoner from a world composed of plants in the WB TV series Smallville.
She appeared as the main antagonist in the Sixth Season episode "Wither".
She was portrayed by Amber McDonald.
Biography
Past
Her real name unknown, "Gloria" was an alien being from an unidentified planet who possessed the power to control plant growth. Her planet was described as a lush paradise of forests teeming with plant life, until industrialization began to consume her world.
Seeking to preserve the balance of nature, she went to great lengths through ecological terrorism and killed many people.
Her unethical tactics caused Gloria to be ostracized and feared by her own race. At some point, Kryptonians arrived on her planet and banished Gloria to the Phantom Zone for crimes. By that point, her home planet died out to the point of extinction for unknown reasons.
Wither
When Clark Kent escaped the Phantom Zone in 2006, Gloria was able to escape with the other Zoners through a portal that allowed Clark to return to his adopted world of Earth. Posing as a beautiful park ranger after killing the real one, Gloria made her home in the forest near Smallville.
There, she lured men into the woodlands while killing their girlfriends and implanted them with her own seeds which would grow inside their victims and eventually tear them apart from the inside.
While investigating a murder, Clark super-speeds to where Chloe Sullivan says she found the body and was approached by the attractive brunette who introduces herself as Gloria, from Park Services. She maintains that she's searched this area already, but Clark used his X-ray vision to find the boy, barely alive under a net of thorny vines.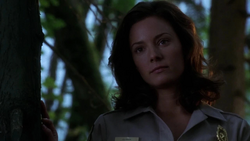 Jimmy Olsen returned to the woods to investigate taking pictures when he encountered Gloria. She decided to use him as one of her suitors and pushed him down where vines grew out of the ground and imprisoned him.
At the hospital, Chloe told Clark that her botany professor could only tell her that the vines was foreign to Earth and it was a female.
Just then, the paramedics arrived with a female park ranger's body. When Clark learned the body was Gloria, he realized that she was an impostor and speeds away to confront her. Chloe went to check on the first attacked victim, and had vines growing out of his body and covering the hospital room. She noticed the vines around the light switches and plugs are dead.
In the woods, Gloria explained that she was put in the Phantom Zone for trying to overtake other planets with her vegetation, and escaped when Clark did. She announced that she intends to go to Lex's nearby party to find other suitors.
When Clark tried to stop her, she straps Clark to a tree with her vines. As he was tied up, he noticed Jimmy entangled in vines, but then passes out. It is then revealed that he was not only tied up by the vines, but he was impaled through the chest.
Chloe arrives at the woods and gets Clark down with a taser. Clark heals and wakes up quickly. Once free, Clark tells Chloe where to find Jimmy and she reveals that electricity kills the vines. She urges him to go stop Gloria and calls the paramedics for Jimmy.
Gloria went to the costume ball and met a man dressed as Tarzan and took him to the mansion's greenhouse. Just before she could wrap him in her vines, Clark arrived and interrupts Gloria from claiming her next victim.
Gloria managed to overpower him and proceeded to strangle him with numerous vines, knocking him back with more vines, which grew all around the greenhouse, knocking heat lamps out of the ceiling. Clark used his heat vision to set off the sprinkler system and short out the heat lamps. The electrical surge proved to be Gloria's weakness and she was ultimately disintegrated.

Villains
Protagonists