Doctor Strange in The Multiverse o Madness - The Loop
Play Sound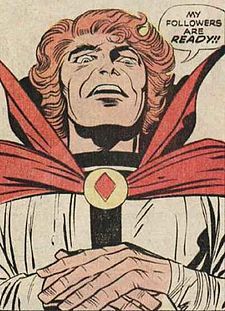 Glorious Godfrey is a villain in DC Comics.
History
Darkseid, the Lord of Apokolips, formulated a plan in order to control Earth. He sent various monsters to Earth in so the heroes would fight them. There were many fights, each one caused more and more collateral damage which strained public relations between the heroes and the public.
In order to seal the deal, he sent Glorious Godfrey to Earth, who took the name of G. Gordon Godfrey and became a popular reporter.
He is a member of Darkseid's Elite and a master manipulator. As a talk show host, he publicly slandered heroes and lead various rallies against them. He also used hypnosis on people and have them run the heroes out of Earth.
At one of his anti-heroic marches, the heroes were able to free his controlled humans. As a last ditch effort he puts on the helmet of fate to attack them; however, he is defeated and sent to prison. The Female Furies later broke him out. He later makes cameos among others on Apokolips.
One of Darkseid's greatest Elites was Glorious Godfrey. Godfrey has similar powers to Amazing Grace, his sister, only instead of manipulation, he can persuade others. After his first brief appearance fighting the Forever People, Godfrey's role became greater during the Legends crossover event.
Taking on the persona of G. Gordon Godfrey on Earth, he led a hate campaign against the heroes of Earth, in an effort to discredit the heroes and make humans more willing to surrender to Darkseid's rule. It nearly succeeds, but Godfrey is defeated after he unsuccessfully uses Doctor Fate's helmet, which mind-wipes him entirely.
Television
Justice League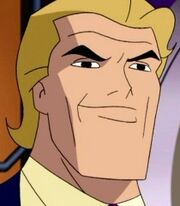 In the show Justice League​, Godfrey appears in the episode "Eclipsed". He uses collateral damage, merchandise, and utter timing to his advantage to slander the league. He has an effective point until the league stops an asteroid from hitting Earth.
Then his show gets moved and he loses opinion. In this show, he is voiced by Enrico Colantoni. Also in this show, he is not an alien from Apokoplis. He refers to himself as the "Glorious One" on his show.
Smallville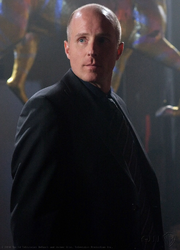 Godfrey appeared in the Tenth Season of Smallville, portrayed by Michael Daingerfield. Godfrey appears as a radio talk show host who is against illegal aliens and vigilantes. He later becomes a possessed human puppet for Darkseid.
As he attacked The Blur, Godfrey attracted the attention of Lois Lane, who learned that Godfrey was planning to expose the identity of Green Arrow.
When Godfrey attended an S&M club, Lois took photos of him, which later tarnished Godfrey's reputation. Darkseid takes complete control of Godfrey then breaks free from restraints, with his voice changing to his darker tone as he approaches Lois intending to posses her body until he realizes that Lois is pure of heart.
Lois grabs a stun gun but Godfrey easily subdues her and his eyes turn black as Darkseid manifests completely within Gordon's body. Godfrey's body was channeling Darkseid's essence as he explained his plans to a bound and gag Lois.
Godfrey was a former vessel of Darkseid, then has been transformed into a "prophet", who serves Darkseid.
Godfrey is responsible for breaking the spirits of the people to prepare them for his master. When Apokolips descended to Earth, he, Granny Goodness and Desaad had a meeting with the corrupted Oliver Queen. They commanded him to strip Clark of his powers by using a ring made of Gold Kryptonite.
Young Justice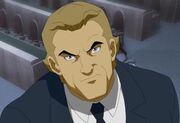 He later appears in Young Justice where all throughout the second season he constantly slanders all heroes. When the Reach comes to Earth he welcomes them, but he later helps the public kick them out. It seems as though he is against all aliens in Earth and only appreciates government and Earth help.
However, in the last episode, it turned out that he is secretly working with Darkseid and Vandal Savage on Apokolips. He also endorsed Lex Luthor for defense secretary. In this show, he was voiced by Tim Curry and later James Arnold Taylor.
Villains
Comics
Alex Luthor | Amanda Waller | Amazo | Anomaly | Anti-Monitor | Atlas | Atomic Skull | Ballser | Bane | Barbatos | Bernadeth | Bertron | Bizarro | Black Adam | Black Banshee | Black Mercies | Black Zero | Blanque | Blackrock | Blaze | Bloodsport | Bloody Mary | Brainiac | Bruno Mannheim | Boss Moxie | Bug-Eyed Bandit | Captain Boomerang | Captain Cold | Catwoman | Cheetah | Chemo | Chessure | Circe | Clayface | Coldcast | Commander Gor | Composite Superman | Cyborg Superman | Cythonna | Dabney Donovan | Dark Knights | Darkseid | Dax Novu | Deathstroke | Desaad | Deuce & Charger | Dev-Em | Devilance | The Devastator | Doctor Light | Doctor Manhattan | Doctor Polaris | Donna Troy | Doomsday | Earth-Man | Eclipso | The Enchantress | Epoch | Equus | Eradicator | Eradicator (Dark Multiverse) | Ernest Smalley | Eve Teschmacher | Faora Hu-Ul | Fastbak | Female Furies | Fifth-Dimensional Imps | Forgotten Villains | Francis Redhorn | Funky Flashman | Galactic Golem | Gilotina | Gorilla Grodd | Granny Goodness | Green Man | Glorious Godfrey | Gzptlsnz | H'El | Heat Wave | Hector Hammond | Hellgrammite | Helspont | Hfuhruhurr | Imperiex | Intergang | Jax-Ur | Joker | Jon Lane Kent | Justice League of Earth | Kaizen Gamorra | Kalibak | Kanto | Karkull | Killer Croc | King Shark | Kobra Cult | Ku Klux Klan | Lashina | Last Sun | Legion of Super-Villains | Lex Luthor | Livewire | Lobo | Mad Harriet | Magpie | Major Disaster | Major Force | Malice Vundabar | Manchester Black | Mandrakk | Mantis | Master Jailer | Masters of Disaster | Match | Maxima | Maxwell Lord | Mercy Graves | Metallo | Mister Oz | Mongal | Mongul | Mongul II | Morgaine Le Fey | Morgan Edge | Mr. Freeze | Mxyzptlk | Neron | Neutron | Nick O' Teen | Nimrod The Hunter | Overman | Parademons | Parallax | Parasite | Phantom Zoners | Planeteer | Plasmus | Plastique | Prankster | Preus | Princess Zala Jor-El | Prometheus | Psycho-Pirate | Queen Bee | Queen of Fables | Rampage | Rogol Zaar | Reverse-Flash | Royal Flush Gang | Samuel Lane | Scarecrow | Secret Society of Super Villains | Shockwaver | Shrapnel | Silver Banshee | Sinestro | Sleez | Solomon Grundy | Subjekt-17 | Suicide Squad | Superboy-Prime | Superdoom | Superman Revenge Squad | Superman (Earth-2) | Superman (The Dark Side) | The SuperMan | Spellbinder | Steppenwolf | Stompa | Talia al Ghul | Tarantula | Thaddeus Killgrave | Thunder & Lightning | Titano | Tobias Whale | Toyman | Two-Face | Ultra-Humanite | Ultraman | Ursa | Vincent Edge | Virman Vundabar | Vyndktvx | Weather Wizard | Whirlicane | Whisper A'Daire | William Dunn | Xa-Du | Zod
Theatrical Movies
Superman: Lex Luthor | Otis | Eve Teschmacher | General Zod | Non | Ursa | Brad Wilson
Superman II: General Zod | Non | Ursa | Lex Luthor | Otis | Eve Teschmacher | Rocky
Superman III: Ross Webster | Corrupted Superman | Vera Webster | Lorelei Ambrosia | Gus Gorman | Brad Wilson
Superman IV: The Quest for Peace: Lex Luthor | Nuclear Man
Superman Returns: Lex Luthor
Man of Steel: Sword of Rao (Dru-Zod, Faora-Ul, Nam-Ek, Jax-Ur, Tor-An, Car-Vex, Nadira, & Dev-Em II)
Batman v Superman: Dawn of Justice: Lex Luthor | Doomsday | Anatoli Knyazev | Mercy Graves | Cesar Santos | Amajagh | Joe Chill | Zod | Steppenwolf
Direct-to-video Movies
Superman: Brainiac Attacks: Brainiac | Lex Luthor | Mercy Graves | Mister Mxyzptlk
Superman: Doomsday: Lex Luthor | Superman Clone | Doomsday | Toyman | Mercy Graves
Superman/Batman: Public Enemies: Lex Luthor | Major Force | Metallo | Amanda Waller | Toyman | Solomon Grundy | Gorilla Grodd | Killer Frost | Lady Shiva | Giganta | Mongul | Captain Cold
Superman/Batman: Apocalypse: Darkseid | Female Furies (Granny Goodness, Gilotina, Mad Harriet, Lashina & Stompa) | Doomsday
Superman/Shazam!: The Return of Black Adam: Black Adam
All-Star Superman: Lex Luthor | Solaris | Parasite | Nasthalthia Luthor | Bar-El & Lilo-El
Superman vs. The Elite: The Elite (Manchester Black, Coldcast, Menagerie & Hat) | Atomic Skull
Superman: Unbound: Brainiac
The Death Of Superman: Doomsday | Lex Luthor | Intergang (Bruno Mannheim) | Mercy Graves | Cyborg Superman
Reign Of The Supermen: Cyborg Superman | Darkseid | Parademons | Lex Luthor | Mercy Graves
Superman: Red Son: Superman | Brainiac | Lex Luthor | Batman | Superior Man
Superman: Man of Tomorrow: Parasite | Lobo | Lex Luthor
Television
1940's Superman: Bulleteers | Inventor | Mechanical Monsters | Mad Scientist
Superman: The Animated Series: Lex Luthor | Brainiac | Darkseid | Metallo | Toyman | Intergang (Bruno Mannheim, Spider Spinelli, & Blaine) | Mercy Graves | Joey | Parasite | Dr. Vale | Lobo | Alien Robot Girls | Gnaww | Preserver | Kanto | Earl Garver | Jax-Ur | Mala | Prometheon | General Hardcastle | Weather Wizard | Livewire | Bizarro | Kurt Bowman | Luminus | Mister Mxyzptlk | Superman (Brave New Metropolis) | Lex Luthor (Brave New Metropolis) | Titano | Desaad | Kalibak | Joker | Harley Quinn | Karkull | Corey Mills | Suit | Maxima | De'Cine | Steppenwolf | Parademons | Female Furies (Granny Goodness, Stompa, Mad Harriet, & Lashina) | Volcana | Kurt | Starro | Roxy Rocket | Penguin | Bane | Riddler | Mad Hatter | Darci Mason | Sinestro | Unity | Reverend Amos Howell | Society of Shadows (Ra's al Ghul, Talia al Ghul, & Ubu)
Krypton: Brainiac | Zod | Doomsday | Lobo | Jax-Ur | Kol-Da | Lis-Ser | Daron-Vex | Araame | Lyta-Zod Clone
Superman & Lois: Tal-Rho | Ally Allston | John Henry Irons | Leslie Larr | Mitch Anderson | Bizarro | Zeta-Rho | Superman (John Henry Irons' Earth) | Reno Rosetti | David Fuglestad | Atom-Man | Zod | Phillip Karnowsky | Kit Faulkner | Intergang (Thaddeus Killgrave)
Video Games
Superman Arcade: Emperor Zaas | Lex Luthor | Metallo | Parasite
Superman: Shadow of Apokolips: Lex Luthor | Darkseid | Metallo | Livewire | Parasite | Kanto | Mercy Graves | Volcana
Mortal Kombat vs. DC Universe: Dark Kahn | Lex Luthor | Scorpion | Shang Tsung | Darkseid
Injustice: Superman | Brainiac | Doomsday | Aquaman | Black Adam | Sinestro | Lex Luthor | Joker | Darkseid
See Also
Legion of Super-Heroes Villains | Lobo Villains | Smallville Villains | Steel Villains | Superboy Villains | Supergirl Villains | Superwoman Villains

Villains
Protagonists