Jafar says: Read my lips and come to grips with the reality!


This article is a stub and is in need of expansion. You can help Villains Wiki by expanding it.                       
Gobinda is Kamal Khan's primary henchman in the James Bond film Octopussy.
He is played by Kabir Bedi.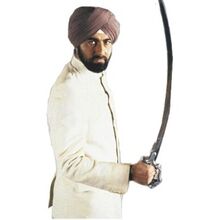 When 007 defeats Kamal in a game of backgammon, Gobinda crushes the dice with his bare hands kind of like Oddjob crushing the golf ball with his bare hand you know. Then later, Gobinda and Kamal's other henchmen chase Bond and Vijay through the streets of Delhi driving Tuk - Tuks and tries to shoot 007 and Vijay but fails in doing so. Gobinda acts as Kamal's sidekick and security and knocks out Bond, in his hotel room, after Magda seduces him and steals the real Faberge egg. Gobinda takes 007 to Kamal's home, where 007 finds out that Kamal Khan is working with Orlov.
Later Gobinda fights Bond on Octopussy's train in Germany but fails in killing him when Bond falls off the train. Kamal and he notices 007 when they are leaving the circus and informs Kamal, who says to let 007 keep going and that he'll soon die by the explosion. 007 and Octopussy manage to deactivate the bomb and return to India to attack Kamal Khan. During the assault on and in Kamal's palace, Octopussy gets captured by Kamal and Gobinda, who escape the palace and into a plane.
007 follows them and jumps on the plane disabling one of it's engines, in the process. Kamal then orders Gobinda to go out where 007 is and kill him. Even though Gobinda is scared to go out he does so and ends up being killed by Bond when 007 knocks him off the plane.

|

Villains
Community content is available under
CC-BY-SA
unless otherwise noted.