We're Getting Mutants in the MCU - The Loop
Play Sound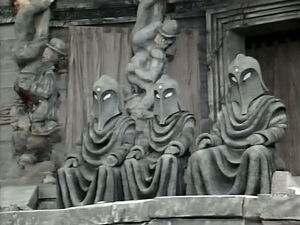 The Gods of Ragnarok are the main antagonists of the Doctor Who story "The Greatest Show in the Galaxy".
History
The Gods of Ragnarok were a malevolent force that the Doctor was familiar with, based on the planet Segonax. When the Psychic Circus came to the planet, they fell under the Gods' thrall, with many of the circus members becoming their willing servants. Those who resisted were killed or driven mad one by one. The circus was placed over the vortex leading to the Gods' dimension, with the Gods manifesting in the circus tent as an apparently human-looking family comprising a mother, father and little girl, who were the Psychic Circus' only audience.
Invitations to a talent contest were used to lure travellers to Segonax to perform at the Psychic Circus. The Gods of Ragnarok demanded to be amused but bored easily. When performers ceased to amuse them, they were obliterated, which happened with great frequency. With the Doctor's presence disrupting things further, they began to turn on the circus performers, even those who were still loyal to them.
In order to keep the Gods' attention, the Doctor entered their dimension and confronted them in their true form. He kept them occupied with an array of magic tricks and escapology but eventually began to lecture them on those who had died to entertain them. He had sent Ace to collect a medallion that had a connection to the Gods, which was hurled into their dimension at a crucial moment. The Gods of Ragnarok, angered by the Doctor's actions, unleashed their powers on him but he used the medallion to deflect the energy. The resulting explosions destroyed both the dark circus and the Psychic Circus tent, and ultimately the Gods of Ragnarok themselves.
Trivia
The mother and father Gods were played in both their human forms and their true forms by Janet Hargreaves and David Ashford respectively. The human version of the Little Girl God was played by Kathryn Ludlow, but the true form was played uncredited by Lorna McCulloch, with director Alan Wareing providing the voice.
According to some sources, the Land of Fiction was created by the Gods of Ragnarok, who grew tired of its amusements and abandoned it.