Jurassic World: Dominion Dominates Fandom Wikis - The Loop
Play Sound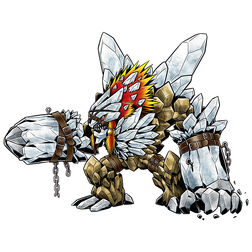 Gogmamon is a minor villain in the reboot of Digimon Adventure. He held the Gotsumons captive, forcing them to dig for the gems he used as food. He also employs many Goblimons and Sunarizamons.
Appearance
Gogmamon is a Ultimate Digimon with an enormous body. He is said to have a small population at present, and mostly lives in solitude deep inside caves. He hardly ever eats food that looks like food, and will occasionally leave the cave to build up energy by taking in light through the crystals covering its body. It reliably eliminates intruders inside the cave with its "Giant Grater".
Digimon Adventure:
When Gogmamon grabbed the Gotsumons with the Goblimon and Sunarizamon forces, he enslaved them and forced them to dig for gems for him to eat. But when the three Chosen Ones, Taichi, Sora, Mimi, and their partner Digimons joined forces with the Golemon and the other free Gotsumons, they all worked together to release all the Gotsumons he captured. While conducting the rescue operation, they also cared for his minions, and when they encountered him, Mimi, Togemon, and Golemon began to fight him. During the battle, he struck Golemon into pieces of stone, and then Togemon evolved into Lillymon, and fought him alone. And at the last minute, Mimi threw Lillymon the diamond she used to defeat him, and eventually Lillymon destroyed him, and then the other surviving Goblimons and Sunarizamones had to flee the castle after his destruction.
Attacks
Giant Grater: Grinds the enemy with the crystals on his arms.
Curse Refraction: Fires the light energy he has accumulated from the tips of his crystals.
Gallery