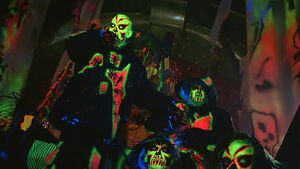 Click To Help Darkseid!

Darkseid has declared that this article requires immediate Cleanup in order to meet a higher standard.
Help improve this article by improving formatting, spelling and general layout - least it fall victim to an Omega Effect


✔

The Golums, also known as the Golum Gang, are minor antagonists of Batman & Robin. They were a gang of criminals living in Gotham City.
They resided in an abandoned building called Turkish Baths. The Golums were drinking and laughing when their lair was broken into by Bane and Poison Ivy when they discovered it. The Golums took out their weapons (which were neon chains) and started spinning them.
The Golum leader took notice of Ivy, and said hello while calling her his "little pretty, pretty, pretty," to which she replied "Hello yourself" with an amused smile (of sorts).
When he added that she looked good enough to eat, Ivy, sensing a challenge coming from him, said "That I am" (as her way of agreeing with him). With that, she set down a challenge of her own, telling the leader "Come and get me — if you can" before activating Bane's pump.
The Golum Leader then said "With pleasure" before clapping his hands. The Golums then started their attack by spinning their chains and wrapping Bane's arms with them, causing him to growl, while Ivy giggled.
Bane then stomped his foot on a wooden plank that all the Golums and leader were standing on, and all of them flew across the room and landed on the exit steps.
Bane turned his head, growling, but the leader and Golums abandoned the fight and fortress and ran away.
Poison Ivy then redecorated, turning Turkish Baths into her garden lair.
Known Members
Gallery
Trivia
The Golums' look is similar to the Neon Gang as seen in Batman Forever
Golum may be a play on either, or both, "Gollum" of the J.R.R. Tolkien series, and "Golem", a giant clay monster of Jewish folklore.
The Golum gang leader doesn't seem to be the similarly attired gang leader from Batman Forever.
This gang's leader was portrayed by Doug Hutchison, whose notable performance was as Percy in The Green Mile.

Villains
Comics
Alice | Amanda Waller | Amygdala | Anarky | Arkham Knight | Azrael | Baby Doll | Bane | Barbatos | The Batman Who Laughs | Black Glove | Black Mask | Blockbuster I | Blockbuster II | Brother EYE | Calculator | Calendar Man | Captain Fear | Carmine Falcone | Catman | Catwoman | Circus of Strange | Clayface | Claything | Clock King | Club of Villains | Cluemaster | Composite Superman | Condiment King | Copperhead | Court of Owls | Crazy Quilt | Crime Doctor | Curtis Base | Dark Archer | David Cain | Dark Knights | Deacon Blackfire | Deadshot | Deathstroke | The Dawnbreaker | The Devastator | Doctor Death | Doctor Dedalus | Doctor Double X | Doctor Hurt | Doctor Phosphorus | The Drowned | Electrocutioner | Emperor Blackgate | Ernie Chubb | Faceless | Firebug | Firefly | Flamingo | Floronic Man | Gearhead | General Ulysses Armstrong | Gorilla Boss | Gotham City Police Department | Grant Walker | Great White Shark | The Grim Knight | H.A.R.D.A.C. | Harley Quinn | Holiday | Holly Robinson | Humpty Dumpty | Hugo Strange | Hush | Jack the Ripper | James Gordon, Jr. | Jason Todd | Joe Chill | The Joker | Judge of Owls | Joker's Daughter | Key | KGBeast | King Snake | King Tut | Killer Croc | Killer Moth | Kite Man | Lady Shiva | League of Assassins | Leviathan | Lex Luthor | Lock-Up | Lloyd Ventrix | Mad Hatter | Mad Monk | Magpie | Malochia | Man-Bat | Maxie Zeus | The Merciless | Monk | Mr. Freeze | Mr. Toad | Mutants | Nightslayer | Nocturna | Nyssa Raatko | Onomatopoeia | Orca | Outsider | Owlman | Penguin | Phosphorus Rex | Planet Master | Poison Ivy | Polka Dot Man | Professor Pyg | Prometheus | Ra's al Ghul | Ragdoll | Ratcatcher | Reaper | Red Claw | Red Death | Reverse-Flash | Riddler | Roland Daggett | Roxy Rocket | Royal Flush Gang | Rupert Thorne | Sal Maroni | Scarecrow | Sensei | Signalman | Sinestro | Snowman | Solomon Grundy | Spellbinder | Steeljacket | Suicide Squad | Talia al Ghul | Tally Man | Ten-Eyed Man | Terrible Trio | Tiger Shark | Timecode | Tony Zucco | Tweedledum and Tweedledee | Two-Face | Ubu | Vandal Savage | Ventriloquist | Ventriloquist II | Ventriloquist III | Vertigo | Victim Syndicate | Victor Zsasz | Wrath | Zebra-Man
Movies
Batman (1989): Joker | Bob Hawkins | Alicia Hunt | Carl Grissom | Max Eckhardt | Vinnie Ricorso
Batman Returns: Red Triangle Circus Gang (Penguin, Organ Grinder, Poodle Lady, Tattooed Strongman, Stungun Clown, Thin Clown, Fat Clown, Sword Swallower & Knifethrower Dame) | Max Shreck | Catwoman | Charles "Chip" Shreck
Batman Forever: NygmaTech (Riddler, Two-Face, Sugar, Spice & Frogmen) | Neon Gang (Neon Gang Leader) | Salvatore Maroni
Batman & Robin: Poison Ivy | Mr. Freeze | Bane | Snowy Cones Thugs | Golums | Jason Woodrue
Batman Begins: League of Shadows (Ra's al Ghul, Scarecrow & Ra's Decoy) | Carmine Falcone | Victor Zsasz | Joe Chill
The Dark Knight: Joker's Thugs (Joker, Thomas Schiff, Chuckles, Kilson, Bus Driver, Happy, Dopey & Grumpy & Bus Driver) | Two-Face | Sal Maroni | The Chechen | Gambol | Lau | Bank Manager | Michael Wuertz | Burmese Bandit
The Dark Knight Rises: League of Shadows (Bane, Talia al Ghul & Barsad) | Catwoman | John Daggett
Batman v Superman: Dawn of Justice: Lex Luthor | Doomsday | Anatoli Knyazev
The Lego Batman Movie: Joker | Phantom Zone Criminals (Harley Quinn, Catwoman, Poison Ivy, Two-Face)
Community content is available under
CC-BY-SA
unless otherwise noted.