Obi-Wan Finale - The Loop
Play Sound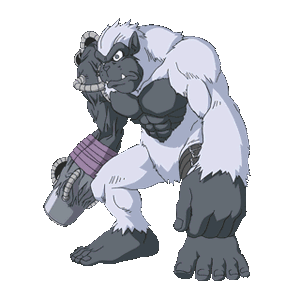 Gorillamon is minor villain in the Digimon Adventures 02, Digimon Tamers and Digimon Xros Wars. Gorillamon is a champion-level Digimon that resembles a gorilla-like Digimon with a cannon for his right arm. In Digimon Tamers, Gorillamon was once Terriermon's old enemy from Henry's video game.
Biography
Digimon Adenture 02
Gorillamon first appeared under the control of the Dark Spirial created by the Digimon Emperor. Digitamamon attempted to stop him, but was knocked away. Togemon and Seadramon defeated him and freed him from the Dark Spiral's control.
Digimon Tamers
Gorillamon once fought Terriermon in Henry's video game, and lost to Terriermon. He coldheartedly killed several innocent Digimon and aborbed their data in order to get stronger and get his revenge on Terriermon. Then Gorillamon Bio-Emerged into the Real World to get his revenge on Terriermon. Terriermon and Henry tried to reason with him, but he viciously attacks them. Although Henry refuses to let Terriermon fight Gorillamon again, after seeing Guilmon get tortured by the mad ape, Terriermon intervenes. Henry used a Digi-Modify card on Terriermon to bind Gorillamon with training weights and send him up in the air with his Terrier Tornado attack. But Gorillamon manages to break free of those training weights and tries to blast him at full range, only to be finally defeated by Terriermon, albeit Henry didn't want him to absorb Gorillamon's data.
Digimon Xros Wars
A large army of Gorillamon were members of the Bagra Army. They served as an army of the Death Generals; Apollomon. Most of them were destroyed by MetalGreymon. The rest of them were absorbed by DeadlyTuwarmon to form DeadlyTuwarmon Hell Mode.
Attacks
Energy Cannon
Power Lifter
Tarzan Yell
Gallery