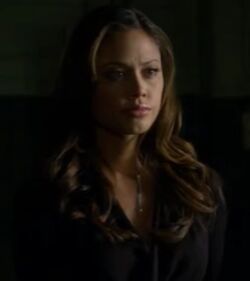 Grace Chandler is one of the main antagonists from "Second Chances", episode 6.11 of CSI: NY.
She was portrayed by Vanessa Minnillo.
Biography
Grace Chandler is a volunteer at Queen of Mercy Hospital and was in their kitchen when she received news regarding the death of her fiancee, James Manning. It was later revealed that a $2.5 million life insurance policy was taken out on James, and that Grace was the sole beneficiary.
Later on, Grace was brought in to the precinct, where she saw the woman who was revealed to be her co-conspirator named Debbie Fallon. Grace and Debbie had been taking in homeless men and taking out life insurance policies on them, and later killing them when the policies ran out. James was one of Grace's victims and Sam Baker (Debbie's "boyfriend") was to be their next victim.
Her secret revealed, the evil Grace defended her actions, stating that she and Debbie gave them two years longer they should have had. Grace and Debbie were eventually arrested for their crimes.
Community content is available under
CC-BY-SA
unless otherwise noted.