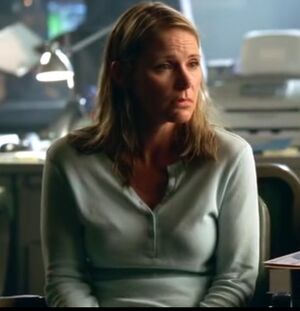 Grace Thomason is an antagonist from "Open and Shut", episode 3.06 of CSI: NY.
She was portrayed by Dedee Pfeiffer.
History
Grace Thomason is a therapist and the wife of Daniel Thomason, and she appeared in the beginning of the episode as a trembling woman who claimed to have shot a man named Ron Blunt in self-defense. Detectives Mac Taylor and Stella Bonasera met Grace while they were on the case of a murdered hotel concierge, and Grace stated that she shot Ron after he bludgeoned Daniel to death with a hammer. She was later interviewed by Stella regarding her husband and Ron, which ended with Grace needing to return home to her apartment.
However, as the evidence revealed, Grace's terrified demeanor was a cover for her true role as a cold-blooded and murderous woman, as she was actually behind both murders. Grace despised Daniel as their marriage progressed, and it led to Grace killing Daniel with the hammer. The villainess lured Ron, her patient, to the apartment, and after Ron entered and saw Daniel's body, the evil Grace shot Ron in the back of the head, killing him as well. Before killing Ron, Grace changed clothes and hid her blood covered shirt in the heating vent before showering, and after her second murder, she placed the hammer in Ron's hands and set him up as Daniel's killer.
Grace continued portraying Ron as Daniel's killer in her interviews with Stella, but after the evidence was found, Stella interrogated Grace and revealed her twisted and murderous plan. After arrogantly denying the claims, Grace admitted to everything, voicing her hatred of her husband. She attempted to shame Stella as a hypocrite due to Stella shooting and killing her boyfriend, despite the fact that Stella did so in self-defense as her boyfriend was attacking her. Shortly afterwards, Grace was then arrested (off-screen) for the murders of her husband and Ron Blunt.