(2 intermediate revisions by one other user not shown)
Line 1:
Line 1:
 
+

[[File:Nehemiah persoff - comancheros.png|thumb|350px]]

⚫
 
 
 
 
⚫
−

[[File:Nehemiah_persoff_-_comancheros.png|thumb]]

 
 
 
 
+

He was portrayed by Nehemiah Persoff.

 
+
 
+

==Biography==

 

The wheelchair bound and vile leader of a big criminal organization, The Comancheros who smuggle whiskeyto the Comanche Indians to make profit and keep the frontier in chaos. When heroes, Cutter and Regret, and heroine, Pilar, go to the Comancheros town, Pilar is revealed to be Graile's daughter. He offers his hospitality and to let them live because of Regret and Pilar's friendship and past and that Pilar doesn't say who Cutter is. The heroes learn that not only is he bitter and greedy but very intelligent as well and play along with him while living and trying to contact the rangers and Graile even gives them a tour.

 

The wheelchair bound and vile leader of a big criminal organization, The Comancheros who smuggle whiskeyto the Comanche Indians to make profit and keep the frontier in chaos. When heroes, Cutter and Regret, and heroine, Pilar, go to the Comancheros town, Pilar is revealed to be Graile's daughter. He offers his hospitality and to let them live because of Regret and Pilar's friendship and past and that Pilar doesn't say who Cutter is. The heroes learn that not only is he bitter and greedy but very intelligent as well and play along with him while living and trying to contact the rangers and Graile even gives them a tour.

 
 
Line 18:
Line 21:
 

[[Category:Thief]]

 

[[Category:Thief]]

 

[[Category:Smugglers]]

 

[[Category:Smugglers]]

−

[[Category:Outlaws]]

+

[[Category:]]
---
Latest revision as of 16:21, 19 November 2018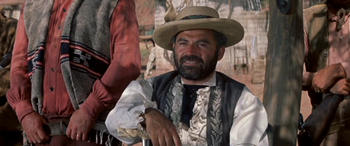 Graile is the main villain of the 1961 Western, The Comancheros.
He was portrayed by Nehemiah Persoff.
Biography
The wheelchair bound and vile leader of a big criminal organization, The Comancheros who smuggle whiskeyto the Comanche Indians to make profit and keep the frontier in chaos. When heroes, Cutter and Regret, and heroine, Pilar, go to the Comancheros town, Pilar is revealed to be Graile's daughter. He offers his hospitality and to let them live because of Regret and Pilar's friendship and past and that Pilar doesn't say who Cutter is. The heroes learn that not only is he bitter and greedy but very intelligent as well and play along with him while living and trying to contact the rangers and Graile even gives them a tour.
Then when Pilar says to her dad that she wants to leave and wants him to go with her but he says he has no intention of leaving his empire. Then after the heroes defeat a couple of Graile's henchmen, Cutter says to Graile that he's going to enjoy seeing him hang and then as they leave, Graile yells to the rest of his followers to wake and then a woman, who was the mother of a guy killed by Graile stabs him in the back and kills him.
Community content is available under
CC-BY-SA
unless otherwise noted.