She-Hulk Trailer Dropped - The Loop
Play Sound



Click To Help DIO!

DIO has declared that this article has stopped in time, and any and all information on it may be outdated.
Help improve this article by checking and updating it's info wherever necessary
And now time resumes!

✓
Jafar says: Read my lips and come to grips with the reality!


This article is a stub and is in need of expansion. You can help Villains Wiki by expanding it.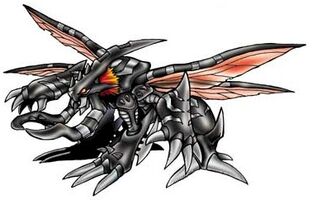 GranKuwagamon are minor villains in Digimon Xros Wars and the reboot of Digimon Adventure.
Appearance
GranKuwagamon is a Mega Class Digimon that resemble giant black scissor beetles.
Digimon Xros Wars
A huge ammount of GranKuwagamon serves Kongoumon as his air force.
Digimon Adventure:
When one Soundbirdmon brainwashed Datamon, Datamon put GranKuwagamon into battle while Soundbirdmon ruled his mind. When Koshiro and Kabuterimon encountered GranKuwagamon, they tried to defeat it. But it was surprisingly strong. But when MegaKabuterimon evolved into HerculesKabuterimon, then he started to get along with it. The battle ended when HerculesKabuterimon and Koshiro defeated it and rescued Datamon from the control of Soundbirdmon.
Attacks
Dimension Scissors / X-Scissor Claw
Catastrophe
Gallery
Trivia
GranKuwagamon's Ultimate form is; Dinobeemon, Okuwamon, MegaKabuterimon (Red), or JewelBeemon
GranKuwagamon can Digivolve into either GrandisKuwagamon, or MegaGranKuwagamon