Jurassic World: Dominion Dominates Fandom Wikis - The Loop
Play Sound

✓
| | |
| --- | --- |
| | This Article Contains Spoilers - WARNING: This article contains major spoilers. If you do not wish to know vital information on plot / character elements in a story, you may not wish to read beyond this warning: We hold no responsibility for any negative effects these facts may have on your enjoyment of said media should you continue. That is all. |
Jafar says: Read my lips and come to grips with the reality!


This article is a stub and is in need of expansion. You can help Villains Wiki by expanding it.                       
The Grand Serpent is the corrupt ruler of an interstellar empire, and a major antagonist in Doctor Who serving as the unseen overarching antagonist in the eleventh series and the 2019 New Years Special before appearing as a major antagonist of the thirteenth series. He is the one reponsible for getting Vinder exiled to Outpost Rose, and would later interfere in the creation of UNIT.
He was portrayed by Craig Parkinson, who also play Matthew "Dot" Cottan in Line of Duty.
Biography
Past
As revealed in The Vanquishers, the Grand Serpent came from a binary deni-species, a symbotic species divided into a humanoid and serpent form, and the more intelligent humanoid form was able to control the deadly serpent. The Grand Serpent went into politics, and at one point ruled a vast empire, which presumably when he dubbed himself by his title. He was critised by Frey Sampor, whom he was determind to get back at.
Once, Upon Time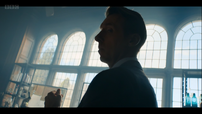 As recalled by his body guard, Inston-Vee Vinder, the Grand Serpent met a species called the Alforia to discuss terms to shelter them, in return for them providing "food and safety" for generations. After Vinder spoke out of line, he dressed him down and ordered him to be silent from thereonin. Once the official meeting was concluded, he ordered Vinder to cease recording and then demanded the Alforia hand over five dissidents being sheltered in their territory to face trial, and for another four, all relatives of his critic Frey Sampor, to suffer a fatal accident. Vinder reported the incident, resulting in him being reassigned to Observation Outpost Rose.
At some point, as revealed in The Vanquishers, dispite his attempts to silence his critics, the Grand Serpent was eventually overthrown and was exiled from his empire.
Survivors of the Flux
to be added
The Vanquishers
to be added