| | | |
| --- | --- | --- |
| " | Welcome friends. Thanks to all our hard work, Oceania's nearly up and running. Now, while most folks believe Oceania's just another theme park, we know better. Fact of the matter is it's not to nice out there anymore. Crime, hatred, violence. Things keep going on like that, it could mean the end of civilization. That's why I decided to build a city where good folks can live in peace. A new...Garden of Eden you might say, from which a new race of people can spring. Now of course you can't have spring without a little winter, about 5 years of it I'd say. Now don't anybody worry, we'll all be warm as toast in here. As for those folks outside, well... it's sad, but I'm only speeding up what they were doing to themselves. | " |
| | ~ Walker reveals his plan to freeze the world | |
Grant Walker is a villain in Batman: The Animated Series and a theme park owner. As he gained fame and wealth for creating theme parks, he was getting old and wanted to live forever and rule the world.
History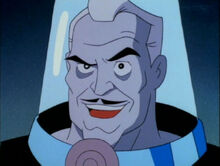 Walker was a rich and successful man who made his fortune and fame by building theme parks along with his Visioneers. One of the Visioneers was a young genius, Karl Rossum, who would later become the CEO of Cybertron and create HARDAC. Grant Walker seemed to want to keep people entertained so they can be happy but he is a megalomaniac and obsessed deep down. Grant Walker wanted to make the whole wide world a theme park as he sees it and will not give up even if it means by force. At one time, Walter was a GothCorp employee.
Later on, he began studying Victor Fries' work and kidnapped him. Walker wanted him to reproduce the condition on him. Freeze was reluctant at first but agreed when he saw Nora. Mr. Freeze made Grant Walker immortal and later got his own cybersuit. Walker also has a giant freeze gun pointing at Gotham City, planning to freeze Gotham then the world. Freeze and Walker would no longer need cryosuits once the world is frozen. Walker let Freeze be with his wife since he did his part but Freeze turned against him since Nora would dislike Freeze if she found out he aided Walker killing millions of people, she would leave him. Mr. Freeze decided to betray Walker and help Batman and Robin to stop Walker.
Mr. Freeze froze Walker and caused Oceania to explode. Freeze with Batman and Robin evacuated Oceania which later exploded. Grant regained his consciousness and survived the explosion but was trapped in a frozen block of ice. Ironically, he seemingly got his wish - to live forever at the bottom of the ocean. It's unknown if Walker was ever recovered from the ice block or remained stuck there for all eternity, but as Mr. Freeze's deterioration process eventually went close to kill him, it's possible that Walker endured the same process too and finally died, granting him his freedom.
Trivia
Walker is designed as an evil version of Walt Disney - his hair, mustache and facial features are borrowed directly from him, as is his habit of raising one eyebrow. Like Disney, he runs many theme parks and specializes in animatronics. His workers are called 'Visioneers,' a parody of Disney's 'Imagineers.' His vision of creating a perfect society is inspired by Disney's concept which became the Epcot center after his death. Walker's fate of being frozen beneath his creation is a reference to the myth that Walt Disney was cryogenically frozen beneath Epcot center.

Villains
Comics
Alice | Amanda Waller | Amygdala | Anarky | Arkham Knight | Azrael | Baby Doll | Bane | Barbatos | The Batman Who Laughs | Black Glove | Black Mask | Blockbuster I | Broker | Blockbuster II | Brain | Brother EYE | Calculator | Calendar Man | Captain Fear | Carmine Falcone | Catman | Catwoman | Circus of Strange | Clayface | Claything | Clock King | Club of Villains | Cluemaster | Composite Superman | Condiment King | Copperhead | Court of Owls | Crazy Quilt | Crime Doctor | Curtis Base | Dark Archer | David Cain | Dark Knights | Deacon Blackfire | Deadshot | Dealer | Deathstroke | The Dawnbreaker | The Devastator | Doctor Death | Doctor Dedalus | Doctor Double X | Doctor Hurt | Doctor Phosphorus | The Drowned | Electrocutioner | Emperor Blackgate | Ernie Chubb | Faceless | Firebug | Firefly | Flamingo | Floronic Man | Gearhead | General Ulysses Armstrong | Gorilla Boss | Gotham City Police Department | Grant Walker | Great White Shark | The Grim Knight | H.A.R.D.A.C. | Harley Quinn | Holiday | Holly Robinson | Humpty Dumpty | Hugo Strange | Hush | Jack the Ripper | James Gordon, Jr. | Jason Todd | Joe Chill | The Joker | Judge of Owls | Joker's Daughter | Key | KGBeast | King Snake | King Tut | Killer Croc | Killer Moth | Kite Man | Lady Shiva | League of Assassins | Leviathan | Lex Luthor | Lock-Up | Lloyd Ventrix | Mad Hatter | Mad Monk | Magpie | Malochia | Man-Bat | Maxie Zeus | The Merciless | Mister Bloom | Monk | Mr. Freeze | Mr. Toad | Mutants | Nightslayer | Nocturna | Nyssa Raatko | Onomatopoeia | Orca | Outsider | Owlman | Penguin | Phosphorus Rex | Planet Master | Poison Ivy | Polka Dot Man | Professor Pyg | Prometheus | Ra's al Ghul | Ragdoll | Ratcatcher | Reaper | Red Claw | Red Death | Reverse-Flash | Riddler | Roland Daggett | Roxy Rocket | Royal Flush Gang | Rupert Thorne | Sal Maroni | Scarecrow | Sensei | Sewer King | Signalman | Sinestro | Snowman | Solomon Grundy | Spellbinder | Steeljacket | Suicide Squad | Talia al Ghul | Tally Man | Ten-Eyed Man | Terrible Trio | Tiger Shark | Timecode | Tony Zucco | Tweedledum and Tweedledee | Two-Face | Ubu | Vandal Savage | Ventriloquist | Ventriloquist II | Ventriloquist III | Vertigo | Victim Syndicate | Victor Zsasz | Wrath | Zebra-Man
Movies
Batman (1966): Joker | Catwoman | Penguin | Riddler
Batman (1989): Joker | Bob Hawkins | Alicia Hunt | Carl Grissom | Max Eckhardt | Vinnie Ricorso | Joe Chill
Batman Returns: Penguin | Red Triangle Circus Gang (Organ Grinder, Poodle Lady, Tattooed Strongman, Stungun Clown, Thin Clown, Fat Clown, Sword Swallower & Knifethrower Dame) | Max Shreck | Catwoman | Charles "Chip" Shreck
Batman: Mask of the Phantasm: Phantasm | Joker | Salvatore Valestra | Arthur Reeves | Chuckie Sol | Buzz Bronski
Batman Forever: Riddler | Two-Face | Sugar | Spice | NygmaTech (Frogmen) | Neon Gang (Neon Gang Leader) | Salvatore Maroni
Batman & Robin: Poison Ivy | Mr. Freeze | Bane | Snowy Cones Thugs | Golums | Jason Woodrue
Batman Begins: Ra's al Ghul | League of Shadows (Ra's Decoy) | Scarecrow | Carmine Falcone | Victor Zsasz | Joe Chill
The Dark Knight: Joker | Joker's Thugs (Thomas Schiff, Chuckles, Kilson, Bus Driver, Happy, Dopey & Grumpy & Bus Driver) | Two-Face | Sal Maroni | The Chechen | Gambol | Lau | Bank Manager | Michael Wuertz | Burmese Bandit
The Dark Knight Rises: League of Shadows (Bane, Talia al Ghul & Barsad) | Catwoman | John Daggett
Batman v Superman: Dawn of Justice: Lex Luthor | Doomsday | Anatoli Knyazev
Suicide Squad: Eyes of the Adversary (Enchantress & Incubus) | Suicide Squad (Deadshot, Harley Quinn, Captain Boomerang, El Diablo, Killer Croc, Slipknot & Amanda Waller) | Joker's Gang (Joker, Jonny Frost, Panda Man & Monster T) | Griggs
The Lego Batman Movie: Joker | Phantom Zone Criminals (Harley Quinn, Catwoman, Poison Ivy, Two-Face)
Joker: Clowns (Joker, Clown) | Penny Fleck | Randall | Wall Street Three
Community content is available under
CC-BY-SA
unless otherwise noted.