The Sandman Will Keep You Awake - The Loop
Play Sound
| | | |
| --- | --- | --- |
| " | Hey, (bleep)! I'm a (bleep) grapefruit! Do you know what that means?! | " |
| | ~ Grapefruit swearing at Orange in his first appearance. | |
| | | |
| --- | --- | --- |
| " | I'm sorry, what was that? Thought my ears deceived me, or did someone just ask why Grapefruit is so weak? | " |
| | ~ Grapefruit in Ask Orange 54. | |
| | | |
| --- | --- | --- |
| " | I'm walking here! | " |
| | ~ Grapefruit's new catchphrase for his new voice. | |
Grapefruit is the central antagonist and one of the main characters of the American comedy internet series The Annoying Orange, and its 2012 Cartoon Network TV series The High Fructose of Annoying Orange. He is Orange's rival and occasionally one of his friends. Despite being an antagonist, Grapefruit is occasionally an anti-hero.
He is voiced by Robert Jennings and currently Jon Bailey following Bob's departure in 2021.
Biography
Grapefruit and Passion Fruit were both purchased by Dane Boedigheimer at Trader Joe's.
He first appeared in Passion of the Fruit as the main antagonist until he was killed by Knife.
Despite his death, he was later revived. He appears in Halloween special Frankenfruit, put together with other deceased foods as Frankenfruit (a parody name of Frankenstein). He appears as he wants revenge on Orange and Pear by wanting to kill them. Grapefruit (as the head of the monster) is the only part of Frankenfruit that could talk. However, Grandpa Lemon talked at the end of the Frankenfruit halloween special video.
In Kitchen-mon, a Pokemon spoof, Grapefruit was transformed into a muscular fruit with brown hair. Grapefruit's hair resembles Brock from Pokemon.
He currently has a show called Grapefruit Art Critic.
In the Family Food, the weirdest thing Grapefruit did last Friday night was eating muffins while swiping right on every Tinder profile including his cousin's.
He attempted to get an attractive voice with the help of Dr. Bananas. But instead, he found an even disgusting voice that is more unattractive to all female foods (including Passion and Sis). After the Voice Modulator Ray was destroyed by Orange, he waited for Dr. Bananas repair his invention for Grapefruit to regain his old voice back. It was repaired but destroyed by Corey through the incinerator in the Eat it or Wear it Challenge 2. In the Bite, Lick or Nothing Challenge, the Voice Modulator Ray was repaired again. However, Grapefruit was arrested thrice when he licked the foods but the last one he didn't lick the maggot cheese but the Doughnut Police doesn't care. The Modulator Ray is once again broken by Sis when she throw it to Orange when not having any hands.
Personality
Grapefruit is usually a mean, cruel, evil and sadistic troublemaker towards Orange and his friends, but he is also a friend of Orange and his other friends. He is also in love with Passion Fruit.
Grapefruit likes flexing, and also knows how to squat even if he has no legs.
He used to try and get revenge on Orange, but then he has stopped attempting to get revenge on Orange. However, even though he stopped trying to get revenge on Orange, he was a main villain of a few episodes of the Annoying Orange TV show, The High Fructose Adventures of Annoying Orange. He has various roles where he outright attacks and belittles others and generally makes other characters' lives difficult. Even Orange sometimes dislikes Grapefruit, as he frequently calls him an "apple" (which is a slang for unpleasant people in the series).
Nowadays, Grapefruit seems to be less antagonistic than he was before as he currently seems to not act villainous that much, but he is not completely redeemed yet. It is unknown if he will actually ever redeem himself or not. He also doesn't believe Kidney Seeds giving fruits pain until when Orange farted out his Kidney Seed to Grapefruit's kidney.
He is only into women when he attempted to get Passion, Sis and the other female foods to like him. But he ended up being rejected and no females would ever like him even when Midget Apple always tries to reminding him countless times. His new voice is more disgusting that all female strongly dislike him than before.
Forms
Frankenfruit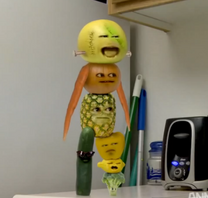 Frankenfruit is a mutant humanoid monster made with various deceased characters as the monster's body. Frankenfruit only appears in the titular Halloween special with the same name. Frankenfruit wanted to kill Orange and Pear, but failed to kill them as the monster was defeated by getting attacked by the Halloweenie, and was possibly eaten. At the end, Grandpa Lemon's rear end was in Grapefruit's face.
Magne-Fruit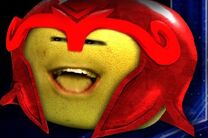 Magne-Fruit is a supervillain form of Grapefruit who appears as the main antagonist of The Fruit-Vengers, which is an episode of the TV show, The High Fructose Adventures of Annoying Orange.
He was shown to commit genocide while killing a majority of vegetables who are making fun of him for calling his cannonball to be so weak until he was defeated by Pear with his fish-schooled arms.
Toothpick
Toothpick is Grapefruit's exe form when he got pocked by a pin from 2019 Shocktober's annoyingorange.exe. After Marshmallow placed an anti-virus program into the computer. Grapefruit is still stuck as a toothpick when Pear, Orange, Midget Apple and Marshmallow make fun of him and laugh.
Trivia
Grapefruit is one of the few main characters to not be portrayed by Dane Boedigheimer as he was portrayed by Robert Jennings (the others being Passion Fruit, who was portrayed by iJustine, and Grandpa Lemon, who was portrayed by Kevin Brueck). However, in April Fruit's Day, Grapefruit was briefly played by Dane Boedigheimer when he was disguised as Midget Apple.
Grapefruit was the first Annoying Orange character to swear, and have the swearing censored.
He was the first grapefruit character to be killed. However, he was resurrected in the Frankenfruit episode and appeared in the rest of the series. He was also the head of the monster, Frankenfruit, and was one of the three characters to survive the attack of the Halloweenie along with Grandpa Lemon and Midget Pumpkin. Grapefruit was not killed by knives from HFA: Bad News Pears. He wasn't killed by knife but removed the Kidney Seed although got sliced in half before he is super glued.
In Ask Orange 22, it was mentioned that Grapefruit was a female pretending to be a male. However, it is unknown if that is true or if it was just a joke.
Since his recent appearances, his voice started to get higher than it was in his debut.
In Dr. Strangeplum, it was revealed that he has a cousin. However, his cousin is a tangerine, not a grapefruit.
In Grapefruit's Revenge, it was revealed that he has a sister, a second cousin, a grandpa, and a mailman.
In Food Court, it was revealed that he has a nephew.
Grapefruit gets offended when anyone called him so weak. In HFA Fruitvengers when Pumpkin and Zucchini called his cannonball to be so weak and In Ask Orange 54, it was mentioned when asked "Why is Grapefruit so weak?".