Click To Help DIO!

DIO has declared that this article has stopped in time, and any and all information on it may be outdated.
Help improve this article by checking and updating it's info wherever necessary
And now time resumes!

✔
Jafar says: Read my lips and come to grips with the reality!


This article is a stub and is in need of expansion. You can help Villains Wiki by expanding it.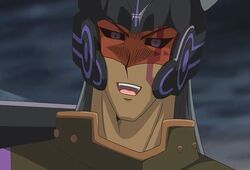 Greiger is a minor antagonist from the television Show Yu-Gi-Oh! 5Ds.
He was voiced by Sean Schemmel.
History
He was originally a duelist hired by Rex Goodwin to test the power of the signers during the Fortune Cup, but later became a Dark Signer when he found out that Rex Goodwin was the one who destroyed his home village. 
As a Dark Signer, Grieger wields the dark sign of the Whale. Greiger wields both a ground deck and a turbo deck. Both of Greiger's decks are Reactor decks. These decks wield Monster Reactor SK, Trap Reactor Y FI, and Spell Reactor RE, which can combine for form Flying Fortress SKY FIRE.
However, when Greiger became a Dark Signer, his turbo deck was similar, but had a few differences. An example is having the Dark Synchro monster; Dark Flattop, and his strongest monster; Earthbound Immortal Chacu Challhua.
Trivia
Greiger is the only Dark Signer that was defeated by a duelist that wasn't a Signer.
Community content is available under
CC-BY-SA
unless otherwise noted.