Boba Fett Returns - The Loop
Play Sound
| | | |
| --- | --- | --- |
| " | An invisible man can rule the world. Nobody will see him come, nobody will see him go. He can hear every secret. He can rob, and wreck, and kill! | " |
| | ~ Griffin, raving about his plan for world domination. | |
| | | |
| --- | --- | --- |
| " | All right, you fools. You've brought it on yourselves! Everything would have come right if you'd only left me alone. You've driven me near madness with your peering through the keyholes and gaping through the curtains, and now you'll suffer for it! You're crazy to know who I am, aren't you? All right! I'll show you! | " |
| | ~ Griffin before revealing himself to the pub. | |
Griffin is the titular character and main antagonist in the 1897 novel The Invisible Man by the late English writer H.G. Wells and its following adaptations. He creates a potion that can make him invisible, though at the cost of losing his sanity.
Originating from one of the most iconic literary pieces of its time, the Invisible Man has become an icon of pop culture, and a legendary member among Universal's lineup of monsters, in near equal status with the likes of Dracula and Frankenstein's Monster.
In the 1933 film he was portrayed by the late Claude Rains, who also played Erique Claudin in 1943's The Phantom of the Opera.
Personality
| | | |
| --- | --- | --- |
| " | We'll begin with a reign of terror, a few murders here and there, murders of great men, murders of little men - well, just to show we make no distinction. I might even wreck a train or two... just these fingers around a signalman's throat, that's all. | " |
| | ~ Griffin | |
The novel's Griffin is callous and cruel from the beginning and only pursues the experiment for wealth and his ego. The film portrays Griffin more sympathetically than the novel. It shows Griffin as an honourable man who is misguided. His insanity is purely a side-effect of the invisibility drug and his motivation for the experiment was a misguided desire to do good for science and mankind, born primarily out of his love for his fiancée.
Biography
Novel
| | | |
| --- | --- | --- |
| " | Great and strange ideas transcending experience often have less effect upon men and women than smaller, more tangible considerations. | " |
| | ~ The novel on Griffin. | |
Griffin is an albino who studies optical density. His discoveries were supposed to make him famous, and he wants all the credit to himself by quitting the university he's working and continuing his experiments in an apartment. In his studies, he eventually develops a potion that renders him invisible to the human eye.
During his invisible state, he tries desperately to find a cure. He steals money from people which magnetized him to the authorities. To hide when he takes residence at the Coach and Horses Inn in Ipling, Griffin steals a trenchcoat, dark goggles, bandages, and a fake nose to conceal his identity. However, he draws more attention when his experiments and billing to the local reverend arouse suspicion.
While escaping Ipling, Griffin forces a homeless man named Thomas Marvel to carry money for him. Marvel escapes the Invisible Man's clutches and runs off with Griffin's money. While in the town of Port Burdock, Griffin seeks help from a former acquaintance Dr. Arthur Kemp in aiding him in a reign of terror.
| | | |
| --- | --- | --- |
| " | "The man's become inhuman, I tell you," said Kemp. "I am as sure he will establish a reign of terror—so soon as he has got over the emotions of this escape—as I am sure I am talking to you. Our only chance is to be ahead. He has cut himself off from his kind. His blood be upon his own head." | " |
| | ~ Chapter 25 on Griffin. | |
Refusing, Kemp summons the local authorities including Colonel Adye who is shot dead by Griffin. Enraged and determined to punish Kemp, Griffin follows Kemp back to Ipling. Ultimately, Griffin meets his end at the hands of the mob summoned by Kemp. In death, the invisibility effect wears off and he is visible again once more.
Universal Adaptation
| | | |
| --- | --- | --- |
| " | The drugs I took seemed to light up my brain. Suddenly I realized the power I held, the power to rule, to make the world grovel at my feet. | " |
| | ~ Griffin | |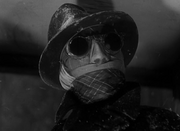 The Universal incarnation, given the first name Jack, and unlike the novel version, Jack Griffin had a more sympathetic background. He was a researcher working in food preservation and fell in love with his employer's daughter Flora. Determined to prove himself both a successful researcher and good husband material for Flora, Griffin tests with a dangerous chemical called monocane, eventually discovering the formula for making living beings invisible. However, his applications of the formula to himself drive him to insanity.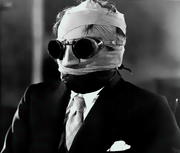 Like in the novel, Griffin seeks aid for a megalomaniacal plot to create invisible armies from Kemp who refuses. Unlike in the novel, Griffin succeeds in killing Kemp by forcing his car to crash down a hill. He is pursued and fatally shot while trying to escape. He later dies in the hospital, apologizing for his actions and noting "I meddled in things man must leave alone." With his final breath, his body becomes once again visible.
League of Extrordinary Gentlemen
Main article: Hawley Griffin
Hollow Man 2
Main article: Michael Griffin
2020 Film
Main article: Adrian Griffin
Quotes
Novel
"
"You don't understand," he said, "who I am or what I am. I'll show you. By Heaven! I'll show you." Then he put his open palm over his face and withdrew it. The centre of his face became a black cavity. "Here," he said. He stepped forward and handed Mrs. Hall something which she, staring at his metamorphosed face, accepted automatically. Then, when she saw what it was, she screamed loudly, dropped it, and staggered back. The nose—it was the stranger's nose! pink and shining—rolled on the floor.


Then he removed his spectacles, and everyone in the bar gasped. He took off his hat, and with a violent gesture tore at his whiskers and bandages. For a moment they resisted him. A flash of horrible anticipation passed through the bar. "Oh, my Gard!" said some one. Then off they came.
It was worse than anything. Mrs. Hall, standing open-mouthed and horror-struck, shrieked at what she saw, and made for the door of the house. Everyone began to move. They were prepared for scars, disfigurements, tangible horrors, but nothing! The bandages and false hair flew across the passage into the bar, making a hobbledehoy jump to avoid them. Everyone tumbled on everyone else down the steps. For the man who stood there shouting some incoherent explanation, was a solid gesticulating figure up to the coat-collar of him, and then—nothingness, no visible thing at all!

"
~ Griffin revealing himself.
"
"Why!" said Huxter, suddenly, "that's not a man at all. It's just empty clothes. Look! You can see down his collar and the linings of his clothes. I could put my arm—"


He extended his hand; it seemed to meet something in mid-air, and he drew it back with a sharp exclamation. "I wish you'd keep your fingers out of my eye," said the aerial voice, in a tone of savage expostulation. "The fact is, I'm all here: head, hands, legs, and all the rest of it, but it happens I'm invisible. It's a confounded nuisance, but I am. That's no reason why I should be poked to pieces by every stupid bumpkin in Iping, is it?"

"
~ Griffin and Huxter.
"
"Pull yourself together," said the Voice, "for you have to do the job I've chosen for you."


Mr. Marvel blew out his cheeks, and his eyes were round.
"I've chosen you," said the Voice. "You are the only man except some of those fools down there, who knows there is such a thing as an invisible man. You have to be my helper. Help me—and I will do great things for you. An invisible man is a man of power."

"
~ Griffin and Mr. Marvel.
"
I remember that night. It was late at night—in the daytime one was bothered with the gaping, silly students—and I worked then sometimes till dawn. It came suddenly, splendid and complete in my mind. I was alone; the laboratory was still, with the tall lights burning brightly and silently. In all my great moments I have been alone. 'One could make an animal—a tissue—transparent! One could make it invisible! All except the pigments—I could be invisible!' I said, suddenly realising what it meant to be an albino with such knowledge. It was overwhelming. I left the filtering I was doing, and went and stared out of the great window at the stars. 'I could be invisible!' I repeated.


To do such a thing would be to transcend magic. And I beheld, unclouded by doubt, a magnificent vision of all that invisibility might mean to a man—the mystery, the power, the freedom. Drawbacks I saw none.

"
~ Griffin
| | | |
| --- | --- | --- |
| " | I was invisible, and I was only just beginning to realize the extraordinary advantage my invisibility gave me. My head was already teeming with plans of all the wild and wonderful things I had now impunity to do. | " |
| | ~ Griffin | |
"
[The invisible man said:] "After a time I crawled home, took some food and a strong dose of strychnine, and went to sleep in my clothes on my unmade bed. Strychnine is a grand tonic, Kemp, to take the flabbiness out of a man."


"It's the devil," said Kemp. "It's the palaeolithic in a bottle."
"I awoke vastly invigorated and rather irritable. You know?"
"I know the stuff."

"
~ Griffin and Dr. Kemp.
| | | |
| --- | --- | --- |
| " | My mood, I say, was one of exaltation. I felt as a seeing man might do, with padded feet and noiseless clothes, in a city of the blind. I experienced a wild impulse to jest, to startle people, to clap men on the back, fling people's hats astray, and generally revel in my extraordinary advantage. | " |
| | ~ Griffin | |
| | | |
| --- | --- | --- |
| " | So last January, with the beginning of a snowstorm in the air about me—and if it settled on me it would betray me!—weary, cold, painful, inexpressibly wretched, and still but half convinced of my invisible quality, I began this new life to which I am committed. I had no refuge, no appliances, no human being in the world in whom I could confide. To have told my secret would have given me away—made a mere show and rarity of me. Nevertheless, I was half-minded to accost some passer-by and throw myself upon his mercy. But I knew too clearly the terror and brutal cruelty my advances would evoke. I made no plans in the street. My sole object was to get shelter from the snow, to get myself covered and warm; then I might hope to plan. But even to me, an Invisible Man, the rows of London houses stood latched, barred, and bolted impregnably. | " |
| | ~ Griffin | |
| | | |
| --- | --- | --- |
| " | Practically I thought I had impunity to do whatever I chose, everything—save to give away my secret. So I thought. Whatever I did, whatever the consequences might be, was nothing to me. I had merely to fling aside my garments and vanish. No person could hold me. I could take my money where I found it. | " |
| | ~ Griffin | |
| | | |
| --- | --- | --- |
| " | The more I thought it over, Kemp, the more I realized what a helpless absurdity an Invisible Man was—in a cold and dirty climate and a crowded civilized city. Before I made this mad experiment I had dreamt of a thousand advantages. That afternoon it seemed all disappointment. I went over the heads of the things a man reckons desirable. No doubt invisibility made it possible to get them, but it made it impossible to enjoy them when they are got. Ambition—what is the good of pride of place when you cannot appear there? What is the good of the love of woman when her name must needs be Delilah? I have no taste for politics, for the blackguardisms of fame, for philanthropy, for sport. What was I to do? And for this I had become a wrapped-up mystery, a swathed and bandaged caricature of a man! | " |
| | ~ Griffin | |
"
"By Heaven, Kemp, you don't know what rage is! To have worked for years, to have planned and plotted, and then to get some fumbling purblind idiot messing across your course! Every conceivable sort of silly creature that has ever been created has been sent to cross me.


"If I have much more of it, I shall go wild—I shall start mowing 'em."
"As it is, they've made things a thousand times more difficult."
"No doubt it's exasperating," said Kemp, dryly.

"
~ Griffin and Dr. Kemp.
| | | |
| --- | --- | --- |
| " | "You have been amazingly energetic and clever," this letter ran, "though what you stand to gain by it I cannot imagine. You are against me. For a whole day you have chased me; you have tried to rob me of a night's rest. But I have had food in spite of you, I have slept in spite of you, and the game is only beginning. The game is only beginning. There is nothing for it, but to start the Terror. This announces the first day of the Terror. Port Burdock is no longer under the Queen, tell your Colonel of Police, and the rest of them; it is under me—the Terror! This is day one of year one of the new epoch—the Epoch of the Invisible Man. I am Invisible Man the First. To begin with the rule will be easy. The first day there will be one execution for the sake of example—a man named Kemp. Death starts for him to-day. He may lock himself away, hide himself away, get guards about him, put on armor if he likes—Death, the unseen Death, is coming. Let him take precautions; it will impress my people. Death starts from the pillar box by midday. The letter will fall in as the postman comes along, then off! The game begins. Death starts. Help him not, my people, lest Death fall upon you also. Today Kemp is to die." | " |
| | ~ Griffin's letter. | |
1933 Movie
| | | |
| --- | --- | --- |
| " | There is no need to be afraid, Kemp. We are partners. | " |
| | ~ Griffin, in an oily, menacing voice. | |
"
Griffin: I give you a last chance to leave me alone.


Const. Jaffers: Give ME a last chance? You've committed assault, that's what you've done, and you can come along to the station with me. Come along now. Come quietly, unless you want me to put the handcuffs on.
Griffin: Stop where you are. You don't know what you're doing.
Const. Jaffers: I know what I'm doing, all right. Come on!
Man in Pub: Get hold of him!
Man in Pub #2: Lock him up!
Griffin: All right, you fools. You've brought it on yourselves! Everything would have come right if you'd only left me alone. You've driven me near madness with your peering through the keyholes and gaping through the curtains, and now you'll suffer for it! You're crazy to know who I am, aren't you? All right! I'll show you!
[the Invisible Man removes his rubber nose and goggles and throws them at his spectators]
Griffin: There's a souvenir for you, and one for you. I'll show you who I am - and WHAT I am!
[the Invisible Man, laughing maniacally, removes his bandages and fake hair]
Const. Jaffers: Look! He's all eaten away!
Griffin: Eh? How do you like that, ay?

"
~ Griffin revealing himself to the pub.
"
Griffin: I hope your car's insured, Kemp. I'm afraid there's going to be a nasty accident in a minute. A very nasty accident!


Dr. Kemp: Griffin, I'll do anything! Everything you ask me!
Griffin: You will? That's fine. Just sit where you are. I'll get out and take the handbrake off and give you a little shove to help you on. You'll run gently down and through the railings, then you'll have a big thrill for a hundred yards or so till you hit a boulder, then you'll do a somersault and probably break your arms, then a grand finish up with a broken neck! Well, goodbye, Kemp. I always said you were a dirty little coward. You're a dirty sneaking little rat as well. Goodbye.

"
~ Griffin and Dr. Kemp.
"
Griffin: So, I see. Kemp couldn't sleep. He had to go downstairs. He was frightened. I put my trust in Kemp. I told him my secret and he gave me his word of honor. You must go now, Flora.

Flora Cranley: I want to help you.

Griffin: There is nothing left for you to do, my dear, except to go. I shall come back. I swear, I shall come back because I shall defeat them. Go now my dear.

Flora Cranley: No, I want to stay. You must hide.

Griffin: Don't worry, the whole world's my hiding place. I can stand there amongst them in the day or night and laugh at them.

"
~ Griffin makes a promise as he sees police dogs and policemen encroaching upon the house.
| | | |
| --- | --- | --- |
| " | They've asked for it, the country bumpkins. This will give them a bit of a shock, something to write home about. A nice bedtime story for the kids, too, if they want it. | " |
| | ~ Griffin | |
| | | |
| --- | --- | --- |
| " | Here I am. Aren't you pleased you found me? | " |
| | ~ Griffin strangling a volunteer searcher. | |
| | | |
| --- | --- | --- |
| " | Here we go gathering nuts in may / nuts in may / nuts in may / here we go gathering nuts in may / on a cold and frosty morning. | " |
| | ~ Griffin singing. | |
| | | |
| --- | --- | --- |
| " | There are one or two things you must understand, Kemp. I must always remain in hiding for an hour after meals. The food is visible inside me until it is digested. I can only work on fine, clear days. If I work in the rain, the water can be seen on my head and shoulders. In a fog, you can see me - like a bubble. In smoky cities, the soot settles on me until you can see a dark outline. You must always be near at hand to wipe off my feet. Even dirt between my fingernails would give me away. It is difficult at first to walk down stairs. We are so accustomed to watching our feet. But, these are trivial difficulties. We shall find ways of defeating everything. | " |
| | ~ Griffin | |
| | | |
| --- | --- | --- |
| " | I meant to come back just as I was when you saw me last, but the fools wouldn't let me work in peace. I had to teach them a lesson. | " |
| | ~ Griffin | |
| | | |
| --- | --- | --- |
| " | You're a true friend, Kemp, a man to trust. I've no time now but, believe me, as surely as the moon will set and the sun will rise I shall kill you tomorrow night. I shall kill you even if you hide in the deepest cave of the Earth. At ten o'clock tomorrow night, I shall kill you! | " |
| | ~ Griffin planning to kill Dr. Kemp. | |
| | | |
| --- | --- | --- |
| " | Are you satisfied now! You fools! It's easy, really, if you're clever! A few chemicals mixed together. That's all. And flesh and blood and bones just - fade away. | " |
| | ~ Griffin | |
| | | |
| --- | --- | --- |
| " | You'd think I'd escape like a common criminal? You need a lesson. I think I'll throttle you! | " |
| | ~ Griffin | |
| | | |
| --- | --- | --- |
| " | I began five years ago, in secret. working all night, every night, right into the dawn. A thousand experiments. A thousand failures. And then, at last, the great, wonderful day. | " |
| | ~ Griffin | |
| | | |
| --- | --- | --- |
| " | The great, wonderful day. The last, little mixture of drugs. | " |
| | ~ Griffin | |
| | | |
| --- | --- | --- |
| " | Your father? Clever? Huh! You think he can help me? He's got the brain of a tapeworm, a maggot, beside mine! Don't you see what it means? Power! Power to rule! To make the world grovel at my feet! | " |
| | ~ Griffin | |
| | | |
| --- | --- | --- |
| " | Power, I said! Power to walk into the gold vaults of the nations, into the secrets of kings, into the Holy of Holies; power to make multitudes run squealing in terror at the touch of my little invisible finger. Even the moon's frightened of me, frightened to death! The whole world's frightened to death! | " |
| | ~ Griffin | |
"
[after robbing a bank] There you are! A present from the Invisible Man! Money! Money! Money! Money! Ha-ha-ha!


[singing]
Ups and down the city road, In and out the eagle, That's the way the money goes, Pop goes the weasel!
[Screaming]
Money! Money! Money! Money! Money! Money! Money!

"
~ Griffin singing after robbing a bank.
"
The Invisible Man: Are we alone in the house?


Dr. Kemp: Yes.
The Invisible Man: Alright, go now. If you raise a finger against me you're a dead man. I'm strong and I'll strangle you.

"
~ Griffin
"
Dr. Kemp: They'll have a guard.


Griffin: A guard? What can a guard do, you fool?


"
| | | |
| --- | --- | --- |
| " | One day, I'll tell you everything. There's no time now. | " |
| | ~ Griffin and Dr. Kemp. | |
| | | |
| --- | --- | --- |
| " | [Kemp walking toward the front door] The sitting room I said Kemp. And if you try to escape by the window, I shall follow you and no one in the world can save you. | " |
| | ~ Griffin | |
| | | |
| --- | --- | --- |
| " | I knew you'd come for me, Flora. I wanted to come back to you. My darling... I failed. I meddled in things that man must leave alone. | " |
| | ~ Griffin's last words. | |
Gallery
Images
Videos
Trivia
Griffin was briefly mentioned in Abbott and Costello Meet the Invisible Man, and a picture of him before the transformation (Claude Rains) is shown-though he's referred to as "John Griffin" instead of "Jack Griffin".

Villains
Animated Features
Warren T. Rat | Mott Street Maulers (Digit) | Moe | Cossack Cats | Sharptooth | Cat R. Waul | Cactus Cat Gang (T.R. Chula, One-Eye, & Sweet William) | Professor Screweyes | Ozzy & Strut | Hyp | Mutt and Nod | Steele | Ichy and Dil | Mr. Grasping | Toplofty and O'Bloat | Chief McBrusque | Scuttlebutt | Madame Mousey | Twitch | Rinkus and Sierra | Niju | Nuk, Yak, and Sumac | Farley the Fox | Br'er Fox | Br'er Wolf | Robert the Terrible | Serpent | Botticelli Remorso | 1 | 8 | Fabrication Machine | Machines (Cat Beast, Winged Beast, Seamstress, Steel Behemoths, Seeker Drones, & Spiderbots) | The Chancellor's Party (Chancellor Fredinand) | Danno Wolfe | Felonious Gru | Minions | Dr. Nefario | Vector | Mr. Perkins | Nightmare Train | Aloysius O'Hare | The Once-Ler | Morty and McGurk | The Once-ler's Mother | Brett and Chet | Aunt Grizelda | Agatha Prenderghast | Judge Hopkins | El Macho | El Pollito | Evil Minions | Norvirus Raccoon | Percy "King" Dimplewade | Knuckles | Archibald Snatcher | Mr. Gristle | Mr. Trout | Mr. Pickles | Scarlet Overkill | Herb Overkill | Villain Con Villains | Snowball | Flushed Pets | Ozone | Raiden the Moon King | Karasu and Washi | Giant Skeleton | Garden of Eyes | Bears | Mike | The Gorillas (Johnny's Father) | Zhong | Dru Gru | Balthazar Bratt | Clive | Mayor Muldoon | Heather Muldoon | Gunther | The Grinch | Grimmel the Grisly | Deathgrippers | Warlords | Lou | Lydia, Kitty, and Tuesday | Sergei | Little Sergei | Circus Wolves | Dr. Zara | Burnish | Goon Leader | Queen Barb | Rock Trolls | The K-Pop Gang | Reggaeton Trolls | Spiny Mandrilla | Punch Monkeys | Hendricks | Dr. Erwin Armstrong | Jimmy Crystal | Klaus Kickenklober | Jerry | Bowser | Kamek | Koopa Troop | Cranky Kong | Donkey Kong | Foreman Spike
Live-Action Films
Count Dracula (1931) | Dr. Henry Frankenstein | Frankenstein's Monster | Imhotep (1932) | Griffin | Wolfman (1941) | The Thing (1951) | Max Cady (1962) | Bob Ewell | Mayella Ewell | The Birds | Great White Sharks | The Car | Dean Vernon Wormer | Thulsa Doom (1982) | Rexor | Thorgrim | Set | The Thing (1982) | Skeksis (SkekSo, SkekZok, SkekUng, SkekSil, SkekTek, SkekAyuk, SkekNa, SkekShod, SkekOk, & SkekEkt) | Darkened Creatures | Biff Wilcox | Tony Montana | Alejandro Sosa | Frank Lopez | Richard Vernon | Hector | Alberto | The Skull | Queen Taramis | Bombaata | Thoth Amon | Dagoth | Nacho Contreras | Biff Tannen | BiffCo (Match, Skinhead, & 3-D) | The Libyans | Griff Tannen | Data, Spike, and Whitey | Buford Tannen | Dark Overlords of the Universe | Jacques LaFleur | Chucky | Christopher Sullivan | Damballa | Graboids | Louis Strack Jr. | Robert G. Durant | Cullen Crisp | Eleanor Crisp | Brett C. Shelton | Sergeant Botnick | The Robesons | Max Cady (1991) | Dr. Herman Varnick | Harvey and Vernon | Dennis Nedry | Donald Gennaro | Lewis Dodgson | Amon Goeth | Adolf Hitler | Cliff Vandercave | Miss Sharon Stone | Waldo Aloysius Johnston III | Aaron McComb | Eric Gordon | Carrigan Crittenden | Paul "Dibs" Plutzker | The Deacon | Shooter McGavin | Hal | Jonas Miller | King Einon | Buddy Love | Peter Ludlow | Dieter Stark | Chip Hazard | Commando Elite (Butch Meathook, Nick Nitro, Brick Bazooka, Link Static, Kip Killigan, & Gwendy Dolls) | Gil Mars | Tiffany Valentine | Warren Kincaid | Officer "Needlenose" Norton | Snoop | Imhotep (1999) | Beni Gabor | Anck-Su-Namun | Chip Rockefeller | Commodus | Boris Badenov (2000) | Natasha Fatale (2000) | Fearless Leader (2000) | Giant Hamster | The Grinch | Augustus Maywho | Hannibal Lecter | Rinaldo Pazzi | Paul Krendler | Fiona | Wyatt Frame | Johnny Tran | Lance Nguyen | Kenny Linder | Mathayus the Scorpion King | Cult of Imhotep (Baltus Hafez, Meela Nais, Lock-Nah, & Shafek) | Army of Anubis | Pygmies | "Red" Willits | Jacob Spivey | Jacques Clemons | Anubis | Marty Wolf | Memnon | Takmet | Thorak | Alexander Conklin | Ward Abbott | Professor | Castel | Manheim | Nykwana Wombosi | Carter Verone | Pascal Sauvage | David Banner | Glenn Talbot | Thunderbolt Ross (2003) | Smokey, Sammy, and Lily | Larry Quinn | Captain James Hook | Mr. Smee (2003) | Count Dracula (2004) | Vampires (Aleera, Marishka, & Verona) | Igor | Dwergi | Velkan Valerious | Mr. Hyde (2004) | Grey Werewolf | Zhylaw | Kirill | Yuri Gretkov | Jarda | David Fastidious | Pete | Zombies | Hilary Briss | Geoff Tipps | Herr Lipp | Dr. Erasmus Pea | Edward and Tubbs Tattsyrup | Papa Lazarou | Bernice Woodall | Pauline Campbell-Jones | Sir Nicholas, Lemuel, and Father Halfhearte | Selma Quickly | Sarge | The Infected | Carl Denham | DK Takashi | Uncle Kamata | Clay | Frank Butterman | Neighbourhood Watch Alliance (Simon Skinner & Reverend Philip Shooter) | Chuck Long | Noah Vosen | Albert Hirsch | Paz | Desh Bouksani | Ezra Kramer | Abomination | Strategic Operations Command Center (Thunderbolt Ross (2008) & Kathleen Sparr) | Samuel Sterns | Tough Guy Leader | Prince Nuada | Mr. Wink | Golden Army | Forest God | Tooth Fairies | Wesley Gibson | Sloan | Fox | Emperor Han | General Yang | Colonel Choi | Roger Wilson | Terracotta Warriors | Sargon | Phears | Arturo Braga | Fenix Calderon | Gisele Yashar | Enik | Sleestak (2009) | Grumpy (2009) | The Zarn (2009) | Big Alice | Library of Skulls | Hans Landa | Fredrick Zoller | Joseph Goebbels | Dieter Hellstrom | Adolf Hitler | Werner Rachtman | Lawrence Talbot/Wolfman | Sir John Talbot | Frank D'Amico | Chris D'Amico | Big Joe | Vic Gigante | Rasul | Leroy | Stu | Maya | Tony Romita | Sir Godfrey | Uncle Phil | Gideon Gordon Graves | League of Evil Exes ( Matthew Patel, Lucas Lee, Todd Ingram, Roxanne Richter, & Kyle and Ken Katayanagi) | Envy Adams | Nega Scott | Lynette Guycott | Leezar | Boremont | Julie | White People | The Big Guy | Agent Haggard | Carlos | Easter Chicks | Hernan Reyes | Zizi | Simon Ambrose | Killer Janitor | Sylvester Smirch | Queen Ravenna | Finn | Donny | Robert | Eric Byer | Grace Ferrin | Polite Leader | Owen Shaw | Vegh | Riley Hicks | Klaus | Adolfson | Toxic-Mega Cunts (Mother Russia, Black Death, Genghis Carnage, Javier, The Tumor, & Goggles) | Brooke | Ralph D'Amico | The Network | Blanks (Oliver Chamberlin, Peter Page & Guy Shepherd) | Barb Pierce | Santana | Clinch Leatherwood | Foy | Mr. Jang | Mehmed II | Master Vampire | Cootie Kids (Shelley Linker, Patriot, Dink, Angela, Tricycle Girl, & Racer Dopkins) | Big Daddy | Old Elegant Woman | The Bikers | Lorraine | Deckard Shaw | Mose Jakande | Louis Kiet | Kara | Indominus rex | Vic Hoskins | Henry Wu | Krampus | Krampus' Elves | Krampus' Toys | Krampus' Gingerbread Men | Rose Winters | Freya | Gul'dan (2016) | The Horde (Blackhand the Destroyer & Orgrim Doomhammer) | Edwidge Owens | Caleb Warrens | Earl Danzinger | Harmon James | Eric Busmalis | Chief Couper | Kimmy | New Founding Fathers of America | Robert Dewey | The Asset | Craig Jeffers | Christian Dassault | Tom Watson | Tao Tei (Tao Tei Queen) | Order of the Coagula | Armitage Family (Rose Armitage, Roman Armitage, Marianne Armitage, Dean Armitage, Missy Armitage, & Jeremy Armitage) | Jim Hudson | Logan King | Cipher | Connor Rhodes | Ahmanet | Mr. Hyde (2017) | Set | Dr. Foley | Mathias Lund-Helgesen | Bayfield Babyface Killer | Lori Spengler | John Tombs | Lipstick-Face Demon | KeyFace | Gerald Rainier | Rallah | Precursors | Kaiju (Obsidian Fury & Raijin, Hakuja, and Shrikethorn) | Newton Geiszler | Eli Mills | Ken Wheatley | Gunnar Eversol | Kores Botha | Arlo Sabian | Dr. May Updale | Skeletor | Michael Myers | Dr. Ranbir Sartain | Jason Volta | Dr. Gregory Butler | Stephanie Butler | Thaddeus Valentine | Shrike | Red/Adelaide Thomas | Tethered (Adelaide, Tethered Tylers, & Tethered Wilsons) | Eteon (Brixton Lore & Eteon Director) | Ma | Ben Hawkins | Shane | Demon Overlord | Lord Thomas Badgley | Dr. Blair Mudfly | Barry | Adrian Griffin | Blissfield Butcher | Athena Stone | Otto | Jakob Toretto | Lieutenant Sue | William Burke | Candyman | Candyman Hive | Sherman Fields | Sandie | Jack| Nick Fowler
See Also
9 Villains | Alfred Hitchcock Villains | Amblin Entertainment Villains | Back to the Future Villains | Barbie Villains | Child's Play Villains | Cooties Villains | Cornetto Trilogy Villains | Despicable Me Villains | Doom Villains | Dracula Villains | DreamWorks Villains | Dr. Seuss Villains | Fast and the Furious Villains | Get Out Villains | Halloween Horror Nights Villains | Hannibal Villains | Hellboy Villains | House MD Villains | Howard the Duck Villains | Hulk Villains | Illumination Villains | Jason Bourne Villains | Johnny English Villains | Jurassic Park Villains | Kick-Ass Villains | King Kong Villains | Laika Villains | Law & Order Villains | League of Gentlemen Villains | Legendary Entertainment Villains | Mario Villains | Marvel Cinematic Universe Villains | Pacific Rim Villains | Rankin/Bass Villains | Scarface Villains | Scott Pilgrim Villains | Sing Villains | Syfy Villains | Tarantinoverse Villains | The Dark Crystal Villains | The Invisible Man Villains | The Mummy Villains | The Purge Villains | The Secret Life of Pets Villains | Us Villains | Warcraft Villains