✘
---
This page was marked for deletion because it has little to no content at all. If you think it shouldn't be deleted, please comment in its talk page.
---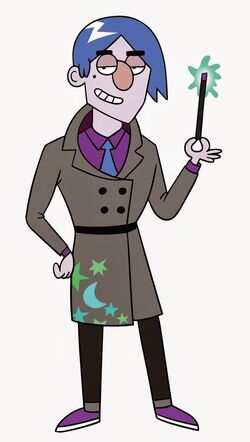 Grim Gloom
is the secondary antagonist of the Disney XD animated series,
The 7D
.
Biography
Grim is the husband of Hildy Gloom. He is very much a servant to her, although the two appear to be in a very loving relationship. Unlike Hildy, he dim-witted and a coward as he has a fear of spiders and ladybugs. He also steals a goose from a giant has no idea it is the one that lays golden eggs.
Appearance
He has blue hair, pale purple skin and black eyes. He wears a purple shirt, blue tie, gray trenchcoat, black jeans and purple shoes.
Trivia
He is a wizard.
He loves to pull pranks.
Community content is available under
CC-BY-SA
unless otherwise noted.