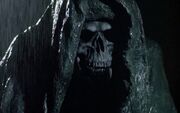 The Grim Reaper
is the main antagonist of "
The Grim Reaper
".
History
The stripper Rachel is hit by a cab but survives in the emergency room of a hospital. However, she sees Death chasing her, but she does not succeed in convincing the nurses. She is drugged and wakes up in St. Joseph, a mental hospital administrated by Dr. Brown. She finds five other inmates that had a near death experience and also claim that Death is coming for them, but Dr. Brown tells them that they are subject of a mass hypnosis experiment. Meanwhile, Rachel's boyfriend and student of medicine Liam seeks her nearby the night-club. While trying to escape from the facility, Rachel discloses the truth about Dr. Brown and St. Joseph. Death comes for us all, but after surviving a car crash that should have taken her life, Rachel Wilson finds herself stalked by the Grim Reaper himself intending on taking a soul he feels he is owed. Barely conscious in the ER room, Rachel struggles to convince the nurses that Death is coming for her and that her life is hanging in the balance. Supposedly, for her own protection, Rachel is locked up in a secure mental health facility. But it is not long before she discovers that her incarceration in the old hospital was asynchronous, surrounded by six other "patients" who, themselves, have cheated death. Over the course of the night they will have to face their worst fears, their own mortality, and Death himself.
Community content is available under
CC-BY-SA
unless otherwise noted.