The Grim Reaper is a villain from Marvel Comics and an enemy of the Avengers.
History
Despite being the older brother, Eric Williams was always in the shadow of his younger brother, Simon. As boys, sociopathic Eric and the good son Simon were taught by one of their parents: Simon was well educated by their mother, while Eric was abused by their father, resulting in him becoming a thief.
When their father died, he left the family company to Simon, while Eric got nothing. Jealous of his brother's success, Eric was more than happy to manipulate Simon into embezzling money from the company when business began to fail.
When Simon became the superhero Wonder Man, and died saving the Avengers, Eric swore to kill the Avengers.
Creating a hi-tech scythe capable of draining life force energy, Eric put Hawkeye, Hank Pym and the Wasp in a coma, which seemed like death, but was defeated by new Avenger the Black Panther. After several defeats from the Avengers, and eventually death, the Grim Reaper is now a parasitic entity that feasts on life force energy to live, and has set his sights on his resurrected brother, Wonder Man.
Eric was eventually killed for good when the heroic android Vision self-destructed next to him, causing both of their deaths.
Powers and Abilities
Originally the Grim Reaper had no powers, but had good fighting skills and his powerful scythe, which he could project arcs of electricity and sap people's life force. He now has powers of necromancy, teleportation, demon summoning, illusion casting, and clairvoyance.
Avengers: Earth's Mightiest Heroes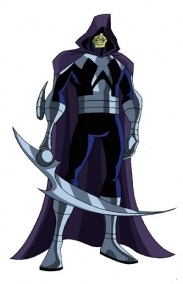 In the animated series, Grim Reaper is a sadistic and sociopathic mercenary who works for the terrorist organization HYDRA and is one of Baron Von Strucker's lieutenants. He has no superhuman powers, but has a cybernetic scythe on his right arm with a blaster attatched to it.
He is a skilled fighter and his scythe is extremely sharp, able to cut through steel with ease. He was redesigned for the show, wearing a hooded cape and light armor. Reaper first appeared infiltrating the supervillain prison The Vault in order to free the captive Baron Strucker.
He succeeded, but was stopped by Nick Fury and put in the prison. After escaping during the mass breakout, he rejoined HYDRA. Eric later brought his frustrated brother Simon to A.I.M., where they turned him into Wonder Man so he could get revenge on Tony Stark.
Reaper was the representitive for HYDRA when they made a deal with Man-Ape to get vibranium from Wakanda, and was partially responsible for the mutation of Klaw.
He was also HYDRA's representitive in their deals with A.I.M., and took part in the battle when Hawkeye, Mockingbird, Captain America, and Black Panther attacked Hydra Island. During the battle, Reaper's scythe was shredded apart by Panther's claws and he was taken into custody by SHIELD.
He is voiced by Lance Henrikson.
Gallery

vengers Villains
Comics
Abomination | Abominatrix | Absorbing Man | Adolf Hitler | Agony | A.I.M. | Air-Walker | Alkhema | Aleksander Lukin | Alistair Smythe | Amatsu-Mikaboshi | Amora | Annihilus | Ani-Men | Answer | Apocalypse | Arcade | Ares | Arkon | Arnim Zola | Atlas | Attuma | Avalanche | Awesome Android | Badoon | Barracuda | Baron Blood | Baron Mordo | Baron Wolfgang Von Strucker | Baron Zemo | Baron Zemo II | Basilisk | Batroc | Beetle | Beyonder | Black Knight | Blackout | Black Order | Black Cat | Black Talon | Black Widow | Blackie Drago | Blastaar | Blitzkrieg | Blizzard | Blob | Blood Brothers | Bombshell | Boomerang | Brothers Grimm | Brotherhood of Evil Mutants | Bullseye | Burglar | Bushmaster | Bushwacker | Cache | Carnage | Carrion | Calypso | Celestials | Centurion | Chameleon | Chance | Chemistro | Chester Goudal | Chitauri | Circus of Crime | Collector | Colonel Ross Whittaker | Commander Kraken | Constrictor | Corruptor | Count Nefaria | Cowled Commander | Crime-Master | Crimson Dynamo | Cristu Bulat | Crossbones | Crossfire | Cutthroat | Daken | Damage | Dark Avengers | Dark Elves | Deadpool | Deathbird | Deathurge | Death Adder | Deke Wainscroft | Demogoblin | Diablo | Doctor Doom | Doctor Faustus | Doctor Octopus | Doctor Spectrum | Dormammu | Dracula | Dreadknight | Eddie Brock | Eel | Egghead | Ego the Living Planet | Electro | Elementals | Elements of Doom | Enclave | Enforcers | Equinox | Exodus | Ezekiel Stane | Fabian Cortez | Famine | Fin Fang Foom | Finn Cooley | Firelord | Fixer | Frost | Frost Giants | Frightful Four | Galactus | Gargantus | Garthan Saal | Ghost | Goliath | Gog | Gladiator | Godzilla | Grand Director | Grandmaster | Grant Ward | Graviton | Green Goblin | Harry Osborn | Grey Goblin | Griffin | Grim Reaper | Grizzly | Growing Man | Grotesk | Hammerhead | Hand | Hazmat | Hela | Hera | Herr Kleiser | Heinz Kruger | High Evolutionary | Hitman | Horsemen of Apocalypse | Hobgoblin | Hydro-Man | HYDRA | Immortus | Ironclad | Jackal | Jack O' Lantern | Jester | Jigsaw | Johnny Ohm | Jonas Hambleton | Juggernaut | Justin Hammer | Kaine | Kangaroo | Kang the Conqueror | Killer Shrike | King Cobra | Kingpin | Klaw | Knull | Korvac | Kraven the Hunter | Kree | Lady Deathstrike | Leader | Lightmaster | Living Brain | Living Laser | Living Monolith | Lizard | Loki Laufeyson | Lucia Von Bardas | Ma Gnucci | Machinesmith | Mad Pharaoh | Madame Masque | Madame Viper | Madcap | Madelyne Pryor | Maelstrom | Maginty | Magneto | Magus | Malekith the Accursed | Man-Ape | Mandarin | Mandrill | Man-Spider | Man-Wolf | Master Man | Master Pandemonium | Masters of Evil | Masked Marauder | Maximus the Mad | Melter | Menace | Mentallo | Mercurio the 4-D Man | Mesmero | Mephisto | Mister Fear | Mister Hyde | Mister Negative | Mister Payback | Mister Sinister | M.O.D.A.M. | M.O.D.O.K. | Mojo | Molecule Man | Mole Man | Molten Man | Moonstone | Morbius the Living Vampire | Morgan Le Fay | Moses Magnum | Mystique | Mysterio | Namor | Nebula | Nekra | Nicky Cavella | Nightmare | Nightshade | Niles Van Roekel | Nicky Cavella | Obadiah Stane | Omega Red | Onslaught | Overdrive | Owl | Paladin | Phalanx | Phil Urich | Piledriver | Pluto | Presence | Princess Python | Proctor | Psycho-Man | Puppet Master | Puma | Purple Man | Quasimodo | Quicksand | Radioactive Man | Ragnarok | Ramrod | Reavers | Red Ghost | Red Skull | Reverend Samuel Smith | Rhino | Rhino II | The Rose | Ringer | Ringmaster | Riot | Ronan the Accuser | Roxxon | Sabretooth | Sandman | Säurespritze | Sauron | Savage Land Mutates | Scarecrow | Scarlet Witch | Scorcher | Scorpion | Screaming Mimi | Sebastian Shaw | Secret Empire | Selene Gallio | Sentinels | Sentry 459 | Serpent Society | Shriek | Shocker | Shockwave | Sidewinder | Silver Sable | Sin | Sinister Six | Skaar | Skeleton Crew | Skrulls | Slug | Space Phantom | Speed Demon | Spidercide | Spider-Man Revenge Squad | Spider-Slayers | Spot | Squadron Sinister | Stilt-Man | Stranger | Street | Superia | Super-Adaptoid | Super-Apes | Super Patriot | Super-Skrull | Supreme Intelligence | Superia | Surtur | Swarm | Swordsman | Symbiotes | Tarantula | Taskmaster | Technovore | Temugin | Ten Rings | Terminus | Thanos | Thunderball | Thunderbolts | Thunderbolt Ross | Thundersword | Tiger Shark | Tinkerer | Titania | Titanium Man | Toad | Tombstone | Trapster | Trick Shot | Terrax the Tamer | Typhoid Mary | Tyrannus | U-Foes | Ulik | Ultron | Unicorn | Universal Church of Truth | Vapor | Vector | Venom | Vermin | Vulture | Walrus | Warlord Krang | Whiplash | Whirlwind | White Rabbit | Will-O'-The-Wisp | Winter Soldier | Wizard | Wonder Man | Wrecker | Worthy | X-Ray | Yellow Claw | Ymir | Yon-Rogg | Zahnmörder | Zodiac | Zzzax
Movies
The Avengers: Loki Laufeyson | Chitauri (The Other & Leviathans) | HYDRA (Gideon Malick & Jasper Sitwell) | Georgi Luchkov | Thanos
Avengers: Age of Ultron: Ultron | Ultron Sentinels | HYDRA (Wolfgang von Strucker, List, Scarlet Witch & Quicksilver) | Ulysses Klaue | Madame B | Chitauri (Leviathans) | Thanos
Avengers: Infinity War: Thanos | Black Order (Ebony Maw, Proxima Midnight, Corvus Glaive, Cull Obsidian & Nebula) | Outriders | Chitauri (Leviathans) | Red Skull | The Collector | Loki Laufeyson | Winter Soldier | Scarlet Witch | Thunderbolt Ross
Avengers: Endgame: Thanos | Black Order (Ebony Maw, Proxima Midnight, Corvus Glaive, Cull Obsidian & Nebula) | Outriders | Sakaaran Mercenaries | Chitauri (Leviathans) | HYDRA/STRIKE (Red Skull, Alexander Pierce, Crossbones, Jasper Sitwell & Jack Rollins) | Loki Laufeyson | Winter Soldier | Scarlet Witch | Dark Elves | Thunderbolt Ross | Akihiko