The Grim Reaper, also known as "The Reaper", is one of the many personified versions of Death, the being was heavily used during the medieval period and came to symbolize death as well as a fear of the unknown. Today the Grim Reaper remains the most recognized omni-neutral death-deity of all time, although the entity is not a true deity. Rather, it is a symbolic creature.
Biography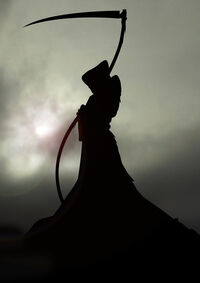 The concept of Death as a personified being is timeless, being as old as time itself but the grim figure of a hooded skeleton carrying a scythe was not very evident until the medieval period. During a time where morality was seen as pivotal to society and fear of the unknown was high it was perhaps unsurprising that life's greatest mystery (death) would come to be vied in the medieval mind as frightening and ever-present, the ghostly phantom of Death became known in time as the Grim Reaper and although a neutral force was as feared in the past as it is today, but today the Grim Reaper is viewed a needed being, just as death is necessary to keep humanity from overpopulation.
The Grim Reaper was seen as a collector of souls, the messenger of the dead and most important of every guide that came to all mortals. It was not the Grim Reaper's place to judge souls, nor was it the entity's role to aid or hinder mortal affairs. Put simply, the Grim Reaper's task was to appear to the dying and guide them to their final destination where they would be judged accordingly by higher powers.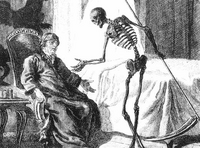 Although the Grim Reaper normally comes to those already dying, it has been noted that on rare occasions the Grim Reaper has the power to kill someone, though the entity occasionally does this out of malice. Due to the Grim Reaper appearing in a vaguely human form, there are many tales in which the entity can be tricked or bribed into freeing a person (which is where the phrase "cheating death" likely came from). However, for the most part, the Grim Reaper was seen as unable to be reasoned with and an inevitable part of being human.
In Biblical terms, the Grim Reaper is one of the four Horsemen of the Apocalypse, under the name "Death".
Danse Macabre
The "Dance Of Death" or "Danse Macabre" in French, was a medieval allegory on how death unites all people, regardless of age or social status. It was shown as a gruesome spectacle in which the Grim Reaper summons a host of dead spirits to dance along their graves: popular figures in this dance were a pope, an emperor, a king, a youngster and a laborer, chosen to remind the audience of the time that death was a truly universal concept and no man or woman was safe from its embrace, it was also used by the religious medieval people to highlight the foolishness of people who valued earthly possessions.
The "Danse Macabre" was represented on countless forms of arts first as theatre plays and poems, then numerous wall-paintings and drawings, mostly since the 15th century. In these times, the sheer number of death due to wars, famine and plagues, associated with three of the Four Horsemen of the Apocalypse, made a strong impact on people's minds, causing many reflexion on the true value of life.
This medieval scene was also paralleled in a French superstition that stated that the Grim Reaper would rise every Halloween at a cemetery on the witching hour (midnight). Once there, the entity would play a fiddle and summon the skeletons or ghosts of all the dead to dance until the rising sun forced them to retreat back to the grave. This legend was the inspiration for a poem by Henri Casalis also known as the "Danse Macabre", which was made into a musical piece by the French composer Camille Saint-Saëns in 1874. Saint-Saëns' friend Franz List later adapted it for piano alone.
The "Danse Macabre" music is now extremely famous worldwide and used in many death-themed works, being now used as a theme tune of some sort to the Grim Reaper and ghosts gatherings.
In Popular Culture
The Grim Reaper is a stock character in popular culture, appearing in countless media ranging from television and radio to comic books and novels. He is sometimes shown with an axe rather than a scythe. The Grim Reaper is also the main antagonist of the horror film series Final Destination and is he named Death instead. He is portrayed to be a malovent force with a sinister plan to end the lives of a specific group of people who have survived a disaster that one of the group members predicts via a premonition rather than being portrayed as a neutral force that takes lives when it is necessary. In the comic strip Bug-a-Boo, a female version of the character, Dona Morte, shows up as a friend of Penadinho.
Gallery
Images
Videos
External Links

Notable Legends
Chupacabra | Cyclops | Dragons | Wyverns | Dullahan | Fairies | Gremlins | Grim Reaper | Ghosts | Giants | Headless Horseman | Kraken | Loch Ness Monster | Medusa | Minotaur | Monsters | Mothman | Ogres | Siren | Skeletons | Spiders | Vampires | Wendigo | Yeti | Zombies
Demonology Legends
The Devil | Demons | Fallen Angels
Abaddon | Abere | Abyzou | Andromalius | Angra Mainyu | Aka Manto | Apep | Asmodeus | Asuras | Antichrist | Baal | Banshee | Baphomet | Beelzebub | Beast | Behemoth | Behemoth the Elephant | Belphegor | Black Cats | Black Monk of Pontefract | Black Shuck | Black Volga | Bogeyman | Buer | Cerberus | Coco | Crom Cruach | Demiurge | Eight Feet Tall | El Charro Negro | Enma Daio | Erlik | Gargoyles | Hellhounds | Iblis | Kali | Kansa | Kelpie of Loch Ness | Kitsune | Krampus | Kroni | Lamia | Legion | Locusts of Abaddon | Mahishasura | Malsumis | Mammon | Mara | Mares | Mephistopheles | Moloch | Nure-Onna | Rakshasa | Ravana | Raven Mocker | Sack Man | Samael | Six Demons | Stolas | Succubi | Termagant | Unholy Trinity | The Watchers | Wa Nyudo | Whore of Babylon | Zabaniyah
Disambiguation Pages
Satan | Demon | Succubus | Antichrist | Baphomet | Krampus | Behemoth
Gods & Spirits
Gods & Goddesses: Bila | Camazotz | Damballa | Geb | Fomorians (Balor, Bres) | Gods of Olympus (Ares, Atë, Hades, Hera, Limos, Poseidon, Zeus) | Jötunn (Ymir, Loki, Hela, Skoll and Hati, Fenrir, Jormungandr, Surtr, Hræsvelgr) | Kali | Nun | Set | Titans (Atlas, Kronos, Prometheus) | Veles | Xolotl
Spirits: Dybbuk | El Silbón | Fetch | Hinnagami | La Llorona | La Sayona | La Viuda | Mackenzie Poltergeist | Myling | Poltergeists | Stingy Jack
Humans & Humanoids
Abhartach | Ajax the Lesser | Ame-onna | Antaeus | Bandits | Baron Samedi | Black Rock Witch | Blair Witch | Cain | Cassiopeia | Christie Cleek | Count Dracula | Creon | Davy Jones | Delilah | Draug | Doppelgangers | Goliath | Gomorrahites | Green Knight | Green Witch | Hags | Haman the Agagite | Hanako-San | Herod the Great | Herodias | Horsemen of the Apocalypse | Ixion | Jezebel | Judas Iscariot | King Ahab | King Arthur | King Oenomaus | King Vortigern | Kuchisake-onna | La Tunda | Lilith | Lord William de Soulis | Louhi | Lucius Tiberius | Lycaon | Meg of Meldon | Morag | Morgan le Fay | Nanny Rutt | Pandarus | Paris | Phaedra | The Pharisees | Polyphemus | Rich Man | Romans | Santa Compaña | Saul | Sawney Bean | Sciron | Shechem | Sodomites | Stingy Jack | Tamamo no Mae | Tantalus | Trauco | Tydeus | Umibōzu | Yallery Brown | Ysbaddaden
Monsters, Animals & Anthropomorphic Beings
A-mi'-kuk | Akkorokamui | Averesboro Gallinipper | Aye-aye | Basilisk | Boneless | Cirein-cròin | Cockatrice | Count Dracula Cuegle | Cuélebre/Culebre | Devil Monkeys | Dip | Erymanthian Boar | Escornau | Fossa | Fouke Monster | Foxes | Frankenstein's Monster | Giants of Voronezh | Golden Cicada | Groundhogs | Harpies | Herensuge | Hydra | Jackalopes | J'ba Fofi | Kappa | La Cegua | Lambton Worm | Leviathan | Manticores | Madman Marz | Michigan Dogman | Mikari Baba | Morag | Mordred | Morgan le Fay | Ojáncanu | Onamazu | Otesánek | Paparrasolla | Pesanta | Redcaps (Robin Redcap) | River Mumma | Undead| Scylla | Stymphalian Birds | Tailypo | Tarasque | Trolls | Tsuchinoko | Will O' The Wisp | Wolves
Common Legends
Amanda the Doll | Black Goo | Bunnyman | Bye Bye Man | Candyman | China Doll | Clown Doll | Cropsy | Crying Boy | Hairy-Armed Woman | Hatman | Homey the Clown | Hook Killer | John and Susan Buckley | Joliet the Haunted and Cursed Doll | La Tunda | Licking Maniac | Melon Heads | Men in Black | Mystery Killer | Nain Rouge | Nameless Thing of Berkeley Square | Old Man Try-By-Night | Peeping Tom | Rain Man | Robert the Doll | Paimon | Patasola | Skinned Tom | Teke Teke | The Killer In the Backseat | The Man Upstairs
Cryptids
Beast of Gévaudan | Black Eyed Children | Black Stick Men | Cherufe | Devil Monkeys | Emela-Ntouka | Dog-headed Men | Fallen Angels | Fear Liath | Flatwoods Monster | Ghosts Goatman | Grafton Monster | Greys | Hoop Snake | Indrid Cold | Jackalopes | Jersey Devil | Kelpie of Loch Ness | Kongamato | Malawi Terror Beast | Mamlambo | Manananggal | Maricoxi | Mngwa | Momonjii | Morag | Nobusuma | Pope Lick Monster | Popobawa | Pukwudgies | Reptoids | Roc | Ropen | Salawa | Sea-Serpents | Shadow People | Sheepsquatch | Slide-Rock Bolter | Snallygaster | Spring Heeled Jack | Tanuki | Thunderbird | Two-Toed Tom | Water Horses | White-Eyed Children | Yowie
Modern Legends
Charlie | Bloody Mary | Bloody Mary (Halloween Horror Nights) | Ghost (Johnny, I Want My Liver Back) | Ghost Trains | Momo | Orie Chef | Aliens (AC) | Martinez Dog Demon | The Spirit of Dark and Lonely Water | Crisis
Possessed Objects
Coffin on Wheels | Ghost Trains | Black Volga | Robert the Doll | Joliet the Haunted and Cursed Doll | China Doll | Amanda the Doll | Clown Doll | Gargoyles
See Also
Cthulhu Mythos Villains | Trevor Henderson Villains | Creepypasta Villains | SCP Foundation Villains
Community content is available under
CC-BY-SA
unless otherwise noted.