Grizzly is a villainous wrestler known as Maxwell Markham. He appears to be one of Spider-Man's enemies. His first appearance was in The Amazing Spider-Man #139 December 1974.
Biography
Maxwell Markham was a professional wrestler whose brutal tactics caused J. Jonah Jameson to write a scathing editorial calling for an investigation by the wrestling commission. As a consequence of the hearings, his license was revoked. Later, he obtained a suit that augmented his strength from the Jackal. Recently, Grizzly has undergone a number of augmentation procedures and now possesses superhuman powers without the use of his exoskeleton. He no longer uses it or his grizzly bear costume.
At one time he was a part of the Spider-Man Revenge Squad.
He was later enlisted into the Thunderbolts.
Ultimate Spider-Man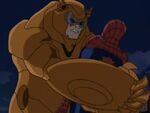 The Maxwell Markham version of Grizzly appears in the
Ultimate Spider-Man
episode "
House Arrest
", voiced by John DiMaggio. This version wears bear-themed armor and is depicted as being on the S.H.I.E.L.D. most wanted list. Spider-Man fights against Grizzly until his team arrived. When Spider-Man is able to defeat Grizzly, he lands in the dumpster when the police arrive.
Gallery
Community content is available under
CC-BY-SA
unless otherwise noted.