Jurassic World: Dominion Dominates Fandom Wikis - The Loop
Play Sound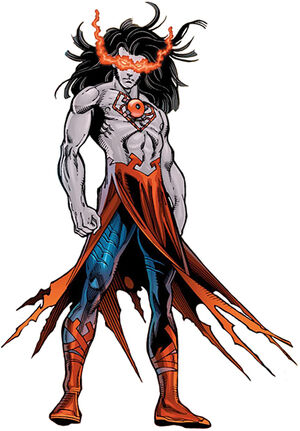 | | | |
| --- | --- | --- |
| " | "I am disgusted by the glasses and the slave name - the way you sold your heritage in exchange for the adulation and fear of the savages who infect this planet. Thank me when you get to the shores of perpetual joy, Kal-El. Thank me for putting you out of the misery that is your life!" | " |
| | ~ H'El | |
H'El is a character appearing in DC comics as part of the long-running Superman media, in which he has been established as a villain with particular interest in Superman, Superboy and Supergirl - collectively known as the "Super Family": like these characters he is a member of the extremely powerful alien race known as Kryptonians but lacked their restraint and became a relentless and deadly opponent (it was later revealed he was not a normal Kryptonian but a bizarre clone made from multiple Kryptonian DNA and given false memories, a twisted irony given his hatred of clones).
First appearing in Supergirl Volume 6 issue number 13 in 2012 he is classed as a "modern age" villain and as such has many darker elements to his character as well as more complex goals than the more traditional villains of comics (for example he does not consider himself an evil being, in stark contrast to characters such as Darkseid, who not only know they are evil but relish the fact).
History
H'El was originally a clone made from multiple Kryptonian DNA but was given false memories and grew to become a Kryptonian space explorer who with an extremely strong bond to Jor-El and Lara, who he saw as adoptive parents - when Jor-El began to realize Krypton was in danger of destruction he created a prototype starship and tasked H'El with preserving the planet's knowledge and history through the stars, with this H'El would be launched into space (in a very similar manner to how an infant Superman and a young Supergirl would also be launched off-planet and survive Krypton's demise).
Unfortunately for all H'El's voyage was a difficult and dangerous one, eventually he would arrive on Earth 27 years after Krypton's destruction and vowed to go back in time and stop Krypton's destruction - a goal that would be noble if H'El had absolutely no care if his plans would endanger or even destroy Earth.. putting him in conflict with Superman and his allies.
Personality
H'El believes he is doing good and that he is just but in reality he is an extremely brutal and tyrannical entity that will sacrifice entire solar systems if necessary to achieve his goal, he will also manipulate and kill any that stand in his way or whom he believes will aid his cause.
This is most apparent in how he ruthlessly manipulated Supergirl, gaining her trust but have no care for her wellbeing - to H'El she was but a tool to gain what he wanted.. when faced with beings he can not manipulate (such as Superman) he will react with violence.
H'El is also a twisted xenophobe as he continually offered to kill Superboy as an act of devotion to his cause, since clones were illegal on Krypton - he believed that Superman was corrupted by Earth and tried to make both Superman and Supergirl as ruthless and cruel as he had become, yet felt nothing about trying to exterminate them when it was clear he could not do so.
H'El also saw the human race as primitive savages and thus was truly capable of planetary genocide without remorse - all in all H'El is one of the more terrifying forms of the "Neutral Evil" alignment and will do or say anything in order to achieve his own goals, the irony being that a vast majority of his own people would consider him a monster for such actions - yet he truly wishes to return to them and restore his world.
Powers and Abilities
As a Kryptonian H'El has a number of immense powers comparable to Superman at his prime, in addition he was exceptionally intelligent - to the point of superhuman.
H'El also had a number of unique powers not often seen in Kryptonians due to his status as an altered clone - such as teleportation (sufficient to move instantly between Earth and the sun) - telekinesis on a molecular-level, numerous telepathic powers sufficent to fool Supergirl into thinking he was Superman and finally the ability to astral-project across great distances.
Gallery
Villains
Comics
Alex Luthor | Amanda Waller | Amazo | Anomaly | Anti-Monitor | Atlas | Atomic Skull | Ballser | Bane | Barbatos | Bernadeth | Bertron | Bizarro | Black Adam | Black Banshee | Black Mercies | Black Zero | Blanque | Blackrock | Blaze | Bloodsport | Bloody Mary | Brainiac | Bruno Mannheim | Boss Moxie | Bug-Eyed Bandit | Captain Boomerang | Captain Cold | Catwoman | Cheetah | Chemo | Chessure | Circe | Clayface | Coldcast | Commander Gor | Composite Superman | Cyborg Superman | Cythonna | Dabney Donovan | Dark Knights | Darkseid | Dax Novu | Deathstroke | Desaad | Deuce & Charger | Dev-Em | Devilance | The Devastator | Doctor Light | Doctor Manhattan | Doctor Polaris | Donna Troy | Doomsday | Earth-Man | Eclipso | The Enchantress | Epoch | Equus | Eradicator | Eradicator (Dark Multiverse) | Ernest Smalley | Eve Teschmacher | Faora Hu-Ul | Fastbak | Female Furies | Fifth-Dimensional Imps | Forgotten Villains | Francis Redhorn | Funky Flashman | Galactic Golem | Gilotina | Gorilla Grodd | Granny Goodness | Green Man | Glorious Godfrey | Gzptlsnz | H'El | Heat Wave | Hector Hammond | Hellgrammite | Helspont | Hfuhruhurr | Imperiex | Intergang | Jax-Ur | Joker | Jon Lane Kent | Justice League of Earth | Kaizen Gamorra | Kalibak | Kanto | Karkull | Killer Croc | King Shark | Kobra Cult | Ku Klux Klan | Lashina | Last Sun | Legion of Super-Villains | Lex Luthor | Livewire | Lobo | Mad Harriet | Magpie | Major Disaster | Major Force | Malice Vundabar | Manchester Black | Mandrakk | Mantis | Master Jailer | Masters of Disaster | Match | Maxima | Maxwell Lord | Mercy Graves | Metallo | Mister Oz | Mongal | Mongul | Mongul II | Morgaine Le Fey | Morgan Edge | Mr. Freeze | Mxyzptlk | Neron | Neutron | Nick O' Teen | Nimrod The Hunter | Overman | Parademons | Parallax | Parasite | Phantom Zoners | Planeteer | Plasmus | Plastique | Prankster | Preus | Princess Zala Jor-El | Prometheus | Psycho-Pirate | Queen Bee | Queen of Fables | Rampage | Rogol Zaar | Reverse-Flash | Royal Flush Gang | Samuel Lane | Scarecrow | Secret Society of Super Villains | Shockwaver | Shrapnel | Silver Banshee | Sinestro | Sleez | Solomon Grundy | Subjekt-17 | Suicide Squad | Superboy-Prime | Superdoom | Superman Revenge Squad | Superman (Earth-2) | Superman (The Dark Side) | The SuperMan | Spellbinder | Steppenwolf | Stompa | Talia al Ghul | Tarantula | Thaddeus Killgrave | Thunder & Lightning | Titano | Tobias Whale | Toyman | Two-Face | Ultra-Humanite | Ultraman | Ursa | Vincent Edge | Virman Vundabar | Vyndktvx | Weather Wizard | Whirlicane | Whisper A'Daire | William Dunn | Xa-Du | Zod
Theatrical Movies
Superman: Lex Luthor | Otis | Eve Teschmacher | General Zod | Non | Ursa | Brad Wilson
Superman II: General Zod | Non | Ursa | Lex Luthor | Otis | Eve Teschmacher | Rocky
Superman III: Ross Webster | Corrupted Superman | Vera Webster | Lorelei Ambrosia | Gus Gorman | Brad Wilson
Superman IV: The Quest for Peace: Lex Luthor | Nuclear Man
Superman Returns: Lex Luthor
Man of Steel: Sword of Rao (Dru-Zod, Faora-Ul, Nam-Ek, Jax-Ur, Tor-An, Car-Vex, Nadira, & Dev-Em II)
Batman v Superman: Dawn of Justice: Lex Luthor | Doomsday | Anatoli Knyazev | Mercy Graves | Cesar Santos | Amajagh | Joe Chill | Zod | Steppenwolf
Direct-to-video Movies
Superman: Brainiac Attacks: Brainiac | Lex Luthor | Mercy Graves | Mister Mxyzptlk
Superman: Doomsday: Lex Luthor | Superman Clone | Doomsday | Toyman | Mercy Graves
Superman/Batman: Public Enemies: Lex Luthor | Major Force | Metallo | Amanda Waller | Toyman | Solomon Grundy | Gorilla Grodd | Killer Frost | Lady Shiva | Giganta | Mongul | Captain Cold
Superman/Batman: Apocalypse: Darkseid | Female Furies (Granny Goodness, Gilotina, Mad Harriet, Lashina & Stompa) | Doomsday
Superman/Shazam!: The Return of Black Adam: Black Adam
All-Star Superman: Lex Luthor | Solaris | Parasite | Nasthalthia Luthor | Bar-El & Lilo-El
Superman vs. The Elite: The Elite (Manchester Black, Coldcast, Menagerie & Hat) | Atomic Skull
Superman: Unbound: Brainiac
The Death Of Superman: Doomsday | Lex Luthor | Intergang (Bruno Mannheim) | Mercy Graves | Cyborg Superman
Reign Of The Supermen: Cyborg Superman | Darkseid | Parademons | Lex Luthor | Mercy Graves
Superman: Red Son: Superman | Brainiac | Lex Luthor | Batman | Superior Man
Superman: Man of Tomorrow: Parasite | Lobo | Lex Luthor
Television
1940's Superman
Bulleteers | Inventor | Mechanical Monsters | Mad Scientist
Superman: The Animated Series
Lex Luthor | Brainiac | Darkseid | Metallo | Toyman | Intergang (Bruno Mannheim, Spider Spinelli, & Blaine) | Mercy Graves | Joey | Parasite | Dr. Vale | Lobo | Gnaww | Preserver | Kanto | Earl Garver | Jax-Ur | Mala | Prometheon | General Hardcastle | Weather Wizard | Livewire | Bizarro | Kurt Bowman | Luminus | Mister Mxyzptlk | Superman (Brave New Metropolis) | Lex Luthor (Brave New Metropolis) | Titano | Desaad | Kalibak | Joker | Harley Quinn | Karkull | Corey Mills | Suit | Maxima | De'Cine | Steppenwolf | Parademons | Female Furies (Granny Goodness, Stompa, Mad Harriet, & Lashina) | Volcana | Kurt | Starro | Roxy Rocket | Penguin | Bane | Riddler | Mad Hatter | Darci Mason | Sinestro | Unity | Reverend Amos Howell | Society of Shadows (Ra's al Ghul, Talia al Ghul, & Ubu)
Krypton
Brainiac | Zod | Doomsday | Lobo | Jax-Ur | Kol-Da | Lis-Ser | Daron-Vex | Araame | Lyta-Zod Clone
Superman & Lois
Tal-Rho | John Henry Irons | Leslie Larr | Mitch Anderson | Bizarro | Zeta-Rho | Superman (John Henry Irons' Earth) | Reno Rosetti | David Fuglestad | Atom-Man | Zod | Phillip Karnowsky | Kit Faulkner | Inverse Society (Ally Allston, Lana-Rho, Jonathan-El, & Erin Wu) | Intergang (Thaddeus Killgrave)
Video Games
Superman Arcade: Emperor Zaas | Lex Luthor | Metallo | Parasite
Superman: Shadow of Apokolips: Lex Luthor | Darkseid | Metallo | Livewire | Parasite | Kanto | Mercy Graves | Volcana
Mortal Kombat vs. DC Universe: Dark Kahn | Lex Luthor | Scorpion | Shang Tsung | Darkseid
Injustice: Superman | Brainiac | Doomsday | Aquaman | Black Adam | Sinestro | Lex Luthor | Joker | Darkseid
See Also
Legion of Super-Heroes Villains | Lobo Villains | Smallville Villains | Steel Villains | Superboy Villains | Supergirl Villains | Superwoman Villains