The
Hakaider Squad
(in Japanese: ハカイダー部隊, Hakaida Butai), alternatively known as
Hakaida Force
, are a team of evil robots from the 1970's manga by Shotaro Ishinomori,
Android Kikaider
, the tokusatsu series
Kikaider 01
and the OVA
Kikaider 01: The Snimation
.
They are led by Gill-Hakaider, the original Hakaider revived with the brain and personality of Professor Gill. The other three members, Silver Hakaider, Blue Hakaider and Red Hakaider have the brains of the surviving DARK scientists who transferred Gill's brain into Hakaider Body.
They have the ability to merge together to form a powerful robot called Gattaider.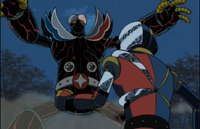 The tokusatsu version of the four Hakaiders have also the ability to turn into monsters: Silver Shrimp (Silver Hakaider), Blue Crocodile (Blue Hakaider), Red Centipede (Red Hakaider), and Black Dragon (Gill-Hakaider). It is interesting to note that despite being called Black Dragon, Gill-Hakaider monster form looks more like a golden dragon.
Gallery
Community content is available under
CC-BY-SA
unless otherwise noted.