Wiki Targeted (Entertainment)
Play Sound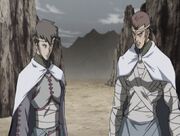 Hakka and Riron are minor villains in the Fist of the North Star spinoff/prequel, Legends of the Dark King. They are servants of Souther and masters of Nanto Hien Ken.
The two fight Raoh's army after they clear a weaker group of Souther's troops, killing many of Raoh's forces. Hakka and Riron warn Raoh he cannot enter into Souther's land. Just as Ryuga is about to engage the duo, Raoh steps in.
Declaring they would kill Raoh in the name of Nanto, Hakka and Riron warp around using the Soen Ranbu. Just as they are about to take him by surprise, Raoh blasts them with the Hokuto Enshou Ha.
In his agonized breaths, Riron warns Raoh that Souther is the Command Star and a member of the Nanto Roku Seiken and agonized beside Hakka.
Powers and Abilities
Hakka and Riron use Nanto Hien Ken to attack their opponents from mid-air.
Trivia
Riron's Japanese voice actor, Kazuyuki Okitsu would later voice Jonathan Joestar in JoJo's Bizarre Adventure.