Spider-Man: No Way Home Trailer Dropped - The Loop
Play Sound
Haman Karn is the leader of the Axis Zeon forces and a recurring antagonist in the Gundam franchise, appearing as a major antagonist in Mobile Suit Zeta Gundam and later as the main antagonist of Mobile Suit Gundam ZZ, as well as a background antagonist in Mobile Suit Gundam 0083: Stardust Memory.
She is voiced by Yoshiko Sakakibara in the original Japanese version and Valerie Howell in the English dub. In Dynasty Warriors Gundam 3, her English voice actress is Tracey Sutton.
History
Past
Haman was the middle daughter of Zeon Admiral Maharaja Karn, who led the exodus of Zeon forces to the asteroid base Axis. Following her father's death, Haman took charge of the Axis colony at the age of sixteen with support from Char Aznable. Though nominally a regent to the young girl Mineva Lao Zabi, whom Maharaja Karn had proclaimed to be the next ruler of Zeon, Haman was the real power behind Axis Zeon, using her charisma to rally support for an eventual strike on the Earth Sphere. However, Char became unnerved by Haman's growing ambitions to rule and departed from the Axis colony.
Mobile Suit Gundam 0083: Stardust Memory
To solidify her support from many of the more ardent Zabi loyalists, some of whom were skeptical of her commitment to the Zeon cause, Haman provided support to the Delaz Fleet in their "Operation Stardust" plan, which involved dropping a colony on the Earth Federation food reserves in North America.
Mobile Suit Zeta Gundam
Axis Zeon was one of the three factions involved in the Gryps Conflict, along with the AEUG and the Titans, the latter of which Char had joined under the name "Quattro Bajeena" following his departure from Axis Zeon. Over the course of the conflict, both AEUG and the Titans negotiated with Haman, hoping to secure an alliance with Axis Zeon, though Haman was simply playing them against each other to set the stage for Axis Zeon's own rise to power.
Eventually, after Paptimus Scirocco staged a mutiny and seized control of the Titans, he formed an alliance with Haman Karn, setting the stage for a the final battle against the AEUG. In the ensuing fight, Kamille Bidan and Char Aznable faced off against Paptimus Scirocco and Haman Karn respectively. Despite Char's best efforts, he is defeated by Haman and seemingly killed, much to Haman's remorse as she had still secretly hoped to sway Char to her side.
With the Titans decimated and the AEUG crippled, Haman's Neo Zeon emerged as the dominant power in the Earth Sphere.
Mobile Suit Gundam ZZ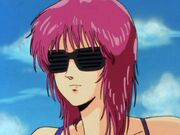 Following the end of the Gryps Conflict, Haman Karn began making moves to conquer the entire Earth Sphere. Her primary opposition at this point was the AEUG, with the Earth Federation mostly apathetic to the conflict. Haman soon took an interest in the ZZ Gundam's pilot Judau Ashta, trying repeatedly to sway him to join her side, though Judau was distrustful of her motivations and refused.
To gain the edge on the Earth Federation in Zeon's invasion of Earth, Haman orchestrated a colony drop on the city of Dublin, where the Earth Federation Assembly was currently situated. Despite the AEUG's best efforts they were unable to prevent the colony drop and the Dublin was annihilated when the colony crashed onto it, paving way for a successful Earth invasion by Neo Zeon. After this distasteful sequence of events, Haman path to victory seemed to be assured. However, Haman's downfall would ultimately come from with Axis when, Neo Zeon pilot Glemy Toto formed his own faction to challenge Haman's leadership, resulting in a civil war within Neo Zeon. The Earth Federation took advantage of the division within Neo Zeon's ranks to strike the Axis colony and take down Haman.
In the ensuing Battle of Axis, Haman piloting her Qubeley fought Judau Ashta in his ZZ Gundam in a final stand against the Earth Federation. The two eventually exchanged mutual blows and disabled each other's mobile suits. As the Earth Federation forces surrounded her, Haman realized she had lost and, despite Judau's pleas for her to surrender, committed suicide by crashing her Qubeley into the remain of Axis, commenting she was glad to have met someone as decent as him.
Following Haman's death, the remaining Neo Zeon forces either surrendered or fled into hiding.
Personality
Haman is a strong leader and incredibly savvy political player. While at one point sweet and innocent, Haman's character was hardened from living in exile on the Axis asteroid base along with the rest of the Zeon and Zabi loyalists. She at one point was attracted to Zeon's famous ace pilot, the "Red Comet" Char Aznable, though her feelings for him have long faded since he left Axis to join AEUG out of fear for her growing ambitions. Haman was originally chosen as a regent to Mineva Lao Zabi because it was believed she would be easy to control, but this would turn out to be far from the truth. Haman would quickly wrest all of power in Axis and build a strong cult of personality around herself while using Mineva and the legacy of the Zabi family as a cover for her own ambitions of dominance of the Earth Sphere. Though Mineva was the public face of Axis, very few were fooled and most saw Haman as the true power behind the throne.
In public, Haman presents a charismatic and proud face, hiding her darker ambitions and jaded mentality through a cool and focused exterior. She is highly skilled at rallying support behind her and earning the undying loyalty of her soldiers through the sheer force of her personality. Even though Mineva is the nominal ruler, many of Axis' soldiers are more loyal to her than they are Mineva. While she operates under the ideals of Zeon, like Gihren Zabi before her Haman sees the Zeon ideology as little more than a vessel for her own goal, to achieve peace in the Earth Sphere by suppressing everyone equally under a dictatorship with her at the helm. Haman's skills as a leader and manipulator were so great that even the infamous "Man from Jupiter" Paptimus Scirocco was careful around her.
In spite of the pragmatic and cold front she puts up, Haman is also very vindictive and vengeful. She often acts condescending in her meetings with other leaders of opposing factions, concerned only with how they can be useful to her. She delights in asserting her dominance over those she holds grudges against, such as when she forced Char to beg for her in exchange for the Axis forces providing assistance to the AEUG against the Titans. In his first meeting with Haman, Judau Ashta detected a powerful, malevolent aura radiating around her.
As a military leader, Haman is a patient, but ruthless strategist with a preference for swift and cold tactics. For most of the Gryps War, Haman stayed on the sidelines, at times helping both the AEUG and Titans in order to play them against each other to weaken them and leave Axis as the strongest power in the Earth Sphere. In the First Neo Zeon War, Haman mercilessly paved the way for a Neo Zeon invasion of Earth by orchestrating a highly destructive colony drop on Dublin where the Earth Federation Assembly was situated, seeing the countless casualties wrought from it as necessary losses for the purported greater good she hoped to achieve. Though she displays care for her men, in truth she sees them as little more than resources to be used up in war. When her loyal lieutenant Mashymre Cello sacrificed himself to save her, Haman saw his death as little more than the loss of a single asset available to her. She is willing to form alliances as she sees fit, allying with the Titans under Scirocco at the end of the conflict to defeat the AEUG, but will only engage in them as long as is needed to achieve her most favorable outcome. As soon as both sides were left decimated, Haman was swift to launch an invasion of Earth.
Despite the capable front she upholds, beneath her exterior Haman is deeply jaded, her experiences leading as Axis as a teenager having hardened her into being cynical and caused her to have little hope for humanity. While motivated to some extent by power, Haman truly believed her rule was the only hope the Earth Sphere had for peace and saw her goals as benevolent in the long term. While she had few in the way of genuine loved ones, Haman's nihilist mentality would lead her to try to fill the void within her by lusting after the much more idealistic AEUG pilot Judau Ashta, whom she at several points tried to convince to join her. Also, despite cynically using her as a figurehead, Haman did genuinely care for Mineva Lao Zabi and even switched her with a body double so she could be sent Earth to live a safe and normal life.
Ultimately, in spite of her numerous personal issues, Haman was able to remain focused on her military campaign and in the end came closer to conquering the Earth Sphere than anyone before or after her.
Mecha Piloted
Gallery
Trivia
Haman shares her name with the Biblical character of Haman the Agagite from the Book of Esther. Like her namesake, Haman is a corrupt usurper who uses a ruler as a figurehead to fulfill her ambitions.
Haman is the first main antagonist in a Gundam series to make her debut in a previous series.