Hammerhead
is a crime boss supervillain from
Marvel
and one of the dangerous enemies of Spider-Man.
History
Little is known about Hammerhead's origin. The unnamed Maggia gangster named Joseph was wounded in a brawl and was discovered by the scientist Jonas Harrow, who replaced the gangster's shattered skull with a steel one. When he awoke, the gangster only remembered a 1920s movie poster, and soon became obsessed with it. Taking the name Hammerhead, he favored 1920s clothes and weapons, and became a crime leader when the Kingpin stepped down for a short time. Hammerhead was often at odds with fellow crime lord and supervillain Doctor Octopus, as well as his mutual enemy Spider-Man.
Several supervillain criminals have worked for Hammerhead, including Tombstone, Electro, and the Tinkerer, who once made a cybernetic exoskeleton for Hammerhead, in which he battled the Human Torch.
In Other-Media
The Spectacular Spider-Man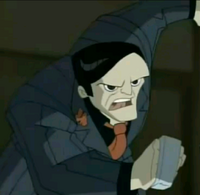 Hammerhead appeared as a recurring antagonist in the animated series, The Spectacular Spider-Man. He worked as the right-hand man for the crime lord Tombstone (a reversal from the comics) and acted as his go-between in criminal and business transactions with Norman Osborn. Hammerhead hired the Enforcers to go after Spider-Man, and aided in the creations of other supervillains such as Shocker, Sandman, and Rhino.
Hammerhead later appeared during the gang war, bidding in a secret auction against rival criminals Silver Sable, Roderick Kingsley, and Doctor Octopus. Kingsley won, taking the prize: specs to mass-produce an army of Rhino-like villains. He was later attacked by Silver Sable and Hammerhead, who fought each other, and Spider-Man, over the specs. It was revealed that Hammerhead and Sable had once dated, and now had only animosity for each other. When the original Rhino came and destroyed the specs on orders of Doc Ock, the fight ended, and Hammerhead escaped.
During the summit between Tombstone, Silvermane, and Doc Ock, Hammerhead betrayed his boss and started a battle between the three crime lords. It was later shown that Hammerhead was unknowingly working as the Green Goblin's pawn to eliminate all the other crime bosses. He never appears again in the series and there is a chance he may have been killed, either by Goblin or Tombstone
Hammerhead was voiced by John DiMaggio.
Spider-Man: Shattered Dimensions
Main article: Hammerhead (Spider-Man: Shattered Dimensions)
Hammerhead appeared as a boss in the Spider-Man videogame Shattered Dimensions. He was from the Noir universe, set in the 1920's-30's, and worked for Norman Osborn. He used his piece of the Tablet of Order and Chaos to fuse two machine guns to his hands. In this version, Hammerhead also has a real name; Joseph Lorenzini.
He was also voiced by John DiMaggio in this.
Marvel's Spider-Man
Main article: Hammerhead (Marvel's Spider-Man)
Hammerhead appears as the main antagonist of the three episode DLC pack The City That Never Sleeps for the 2018 video game Marvel's Spider-Man.
He is voiced by Keith Silverstein.
Gallery
Images
Videos
Community content is available under
CC-BY-SA
unless otherwise noted.