This article's content is marked as Mature
The page Mature contains mature content that may include coarse language, sexual references, and/or graphic violent images which may be disturbing to some. Mature pages are recommended for those who are 18 years of age and older.


If you are 18 years or older or are comfortable with graphic material, you are free to view this page. Otherwise, you should close this page and view another page.
| | | |
| --- | --- | --- |
| " | Good evening, Clarice. | " |
| | ~ Dr. Hannibal Lecter's most famous, yet erroneous, line. | |
| | | |
| --- | --- | --- |
| " | Remarkable boy. I do admire your courage. I think I'll eat your heart. | " |
| | ~ Lecter attempting to kill Will Graham. | |
| | | |
| --- | --- | --- |
| " | Tell me, Will. Did you enjoy it? Your first murder? Of course you did. And why shouldn't it feel good? It does to God. Why, only last week in Texas, He dropped a church roof on the heads of 34 of His worshippers, just as they were groveling through a hymn. He wouldn't begrudge you one journalist. | " |
| | ~ Lecter mocking Graham over Freddy Lounds' death. | |
Hannibal Lecter is the titular main antagonist of the Hannibal book series by Thomas Harris and their film and television series adaptions, serving as the central antagonist of The Silence of the Lambs and Red Dragon, the titular deuteragonist of Hannibal, the titular protagonist villain of Hannibal Rising, and the titular main antagonist of the television show Hannibal. He is an extremely brilliant but mentally disturbed and cannibalistic serial killer infamous for eating his victims.
In the films, he was most frequently portrayed by Anthony Hopkins, who also played Edward Bailey in Red 2, Ted Crawford in Fracture and Sir John Talbot in The WolfMan. He was originally portrayed by Brian Cox, who later portrayed the original William Stryker in X2: United, Agamemnon in Troy, Pariah Dark in Danny Phantom: Reign Storm, and Ward Abbott in The Bourne Identity and The Bourne Supremacy. Hannibal in his youth was portrayed by Gaspard Ulliel.
Biography
Early life
Hannibal Lecter is born in 1933 in Lithuania. His father is a Lithuanian count, his mother an Italian aristocrat. He is extremely close to his younger sister, Mischa. In 1945, Lecter's family home is bombed by the Germans, killing his parents and leaving him and Mischa at the mercy of the elements. Nazi deserters fleeing the Russian advance into Germany hide out in the ruins of the family estate and take the children hostage. The deserters, led by Vladis Grutas, run out of food in the harsh winter and eventually kill and eat Mischa right in front of her brother, even forcing the boy to eat a stew made from her remains. Lecter is irreparably traumatized, and develops a savage obsession with cannibalism, and with avenging Mischa's murder.
Lecter escapes from the deserters and wanders the wilderness for days, rendered mute by the trauma. He is eventually found and housed in an orphanage, where he is abused by other children and by the dean. Two years later, Lecter's uncle Robert and his Japanese wife, Lady Murasaki, take Lecter in, and help him regain the ability to speak. Lecter forms a quasi-romantic attachment to Murasaki after his uncle's death, and commits his first murder when he decapitates a racist fishmonger who had insulted her. While she is close to Lecter, she is unable to turn him from his obsession with avenging his sister. To this end, he hunts down, tortures and kills every man who took part in her death, forsaking his relationship with Murasaki in the process. At the age of 16, Lecter is accepted into Johns Hopkins University.
Years later, Lecter becomes a prominent psychiatrist and part of Baltimore's high society. In the 1970s he commits a series of cannibalistic murders. Lecter kills at least nine people and attempts to kill three others. His ninth known victim, Benjamin Raspail, is found dead in a church pew, with his heart pierced and missing his thymus and pancreas. Lecter serves these organs to the Baltimore Philharmonic Orchestra. His surviving victims include Mason Verger, a wealthy, sadistic pedophile whom Lecter drugs and forces to mutilate his own face, and an unnamed person who is committed to a private mental hospital in Denver. Other known victims in this series include a census taker, a Princeton student and a bow hunter.
Lecter's last victim before capture is Will Graham, an FBI agent who is investigating a series of murders and is intrigued by the injuries inflicted on the sixth victim, a bow hunter. The man had been murdered in his workshop, with tools stabbed into his body. Graham noticed an old wound on the man's thigh and discovered that Lecter had once treated the man. Graham visits Lecter a week later to question him. While Graham looks around Lecter's office, he sees sees the antique medical diagram "Wound Man", and recognizes the wounds in the drawing as those inflicted upon the hunter. Graham realizes that Lecter is the killer, and at the same moment Lecter realizes that Graham is onto him. Graham excuses himself to call his superiors, but Lecter sneaks up behind him and stabs him with a linoleum knife, nearly disemboweling him. Lecter is nonetheless arrested moments later.
Lecter is put on trial for the murders and found not guilty by reason of insanity; he is branded a "pure sociopath", and nicknamed "Hannibal the Cannibal" in the tabloid press. He is incarcerated at the Baltimore Hospital for the Criminally Insane, under the care of Dr. Frederick Chilton, a pompous, incompetent psychologist whom he despises.
Red Dragon
Several years after his incarceration, Graham consults Lecter in an attempt to catch serial killer Francis Dolarhyde, who is known to law enforcement and the media by the pseudonyms "The Tooth Fairy" and (later) "The Red Dragon". Lecter covertly supplies Dolarhyde with Graham's address, which ultimately results in Dolarhyde disfiguring Graham before Graham kills him. After Graham recovers, Lecter sends him a note in which he wishes his old foe well and says he hopes Graham isn't "too ugly".
The Silence of the Lambs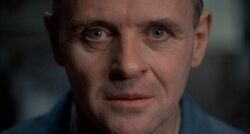 A few years later, a serial killer known as Buffalo Bill begins kidnapping, killing, and skinning women. The FBI, desperate for some insight, sends trainee Clarice Starling to interview him. Lecter is fascinated with Starling and gives her cryptic clues to Bill's identity in return for painful memories of her childhood. She is eventually able to use these clues to track Bill down, but not before Lecter stages a dramatic and bloody escape, disappearing without a trace. He leaves two letters: one for Starling, wishing her well; and the other for Chilton, promising gruesome revenge for the years of mistreatment he suffered at Chilton's hands. Chilton disappears soon afterward.
Hannibal
Ten years later, Lecter reappears in Florence, Italy under the identity of "Dr Fell", an art historian. He is discovered by a local policeman, Inspector Rinaldo Pazzi, who attempts to sell him to Mason Verger. Lecter kills Pazzi and escapes, returning to America and seeking out Starling, who is still searching for him. He is, however, captured by Verger, who plans to feed the doctor alive to man-eating pigs. But due to the machinations of Verger's sister Margot, who was routinely abused by her brother as a child, Lecter is rescued by Starling. He goads Margot into killing Mason, assuring her that he will take the blame for the murder.
Lecter then abducts the unconscious Starling and begins brainwashing her, hoping that she will become Mischa. He kills Paul Krendler (a Justice Department official who is an adversary of Starling's) by lobotomizing him and serving his brains for dinner. The dinner party consists of Lecter, Starling, and Krendler himself, who is still alive for part of the meal and unwittingly eats pieces of his own brain. Starling, under the effects of drugs as well as Lecter's hypnosis, knowingly and willingly consumes Krendler's brain. However, when it later becomes clear that she will not be sublimated, she and Lecter become lovers.
The two are last seen in Rio de Janiero, where Starling's loving companionship has suppressed Lecter's cannibalistic urges, and they enjoy a hedonistic and self-indulgent life of high culture together. It is implied that Lecter has conditioned Starling into becoming nearly as calculating and dangerous as he is.
TV series
Main article: Hannibal Lecter (TV)
Appearance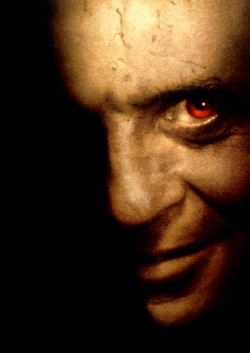 Lecter, as described in Thomas Harris's novels, is a small, lithe man who possesses incredibly wiry strength in his arms. In The Silence of the Lambs, it is revealed that Lecter's left hand has the condition called mid-ray duplication polydactyly, i.e. a duplicated middle finger. In Hannibal, he performs plastic surgery on his own face on several occasions and surgically removes his extra digit. Lecter's eyes are maroon and reflect light in "pinpoints of red." He has small, white teeth and dark, slicked-back hair with a widow's peak.
Personality
Lecter is believed to have antisocial personality disorder, and is branded a "pure sociopath". However, in the books, he is only described as a sociopath because no one knows what else to call him. Although he has no conscience and feels no remorse for his crimes, he does not exhibit other traits traditionally linked to antisocial personality disorder: he is not shallow or exploitative, does not commit petty crimes, and was never a drifter. He describes the majority of human kind as "poor dullards" and yet thrives on others' admiration, a case in point being his recalcitrant unwillingness to part with Dolarhyde's letter because, according to Graham, "it was full of compliments." Lecter believes himself to be simply evil, saying to Starling that he cannot be reduced to a set of influences: "Nothing happened to me, Officer Starling - I happened."
Lecter is highly intelligent, impeccably cultured and sophisticated. Rather than simply killing for fun, he kills those who exhibit poor taste or bad manners, fine taste and good manners being both an obsession and a compulsion to him, similar to the villain, Jigsaw. He also kills those whom he finds morally cruel, pugnacious, objectionable, and repulsive, such as pedophiles, being quite protective of children as the result of his sister Mischa's murder. This is also served as the catalyst for his murders. While he does enjoy killing his victims, usually in elaborate ways, many of the victims die almost instantly, or at the very least painlessly. Further evidence is when he attacked the nurse, his pulse did not exceed 85 bpm, rising from 72 bpm. Whilst beating a police officer to death, his heartbeat rose to a mere 100 bpm, but soon dropped. The treatment of his victims may lie in his love of chaos and destruction of a universe heading towards high entropy. Whilst reading A Brief History of Time by Stephen Hawking, he believed that time would reverse itself, so disorder would return to order.
His obsession with Starling is evident from their first meeting, and though initially it is only on his part, it eventually becomes mutual. Lecter is at first fascinated by Starling's mix of foolishness and craftiness, such as when she uses his embarrassment at her assault to gain information. He then begins to trade answers about the case for details on her background, and he continues to contact her even after his escape. After his return to the United States of America, he seeks her out without her knowledge, and it is hinted by numerous characters that he has fallen in love with her. After she rescues him and resists his brainwashing, the two become lovers, their romantic relationship suppressing his cannibalistic urges.
Lecter possesses an intellect that cannot accurately be gauged by any test known to man. He is an expert in psychology (though he does not believe it to be a science) and is able to frighten, manipulate, and bend others to his will with mere words. He is also able to use his immense presence and commanding but subtle personality to great effect. His mental abilities are staggering, having created a memory palace (a mnemonic system) that is comparable in size and complexity to the Topkapi Palace. As such, Lecter does not forget anything, able to revisit a specific memory whenever he wishes by accessing the items that "furnish" his memory palace.
Quotes
| | | |
| --- | --- | --- |
| " | A census taker once tried to test me. I ate his liver with some fava beans and a nice chianti. | " |
| | ~ Lecter's most memorable line in The Silence of the Lambs. | |
| | | |
| --- | --- | --- |
| " | I do wish we could talk longer, but I'm having an old friend for dinner. 'Bye. | " |
| | ~ Lecter's last line in The Silence of the Lambs. | |
| | | |
| --- | --- | --- |
| " | Paul will not miss this bit any longer. | " |
| | ~ In Hannibal. | |
| | | |
| --- | --- | --- |
| " | This is going to hurt. | " |
| | ~ In Hannibal. | |
"
Buffalo Bill's real name is Louis Friend, he was introduced to me by Mr. Benjamin Raspail in April or May 1980. Suddenly, Raspail became very frightened, apparently Louis then murdered a transit and done things with his skin.
Tell me Senator, did you nurse Catherine yourself?
(Senator Martin: What?)
Did you breast-feed her?
(Sent. Martin: Yes, I did)
(Paul Kendler: Now ,wait a minute..)
Toughened your nipples, didn't it?
(Kendler: You son of a bitch!)
Amputate a man's leg and he can still feel it tickling. Tell me, mum, when your little girl is on the slab, where will it tickle you?
(Senator Martin: Take this thing back to Baltimore)
Five foot ten, strongly built, about 180 pounds; hair blonde, eyes pale blue. He'd be about 35 now. He said he lived in Philadelphia, but he may have lied. That's all I can remember, mum, but if I think of any more, I will let you know. Oh, and Senator, just one more thing: love your suit!
"
~ Hannibal and Senator Ruth Martin's confrontation/meeting.
Villains and Horror Concepts
As is noted in the "Trivia" section below, Dr. Lecter spends most of his time in two of his major roles as a minor antagonist or even semi-willing/unwilling protagonist, as he is imprisoned and assists his captors in stopping other villains.
There is a horror trope for this that makes the Lecter character more compelling, "Nothing Is Scarier". Because Dr. Lecter is purported to be more intelligent, more perverse, and more violent than both the captors he is assisting and the (extremely scary) villains he is helping to catch, showing him imprisoned makes him infinitely more scary. The concept is such that anything he could be shown to do in book or film is very scary, but the audience can imagine something even scarier. "I was afraid when I saw the 10 foot bug at the top of the stairs, but it could've been a 100 foot tall bug." "I was afraid when I saw the 100 foot bug at the top of the stairs, but it could've been a 1000 foot tall bug."
Dr. Lecter is considered a seminal character for this type or horror. Because his character is so well designed and his backstory is so terrifying, it is difficult for any action his character can take to actually live up to the horror one imagines he can inflict.
Gallery
Images
Videos
Trivia
At least four different actors have played Hannibal Lecter. Brian Cox was the first in Manhunter (though spelled as Hannibal Lecktor), Anthony Hopkins is the second in the movies The Silence of the Lambs, Hannibal (the 2001 movie), and Red Dragon, Gaspard Ulliel is the third in the prequel movie Hannibal Rising, and Mads Mikkelsen is the fourth in the TV series Hannibal.
Despite being the icon of his series and a serial killer, Lecter does not seem to take the role of antagonist in the films, as he is imprisoned for most of The Silence of the Lambs and Red Dragon and gives protagonists Clarice Starling and Will Graham information on antagonists Buffalo Bill and Francis Dolarhyde, and the role of antagonist in Hannibal is taken by Mason Verger. Lecter is always either a supporting protagonist/antagonist or an anti-hero.
Although he is known to be a cannibal, Lecter has never been shown eating anyone onscreen. The only cannibalism scenes occur in Hannibal, in which he feeds both Krendler and an unnamed boy pieces of Krendler's brain (the movie ends before Lecter eats the rest), and at the beginning of Red Dragon, in which he does not eat the victim himself but serves him as food to guests.
The films give different endings. In the film Hannibal, Starling handcuffs Lecter to herself, but he escapes by severing his own hand with a meat cleaver and then fleeing via airplane. This does not happen in the novel from which the film was adapted.
Contrary to popular belief, Lecter doesn't actually say "Hello, Clarice" during his meeting with Starling in the courthouse, actually saying "Good Evening, Clarice" instead.
Lecter's "census taker" line ranked No. 21 in AFI's 100 Years...100 Movie Quotes.
When Anthony Hopkins was interviewed about his portrayal of Hannibal Lecter, he talked about how he trained himself to avoid blinking in order to "keep the audience mesmerized". This inspired the myth that Hopkins never blinked throughout the movie, but this myth is false since Lecter does blink in multiple scenes, albeit less frequently than the average person.

Pictures Villains
Animated Features
Warren T. Rat | Mott Street Maulers (Digit) | Moe | Sharptooth | Cat R. Waul | Cactus Cat Gang (T.R. Chula, One-Eye, & Sweet William) | Professor Screweyes | Ozzy & Strut | Hyp | Mutt and Nod | Steele | Ichy and Dil | Mr. Grasping | Toplofty and O'Bloat | Chief McBrusque | Scuttlebutt | Madame Mousey | Twitch | Rinkus and Sierra | Niju | Nuk, Yak, and Sumac | Farley the Fox | Br'er Fox | Br'er Wolf | Robert the Terrible | Serpent | Botticelli Remorso | 1 | 8 | Fabrication Machine | Machines (Cat Beast, Winged Beast, Seamstress, Steel Behemoths, Seeker Drones, & Spiderbots) | The Chancellor's Party (Chancellor Fredinand) | Danno Wolfe | Felonious Gru | Minions | Dr. Nefario | Victor Perkins | Mr. Perkins | Nightmare Train | Aloysius O'Hare | The Once-Ler | Morty and McGurk | The Once-ler's Mother | Brett and Chet | Aunt Grizelda | Agatha Prenderghast | Judge Hopkins | El Macho | El Pollito | Evil Minions | Norvirus Raccoon | Percy "King" Dimplewade | Knuckles | Archibald Snatcher | Mr. Gristle | Mr. Trout | Mr. Pickles | Scarlet Overkill | Herb Overkill | Villain Con Villains | Snowball | Flushed Pets | Ozone | Raiden the Moon King | Karasu and Washi | Giant Skeleton | Garden of Eyes | Mike | Bears | The Gorillas (Johnny's Father) | Zhong | Dru Gru | Balthazar Bratt | Clive | Mayor Muldoon | Heather Muldoon | Gunther | The Grinch | Grimmel the Grisly | Deathgrippers | Warlords | Lou | Lydia, Kitty, and Tuesday | Sergei | Little Sergei | Circus Wolves | Queen Barb | Rock Trolls | The K-Pop Gang | Reggaeton Trolls | Spiny Mandrilla
Live-Action Films
Count Dracula (1931) | Dr. Henry Frankenstein | Frankenstein's Monster | Imhotep (1932) | Griffin | Wolfman (1941) | The Thing (1951) | Max Cady (1962) | The Birds | Great White Sharks | Dean Vernon Wormer | Thulsa Doom (1982) | The Thing (1982) | Tony Montana | Alejandro Sosa | Frank Lopez | Hector | Alberto | The Skull | Nacho Contreras | Biff Tannen | BiffCo (Match, Skinhead, & 3-D) | The Libyans | Griff Tannen | Data, Spike, and Whitey | Buford Tannen | Jacques LaFleur | Chucky | Christopher Sullivan | Damballa | Graboids | Louis Strack Jr. | Robert G. Durant | Cullen Crisp | Eleanor Crisp | Brett C. Shelton | Sergeant Botnick | Max Cady (1991) | Dr. Herman Varnick | Harvey and Vernon | Dennis Nedry | Donald Gennaro | Lewis Dodgson | Cliff Vandercave | Miss Sharon Stone | Waldo Aloysius Johnston III | Aaron McComb | Carrigan Crittenden | Paul "Dibs" Plutzker | King Einon | Buddy Love | Peter Ludlow | Dieter Stark | Chip Hazard | Commando Elite (Butch Meathook, Nick Nitro, Brick Bazooka, Link Static, Kip Killigan, & Gwendy Dolls) | Gil Mars | Tiffany Valentine | Warren Kincaid | Officer "Needlenose" Norton | Imhotep (1999) | Beni Gabor | Anck-Su-Namun | Chip Rockefeller | Commodus | Boris Badenov (2000) | Natasha Fatale (2000) | Fearless Leader (2000) | Giant Hamster | The Grinch | Mayor Augustus Maywho | Hannibal Lecter | Rinaldo Pazzi | Paul Krendler | Fiona | Wyatt Frame | Johnny Tran | Lance Nguyen | Kenny Linder | Mathayus the Scorpion King | Cult of Imhotep (Baltus Hafez, Meela Nais, Lock-Nah, & Shafek) | Army of Anubis | Pygmies | "Red" Willits | Jacob Spivey | Jacques Clemons | Anubis | Marty Wolf | Memnon | Takmet | Thorak | Alexander Conklin | Ward Abbott | Professor | Castel | Manheim | Nykwana Wombosi | Carter Verone | Pascal Sauvage | David Banner | Glenn Talbot | Thunderbolt Ross (2003) | Smokey, Sammy, and Lily | Larry Quinn | Captain James Hook | Mr. Smee (2003) | Count Dracula (2004) | Vampires (Aleera, Marishka, & Verona) | Igor | Dwergi | Velkan Valerious | Mr. Hyde (2004) | Grey Werewolf | Zhylaw | Kirill | Yuri Gretkov | Jarda | David Fastidious | Pete | Zombies | Hilary Briss | Geoff Tipps | Herr Lipp | Dr. Erasmus Pea | Edward and Tubbs Tattsyrup | Papa Lazarou | Bernice Woodall | Pauline Campbell-Jones | Sir Nicholas, Lemuel, and Father Halfhearte | Selma Quickly | Sarge | The Infected | Carl Denham | DK Takashi | Uncle Kamata | Clay | Frank Butterman | Neighbourhood Watch Alliance (Simon Skinner & Reverend Philip Shooter) | Chuck Long | Noah Vosen | Albert Hirsch | Paz | Desh Bouksani | Ezra Kramer | Abomination | Strategic Operations Command Center (Thunderbolt Ross (2008) & Kathleen Sparr) | Samuel Sterns | Tough Guy Leader | Prince Nuada | Mr. Wink | Golden Army | Forest God | Tooth Fairies | Wesley Gibson | Sloan | Fox | Emperor Han | General Yang | Colonel Choi | Roger Wilson | Terracotta Warriors | Sargon | Phears | Arturo Braga | Fenix Calderon | Gisele Yashar | Enik | Sleestak (2009) | Grumpy (2009) | The Zarn (2009) | Big Alice | Library of Skulls | Hans Landa | Fredrick Zoller | Joseph Goebbels | Dieter Hellstrom | Adolf Hitler | Werner Rachtman | Wolfman (2010) | Sir John Talbot | Frank D'Amico | Chris D'Amico | Big Joe | Vic Gigante | Rasul | Leroy | Stu | Maya | Tony Romita | Sir Godfrey | Uncle Phil | Gideon Gordon Graves | League of Evil Exes ( Matthew Patel, Lucas Lee, Todd Ingram, Roxanne Richter, & Kyle and Ken Katayanagi) | Envy Adams | Nega Scott | Lynette Guycott | The Big Guy | Agent Haggard | Carlos | Easter Chicks | Hernan Reyes | Zizi | Simon Ambrose | Killer Janitor | Sylvester Smirch | Queen Ravenna | Finn | Donny | Robert | Eric Byer | Grace Ferrin | Polite Leader | Owen Shaw | Vegh | Riley Hicks | Klaus | Adolfson | Toxic-Mega Cunts (Mother Russia, Black Death, Genghis Carnage, Javier, The Tumor, & Goggles) | Brooke | Ralph D'Amico | The Network | Blanks (Oliver Chamberlin, Peter Page & Guy Shepherd) | Barb Pierce | Santana | Clinch Leatherwood | Foy | Mehmed II | Master Vampire | Cootie Kids (Shelley Linker, Patriot, Dink, Angela, Tricycle Girl, & Racer Dopkins) | Big Daddy | Old Elegant Woman | The Bikers | Lorraine | Deckard Shaw | Mose Jakande | Louis Kiet | Kara | Indominus rex | Vic Hoskins | Henry Wu | Krampus | Krampus' Elves | Krampus' Toys | Krampus' Gingerbread Men | Rose Winters | Freya | Gul'dan (2016) | The Horde (Blackhand the Destroyer & Orgrim Doomhammer) | Edwidge Owens | Caleb Warrens | Earl Danzinger | Harmon James | Eric Busmalis | Chief Couper | Kimmy | New Founding Fathers of America | Robert Dewey | The Asset | Craig Jeffers | Christian Dassault | Tom Watson | Tao Tei (Tao Tei Queen) | Order of the Coagula | Armitage Family (Rose Armitage, Roman Armitage, Marianne Armitage, Dean Armitage, Missy Armitage, & Jeremy Armitage) | Jim Hudson | Logan King | Cipher | Connor Rhodes | Ahmanet | Set | Mr. Hyde (2017) | Dr. Foley | Mathias Lund-Helgesen | Bayfield Babyface Killer | Lori Spengler | John Tombs | Lipstick-Face Demon | KeyFace | Gerald Rainier | Rallah | Precursors | Kaiju (Obsidian Fury & Raijin, Hakuja, and Shrikethorn) | Newton Geiszler | Eli Mills | Indoraptor | Ken Wheatley | Gunnar Eversol | Kores Botha | Arlo Sabian | Dr. May Updale | Skeletor | Michael Myers | Dr. Ranbir Sartain | Jason Volta | Dr. Gregory Butler | Stephanie Butler | Red | Tethered (Adelaide, Tethered Tylers, & Tethered Wilsons) | Eteon (Brixton Lore & Eteon Director) | Shane | Demon Overlord | Lord Thomas Badgley | Dr. Blair Mudfly | Barry the Tiger | Adrian Griffin
See Also
Alfred Hitchcock Villains | Back to the Future Villains | Barbie Villains | Child's Play Villains | Cooties Villains | Cornetto Trilogy Villains | Despicable Me Villains | Doom Villains | DreamWorks Villains | Dr. Seuss Villains | Fast and the Furious Villains | Get Out Villains | Hannibal Villains | Hulk Villains | Illumination Villains | Jason Bourne Villains | Johnny English Villains | Jurassic Park Villains | Kick-Ass Villains | Laika Villains | League of Gentlemen Villains | 9 Villains | Scarface Villains | Scott Pilgrim Villains | Tarantinoverse Villains | The Mummy Villains | The Purge Villains | Us Villains | Warcraft Villains

Villains
Community content is available under
CC-BY-SA
unless otherwise noted.