Wiki Targeted (Entertainment)
Play Sound



Click to help Cruella!

This scum Harkin is driving Cruella insane!
IT MUST BE REWRITTEN OR ADDED TO!!
So sayeth the great Lord of Darkness Sauron, or he will send Darth Vader to terminate you.

Help improve this article by rewriting, expanding, updating the poorly written text of the article. ✓
Jafar says: Read my lips and come to grips with the reality!


This article is a stub and is in need of expansion. You can help Villains Wiki by expanding it.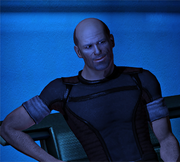 Harkin is a corrupt human former police officer of C-Sec in Mass Effect. Captain Anderson describes him as a "disgrace to the species" due to his illegal and crooked activities such as roughing up suspects, taking bribes, and abusing alcohol and drugs. Harkin is confronted by Commander Shepard at Chora's Den in order to find Garrus.
In Mass Effect 2, he is fired from C-Sec and becomes a criminal. Taking on the alias, "Fade", he works with the Blue Suns in helping criminals on the run escape custody. Harkin is confronted in Garrus' loyalty mission where he is helping Sidonis, a turian who is a former teammate of Garrus', escape in the Terminus Systems. Harkin is ultimately foiled and, as mentioned by EDI, is placed under arrest by C-Sec for his crimes.