Doctor Strange in The Multiverse o Madness - The Loop
Play Sound
This article's content is marked as Mature
The page Mature contains mature content that may include coarse language, sexual references, and/or graphic violent images which may be disturbing to some. Mature pages are recommended for those who are 18 years of age and older.


If you are 18 years or older or are comfortable with graphic material, you are free to view this page. Otherwise, you should close this page and view another page.
| | | |
| --- | --- | --- |
| " | You got that look in your eye, the kind that says you're trouble, and I only like trouble when I'm the one causing it. You got a good reason why I should trust ya? Cos I sure as hell can't see one. After all, you're a squeaky clean-favored son of Gotham. How am I supposed to believe you won't run to the cops the first chance you get? | " |
| | ~ Harley Quinn to Bruce Wayne. | |
| | | |
| --- | --- | --- |
| " | Now buck up, we're all smiles on this crew! | " |
| | ~ Harley Quinn | |
| | | |
| --- | --- | --- |
| " | Uh-huh, sure. You gonna tell me ya love me, Wayne? (Bruce: Excuse me?) I like a little romance when I'm gettin' screwed! | " |
| | ~ Harley refuses to believe Bruce about the virus. (determinant) | |
Dr. Harleen Quinzel, also known as Harley Quinn, is the main antagonist of Telltale Games' Batman: The Enemy Within. A former professional psychiatrist who worked at Arkham Asylum and Blackgate Prison, she would eventually turn to a life of crime after her mentally-ill father committed suicide despite all her help, and sought to find a cure for her father's mental illness after fearing she might have inherited it. She is Telltale Games' adaptation of the DC supervillain of the same name.
She is voiced by Laura Post, who also voiced Queen Azshara and Ragyo Kiryuin.
Biography
Past
Harleen Quinzel was a former doctor at Blackgate Prison and at Arkham Asylum, where she was a psychiatrist for the criminally insane. She was described as devoted and successful. When Harleen was already grown up, her father committed suicide after struggling with mental illness for years. The trauma of being unable to save her father caused Harleen to snap. She adopted the persona of Harley Quinn and swiftly became a psychopathic monster. Quinn eventually teamed up with a group of supervillains known as "The Pact".
Episode One: The Enigma
After the Riddler is killed by an unknown assassin (later revealed to be Tiffany Fox) on the Lady of Dublin following his final showdown with Batman, Amanda Waller speaks with the latter about the complications Riddler's death could have, and that there is a much larger threat out there, with Harley being one of Riddler's friends and a part of that major threat, as Waller revealed when she shows a profile picture of her psychiatrist identity to Batman, claiming that when the Agency searched Riddler's lair in the abandoned water tower at the abandoned East End of Gotham City, they found an email sent by her to the enigmatic criminal mastermind on his computer.
Episode Two: The Pact
Meeting Bruce Wayne
Moments later, Harley and her allies strike a coordinated attack on Gotham. During the attack, Harley storms the Gotham Brokerage House where she steals ten millions in diamonds and empties certain safety deposit boxes. Despite storming the building alone, Harley kills over a dozen people and wounds even more. During the heist, Harley kills most with a gun but also smashes several heads in with a mallet.
To investigate and infiltrate Harley and her organization, Bruce Wayne contacts John Doe, a questionable ally and presumed to be a member of the pact. Doe invites Wayne to meet up at a bar. When Bruce accepts John's invitation to meet with Doe's "friends", they head in a sidealley where a car is parked. Before they enter the car, Doe asks Bruce for a favor, implying that he is in love with Harleen and begs him to make him look good in front of her. The two then enter the car and Bruce sits down in the passenger seat. Moments later, Harley enter the back of the car, throws her mallet on the sit next to her and immediately aims a gun at Bruce's head. She claims that Bruce has her attention and that he should give her a good reason not to shoot him in the head immediately. She then claims that she is just joking and that there was not even a bullet in the chamber, a statement that is proven to be a lie immediately after. Harley only laughs at that and then turns on the car's radio.
Harley then wants to know from Bruce why Bruce would associate with her and her allies. After Bruce has given his answer, John Doe backs him up by referring to their mutual time in Arkham. Harley then sends John to get her a slushie, leaving her alone in the car with Bruce. Once John has gone, Harley claims that John is searching for his real identity but just doesn't know who he is yet. Claiming that John thinks highly of Bruce, Harley wants to know why Bruce associates with him. She also loudly wonders why she should trust Bruce. When John returns, they trio drives off. While they are driving, Harley reveals that they are driving towards Wayne Enterprises and that she wants Bruce to get her a hacking device known as a Phalanx Key from within to prove that he is truly an ally.
Infiltrating Wayne Enterprises
Although Bruce enters alone, he hears noise behind him and realizes that Harley and John have entered the building as well. Harley takes out the night guard by hitting him in the head with her mallet. Bruce can either ignore if the man is alive or try to get out of the elevator to check whether the man is still alive which results Harley holds him back and forces him to stay within the elevator.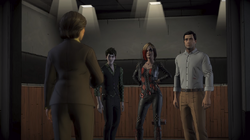 While inside the elevator, Harley reminds or warns Bruce that she is in charge and that he better does whatever she tells him, else she will finish the job on the night guard and everybody else who gets in their way. If Bruce ignored the unconscious guard and pressed the elevator button, then the trio will have a conversation about Wayne Enterprises. Suddenly, the elevator stops and Regina Zellerbach, the chairwoman of Wayne Enterprises, gets into the elevator. Regina is disturbed to see Wayne with Harley and John and asks Bruce what is happening. Disliking her attitude, Harley harasses Regina and Bruce is forced to step in. If he tells Regina to apologize, Harley will be glad. If he holds her off until the frightened Regina leaves the elevator, Harley allows it and does not serve any retribution. During the elevator ride, Harley also flirts with Bruce, much to the dislike of John.
When the trio arrives in Wayne's office, Bruce attempts to convince Harley and John to stay outside. However, Harley ignores the request and storms into the office, also explaining that the Penguin told her about the R&D lab when he was an inmate at Blackgate Prison, where Harley used to work. Harley then forces Bruce to open the elevator to his secret laboratory. After Bruce has opened the vault, he suddenly finds Tiffany Fox inside the room, who has infiltrated the company to get answers for the death of her father. To prevent Harley from finding Tiffany, Bruce swiftly hands the Phalanx Key to John who in turn vows to keep quiet about Tiffany's presence, but if he doesn't successfully convince her, then she will nearly be killed by Harley while trying to escape, though Bruce manages to convince Harley to let Tiffany go unharmed. Before leaving Wayne Enterprises, Harley tells John to also take an EMP device with them, with Bruce reluctantly allowing it.
Meeting with Bruce again
Bruce meets up with Amanda Waller, who plans an ambush on Harley and the entire pact. She orders Batman to find a way and lure the Pact out into the open. When Bruce tries to meet up with the Pact again, however, he is abducted by two henchmen.
When he regains consciousness, he finds himself in an abandoned subway station together with Harley, John Doe, and other henchmen. Bane is there as well and claims that Harley had promised to kill Wayne when they got what they needed. Harley simply states that she changed her mind. Bane then snaps at Harley, claiming that she has only brought them a worthless aristocrat while Bane brought them the weapons they require for their plan. He calls Wayne worthless but Harley replies that Wayne already got them the Phalanx key and an EMP device. Realizing that he cannot convince Harley or Doe, Bane turns toward Wayne and mentions that he neither wants to needs Bruce here.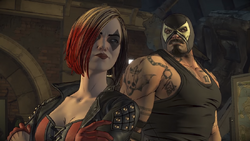 During the conversation, John Doe activates the EMP device they got from Wayne Enterprises, causing it to blast EMP pulses throughout the headquarters. As Doe has no idea how to deactivate the device, Harley uncuffs Bruce and tells him to deactivate the device. After he has done so, Harley invites him up to her office. There, she claims that she wants to clear the air and apologizes for harassing and beating his employees at Wayne Enterprises. After a brief conversation, Harley reveals that they are planning something big for the night and she invites Bruce to be part it. She claims that his knowledge about the EMP device will prove useful. However, she also reminds Bruce that in the Pact, a majority is needed for every big operation. Accordingly, Bruce has to convince Bane and Mr. Freeze to let him come along. She advises Bruce to use Mr. Freeze's love for his wife Nora and Bane's respect for strength and loyalty in order to convince both.
After Bruce has talked to both Mr. Freeze and Bane, Harley comes down from her office and tells the Pact that the "package" is on the way. The henchmen prepare to leave and Bruce wants to join them but Harley reminds him that he is not in the pact until the leaders have voted. After both Bane and Mr. Freeze agree that Bruce should join the pact if he successfully convinced them, John Doe and Harley agree as well, though if they weren't convinced, Bruce still becomes a member regardless. Harley allows Bruce to come with them and together, the pact sets out to get the package.
Although Harley keeps in the background while the Pact secures the package, she eventually joins the action when the agents guarding the package fight back. Carrying both her gun and mallet, Harley attacks as many agents as she possibly can, taking them down and killing them. As Bane is attacking different agents at the same time, Bruce has to choose between heading off Bane or Harley.
Episode Three: Fractured Mask
?
Episode Four: What Ails You
From the captured Mr. Freeze, Bruce (or Batman) learns that the LOTUS Virus can also be used to heal instead of kill. To do so, one would need Riddler's blood - this is why the Pact stole Riddler's body in the first place. As the body is still stored at the subway, they expect that Harley will be there. Together with Special Agent Iman Avesta, Bruce heads to the subway to stop Harley. During the car ride, Bruce learns from Avesta that the sickness from which Harley's father suffered and that eventually drove him to suicide is hereditary. Avesta believes that Harley means to use the LOTUS Virus to cure herself from it so that she will not go insane and suicidal as well. Arriving at the station, they find no trace of Harley. However, the vials of Riddler's blood are gone and Riddler's corpse is destroyed.
To find Harley, Bruce uses John Doe's newly-developed hate for Harley in order to have him track Harley down. Meanwhile, Bruce returns to the Batcave where it is revealed that both Harley's belief and Mr. Freeze's calculations in which Riddler's blood can turn the virus into a healing serum is wrong. Although the healing serum actually can do as intended, it also turns its users insane - a fact the Pact are not aware of. John eventually sends Bruce a message that Harley is located at an old carnival in the outskirts of Gotham, and Bruce heads there to confront her. However, once there Bruce finds that the place is the new hideout of John, who has now completely lost it and has turned the park into a sick parody of an amusement park, and has also murdered three Agency operatives who have shown up in search for Harley.
John reveals to Bruce, whose identity as Batman he has deduced, and that Harley actually took a truck and is headed to Gotham Bridge. He offers to help Bruce stop Harley and clean the city of criminals, an offer Bruce can either accept or refuse.
Episode Five: Same Stitch
Gallery
Trivia
In contrast to most versions, where Doctor Quinzel is manipulated into becoming Harley Quinn by the Joker, this version of Harleen has turned violent before the Joker emerges in Gotham. This darker take on the character is reflected in the difference in voice, as where most versions of Harley have a very high-pitched, bubbly voice that's evocative of a girl, this Harley's voice sounds darker and hardened.
The aforementioned dissimilarity goes a step further, whereas in most versions the Joker is the dominant force in his and Quinn's relationship, in the Telltale canon Harley is definitely the dominant member of her relationship with John Doe.

That being said, if John becomes Villain Joker, it seems as if Harley does grow to truly love him, kissing him when he arrives to save her on the bridge (which gives him the iconic red Joker lips) in Episode 4 and passionately making out with him at the dinner table in Episode 5.
However, it's clear that even in the Villain Joker path, Harley is still using him as a pawn to get what she wants, as if Bruce doesn't do anything to stop Harley from releasing the LOTUS virus in the carnival, she will still release it despite the fact that John Doe isn't wearing a gas mask, meaning she was willing to kill him as he was no longer useful. This makes her a hypocrite, seeing as she blames John for choosing Bruce over her if the latter reveals that John gave Gordon the map to all the bombs, even though she doesn't care about him and is only out for herself.

Harley's primary weapon is a large hammer conforming to her traditionally using a mallet in the DCAU and her assorted comic book appearances, although her other famous weapon, a baseball bat was seen on the desk in her office when she talks to Bruce.
Villains

Villains
Video Games
Toy Mafia (Hugh Bliss) | Brady Culture | Soda Poppers | Jurgen | Strong Bad | The King of Town | Sultry Buttons | Uzi Bazooka | Craig | Trogdor | Queen Bee | Bumblebees | Pudgie-Woo and Tinkie-Wee | Monty Muzzle | The Narrator | General Skun-ka'pe | Anton Papierwaite | Sammun-Mak | "Junior" Max | Charlie Ho-Tep | Billy Yoder | Dr. Laura Sorkin | Miles Chadwick | Walkers | Stranger | Save-Lots Bandits | St. John Family (Andrew, Dan & Brenda) | Jake | Linda | Jolene | Vernon | Crawford Oberson | Logan | Larry | Lilly | Kenny | Marcus Crabtree | Nate | Russell | Roman | Bigby Wolf | Crooked Man | Bloody Mary | Jersey Devil | Georgie Porgie | Vivian | Bluebeard | Ichabod Crane | Grendel | Jack Horner | Woodsman | The Tweedles | Geppetto | Carver's Group (William Carver, Troy & Johnny) | Arvo | Buricko | Vitali | Natasha | Winston | Victor | Ralph | Michelle | Kenny | Jane | Mike | Rhys | Fiona | Handsome Jack AI | August | Hugo P. Vasquez | Vallory | Bossanova | Rudiger | Asher Forrester | Andros | Britt Warrick | Damien | Dezhor zo Raza | Gared Tuttle | Gryff Whitehill | Harys | Ludd Whitehill | Rickard Morgryn | Tazal | Hostile Mobs (Wither Storm) | The Ocelots | Ivor | Soren the Architect | Aiden | Maya | Gill | White Pumpkin | PAMA | Hadrian | Mevia | Em | Norma | Randall | Monroe Colonists (Gabby & Jonas) | Children of Arkham (Vicki Vale, Oswald Cobblepot & Blockbuster) | Catwoman | Harvey Dent | Falcone Crime Family | Joe Chill | Victor Zsasz | Mr. & Mrs. Vale | Gotham Criminal Triumvirate (Carmine Falcone, Thomas Wayne & Hamilton Hill) | The New Frontier (Joan, Badger & Max) | Scavenger | Romeo | Stella | Prismarine Foes | Warden | The Pact (Riddler, Harley Quinn, Bane, Mr. Freeze, John Doe & Eli Knable) | The Agency (Amanda Waller & Roger Harrison) | Rumi Mori | Willy Deever | S.A.N.C.T.U.S. | The Delta (Lilly, Minerva, Abel, Dorian, Sullene, Gad, Michael, Gina & Armando) | Marlon | Violet
See Also
Game of Thrones Villains | Homestar Runner Villains | Jurassic Park Villains | Minecraft Villains | Telltale Batman Villains | Telltale's The Walking Dead Villains | Wallace and Gromit Villains