Jafar says: Read my lips and come to grips with the reality!


This article is a stub and is in need of expansion. You can help Villains Wiki by expanding it.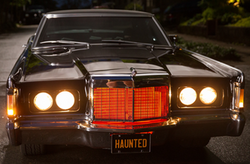 The Haunted Car is a supporting antagonist in the 2015 film Goosebumps. She is a black Lincoln Continental Mark lll possessed by the spirit of a young girl named Becka and is used as means of transportation for Slappy the Dummy.The Haunted Car also appears in the Book of the same name from the 2000 Goosebumps series as the main antagonist. She is a ghost girl named Becka who posses the Car in order to make a friend in the afterlife.
Biography
The Haunted Car is first seen starting herself up and revving her engine. She drives off into night and is seen again at the Madison High School's football field with all the other monsters. She goes after a school bus driven by a tackle dummy, which was used as a decoy, after which it was struck down by the Giant Praying Mantis.
Gallery
Trivia
In the Spanish version of the film (in the scene where The Haunted Car is released from her book in front of Stine's house), if you listen closely, you'll hear her whispering "embrujado," which means "haunted."
The Haunted Car is similar to "The Car", the main antagonist of the 1977 horror film of the same name. They are both Lincoln Continental Mark III's except The Car was modified a bit, and its also similar to Christine because both vehicles are possessed by a demonic spirit.
The Haunted Car is Slappy's closest ally in the film, since he used her for transportation throughout the film.
Community content is available under
CC-BY-SA
unless otherwise noted.