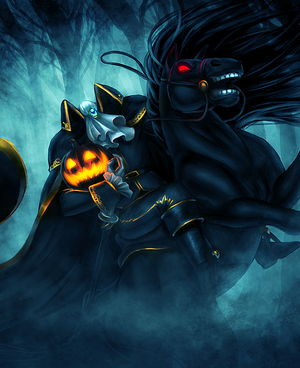 The Headless Horsman is used in many movies along with European folklore. Most wildly excepted of this ghostly figure as a man dressed in black who rides atop a black horse and carries a jack o Lantern under his arm which serves as his primary weapon though he can also be seen carring an axe or sword.
History
In American Folklore.
In the short story version, The Headless Horseman was a Hessian soldier in the American Revolutionary War who was killed in battle when a cannonball knocked off his head and has since been a spirit. He won't cross the church bridge.
In Celtic folklore
The Irish dullahan or dulachán ("dark man") is a headless fairy, usually riding a black horse and carrying his head under one arm (or holding it high to see at great distance). He wields a whip made from a human corpse's spine. When the dullahan stops riding, a death occurs. The dullahan calls out a name, at which point the named person immediately perishes. In another version, he is the headless driver of a black carriage. A similar figure, the gan ceann ("without a head") can be frightened away by wearing a gold object or casting one in his path.
The most prominent Scottish tale of the headless horseman concerns a man named Ewen decapitated in a clan battle at Glen Cainnir on the Isle of Mull. The battle denied him any chance to be a chieftain, and both he and his horse are headless in accounts of his haunting of the area.
Sir Gawain and the Green Knight is a Middle English poem which utilizes a decapitation myth.
In German folklore
The German Legends of the Brothers Grimm (Deutsche Sagen) recount two German folk tales of a headless horseman.
One is set near Dresden in eastern Germany. In this tale, a woman from Dresden goes out early one Sunday morning to gather acorns in a forest. At a place called "Lost Waters", she hears a hunting horn. When she hears it again, she turns around she sees a headless man in a long grey coat sitting on a grey horse.
In another German tale, set in Braunschweig, a headless horseman called "the wild huntsman" blows a horn which warns hunters not to ride the next day, because they will meet with an accident.
In some German versions of the headless horseman, he seeks out the perpetrators of capital crimes. In others, he has a pack of black hounds with tongues of fire.
Community content is available under
CC-BY-SA
unless otherwise noted.