Jurassic World: Dominion Dominates Fandom Wikis - The Loop
Play Sound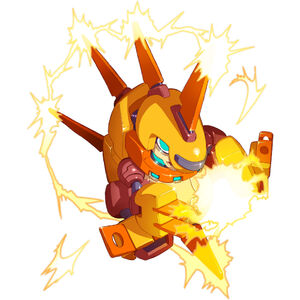 | | | |
| --- | --- | --- |
| " | Hey, hey! Do you think you can just ignore me, Hedgeshock!? You've got to face the penalty! A shocking penalty! | " |
Hedgeshock the Erinaceroid is a Pseuderoid that appeared in Mega Man ZX Advent. She is based on a hedgehog. Hedgeshock is hyperactive and talks very fast in her speeches. She is very loyal to Master Albert, believing his order to be absolute.
She usually makes pun involving the words shock and electricity.
Role
Hedgeshock first appears in the Mysterious Lab, under Master Albert's orders and is protecting the room that contains "DAN-000". She is confronted by Grey/Ashe, and lost to them, Model A copies her DNA afterwards. She is revived by Model W to impede Grey/Ashe's progress to Master Albert, but was defeated yet again.
Powers and Abilities
Hedgeshock has the ability generate electricity, shooting fast electric energy balls them at the player. Hedgeshock is very fast and has the ability to roll into a ball. In the room that she's fought in, Hedgeshock can occasionally flood part of the room and can also summon New Rattraps to aid her in battle.
After Model A copies her DNA, Grey/Ashe can roll into a ball to fit through tiny spaces, they can also use her electricity attacks. They only thing that the player can't do is access her skills from the battle arena she's fought in (i.e flooding part of the room and summoning new Rattraps).
Trivia
Hedgeshock is based on a hedgehog. Her moniker as an Erinaceroid is a reference to Erinaceidae, a subfamily that hedgehogs belong to.

Interestingly her ability to roll into a ball is identical to Sonic the Hedgehog's ability to Spin Dash.

Despite acting as a hyperactive male child, Hedgeshock is a female.
Hedgeshock is the polar opposite to Bifrost the Croconiod:

Hedgeshock small, fast, and weak.
Bifrost is large, slow, and strong.