Jafar says: Read my lips and come to grips with the reality!


This article is a stub and is in need of expansion. You can help Villains Wiki by expanding it.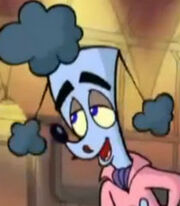 Henri Ennui is the main antagonist of the Danger Rangers episode, "Medicine Mix-Up". He is a periwinkle French poodle who plans to make millions of money, but not in a good way. He built a rancinator so as to make anything the ray zaps smell bad.
He was a "brilliant" scientist who sold smelly counterfeit perfumes, and he had a history with Ranger Kitty. His ninja-bot henchmen had made candy and soda reek between their being transported out of their factories and being transported to certain stores. Because of this, kids are taking medicine that is not theirs, mistaking it for candy.
Henri eventually plans on extorting money by stinking up all of the health food so nobody can have meals without paying him.
Once Fallbot has vacuumed up the smelly candy and reported it to Ranger Sully, the latter tells the former to shoot it at Henri. After this happens, and Henri is trapped, Sully shuts off the rancinator, and Fallbot puts a nose plug on Henri's nose.
He was voiced by Jeff Bennett who also played Dr. Jacques von Hämsterviel, H.A.R.D.A.C., Big Bad Wolf, Toucan Dan, Scarecrow, Mr. Smee, Bradley Uppercrust III, 2-D Man, Robert Canler, Dick Hardly,and Xavier the Villain.