Jurassic World: Dominion Dominates Fandom Wikis - The Loop
Play Sound
| | | |
| --- | --- | --- |
| " | Stein? You chose him over me? That's who I'm supposed to be! I DESERVE THE FIRESTORM MATRIX! | " |
| | ~ Hewitt furiously gloats Stein for chosing Jax as the next Firestorm | |
Henry Hewitt, nicknamed Tokamak by Cisco, is an antagonist in the second season of The Flash. He is a meta-human, having gained the power to absorb and create blasts of energy due to anger issues.
He is portrayed by Demore Barnes.
History
Past
Henry graduated Summa Cum Laude from Hudson University, holding a double major in Applied Physics and Biological Engineering. He also had a criminal record for one account of battery and two accounts of aggravated assault which led to a court order of anger management therapy
Hoping to succeed Firestorm
Hewitt is called to S.T.A.R. Labs by Caitlin Snow because his molecular structure makes him one of two perfect matches for the unstable Martin Stein. While the pair seem like a perfect match due to their backgrounds as scientists, they fail to converge twice. When told that it seems that Hewitt is not compartible with Stein after all, Hewitt storms off angry, furiously exclaiming that they should have checked first before disappointing him.
Back at his lab, Hewitt was chided by his superior for his work while believing himself to be superior to anyone else at the lab. Furiously, Hewitt screams at the man to leave his lab and his body covers in the same red aura as his hand when he departed S.T.A.R. Labs.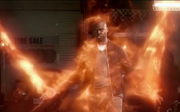 When Caitlin visits Jefferson Jackson, the other possible match for Stein, the two are interrupted by Hewitt. He uses his power to blast Jax into a pile of tires and then attempts to kill Caitlin for causing his transformation. Jax manages to knock Hewitt out and he and Caitlin escape back to Star Labs. There, Jax merges with Stein and the two become Firestorm. While this happens, Hewitt arrives at the football field where Jax was hurt during the particle accelerator's explosion to recharge his powers. To stop Hewitt, Cisco cuts the power of the field and Barry brings all civilians to safety. Barry then approaches Hewitt and tries to reason with him but Hewitt is outraged when Firestorm appears to help Barry. Claiming that he should have been the one to become Firestorm, Hewitt sends energy blasts at Firestorm.
Caitlin realises that making Hewitt angry would cause him to become unstable. She tells this to Barry, who starts to provoke Hewitt. When Firestorm joins them, Hewitt tries to blast both of them. Dodging the blast, Firestorm then advances on Hewitt and knocks him out. He is then incarcarated at the Pipeline.
Gallery

Villains