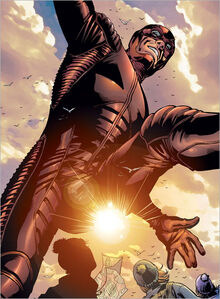 Henry "Hank" Pym (also known as Ant Man, or Giant-Man) is, of course, a hero from Marvel comics - however there is a dark side to Henry which can not be ignored: especially that of his earlier days in Ultimate Marvel.
History
Although always fighting on the side of "good" Henry Pym suffers from schizophrenia and because of this, Hank was an abuser. He use to beat up on his mutant ex-wife Janet, this behavior tarnished his character considerably and resulted in the end of his marriage as well as his temporary removal from the Ultimates.
Eventually however Henry would return to the Ultimates under the guise of Yellowjacket and has been a hero (more or less) ever since.
The mainstream Henry (nicknamed "Hank") Pym also infamously struck his wife and also attacked an enemy from behind once despite the enemy surrending - the result of this was Captain America temporarily removing him from the Avengers.
The Pym Controversy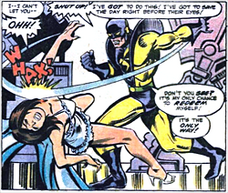 Henry "Hank" Pym gained infamy for a panel in which he struck his wife, Wasp, in a fit of rage during an event in which he was deeply unstable and had been removed from the Avengers - attempting to get back in favor with the superhero community he planned on unleashing a robot to attack his friends with the intent of saving the day.
Wasp could not allow Hank to do this and tried to reason with him, resulting in a moment that would forever tarnish Hank's character - however the mainstream Hank fully admitted to his mistake and never forgave himself for what happened.
Hank would open a home for battered women and although his actions can never be excused it has become an increasingly strong debate with fans - with people on both sides of the fence trying to argue on whether a one-time event can class the mainstream Hank as a "wife beater".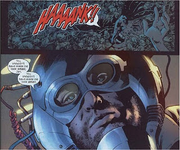 Ultimate
Sadly, the same can not be said for the Ultimate version of Hank - who was a monstrous abuser: he attacked Wasp with a can of Raid (poison designed to *kill* insects) and also infamously had his ants attack her while she was wasp-sized, to the point that once he found out Captain America clashed with Hank.
These acts were deliberate and malicious, meaning that few could argue that the Ultimate version of Hank was a serial abuser.
Community content is available under
CC-BY-SA
unless otherwise noted.