Jurassic World: Dominion Dominates Fandom Wikis - The Loop
Play Sound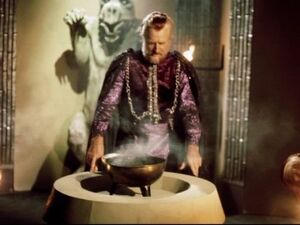 Hepesh is one of the two main antagonists of the Doctor Who story "The Curse of Peladon", along with Arcturus.
He was portrayed by the late Geoffrey Toone.
Biography
Hepesh was the High Priest of Peladon. He and Chancellor Torbis had raised the young King Peladon together, grooming him to one day rule. However, a schism rose between the two men. Torbis and Peladon both believed their planet should join the Galactic Federation but the staunchly conservative Hepesh was opposed to any alien influence, feeling they would be exploited and also fearing an end to their tradition.
Hepesh ended up forming an alliance with Arcturus, one of the Federation delegates, to sabotage Peladon's application. Arcturus hoped to strike a private deal with Hepesh to exploit Peladon's mineral wealth without any of the reforms that Federation membership would bring. Hepesh discovered that Aggedor, the thought-extinct Royal Beast of Peladon, still existed and began training one of the animals, using brutal methods to keep the beast enraged. He had Aggedor kill Torbis, taking his place as the king's right-hand man.
Hepesh next convinced the King's Champion Grun that the Federation delegates were enemies of Aggedor and the king, directing him to topple a statue outside the throne room in an attempt to kill them. They were saved by the Doctor, who had been mistaken for the Earth delegate along with Jo. Hepesh faked an attack on Arcturus, then had Grun trick the Doctor into entering the sacred temple, where trespass was punishable by death. Peladon was unable to reverse the sentence but did offer the Doctor trial by combat against Grun.
Keen to get rid of the Doctor before the contest, Hepesh gave him a map that would supposedly lead him through the palace's tunnels to the TARDIS. In fact, it led him to Aggedor but the Doctor was able to calm the beast. During the combat trial, Hepesh intervened by throwing Grun a sword but the Doctor still defeated Grun yet saved his life. As Peladon declared the trial over, Arcturus attempted to shoot the Doctor but was killed by the Ice Warrior Ssorg.
Having lost his ally, Hepesh abandoned all secrecy and made to move openly against Peladon. He assembled guards loyal to him for a coup, and struck Grun over the head with a rock when he changed sides. His men quickly overcame the guards loyal to the king and took Peladon hostage. Hepesh planned to rule the planet himself and claimed that with Peladon deposed, the Federation delegates would have to leave the planet. At that moment, the Doctor and Grun arrived with Aggedor, proving Hepesh's duplicity. Hepesh tried to order Aggedor to kill the Doctor but Aggedor turned on and savaged him. He died in Peladon's arms, accepting that the king would have the future he desired and hoping that it was the right one.