We're Getting Mutants in the MCU - The Loop
Play Sound

✓
This Villain was proposed and approved by Villains Wiki's Pure Evil Proposals Thread. Any act of removing this villain from the category without a Removal Proposal shall be considered vandalism (or a futile "heroic" attempt of redemption) and the user will have high chances of being terminated blocked. You cannot make said Removal Proposal without permission from an admin first.
Additional Notice: This template is meant for admin maintenance only. Users who misuse the template will be blocked for a week minimum.

| | | |
| --- | --- | --- |
| " | You ruined everything! How did you do it? How did you trick me? I'd have beaten you if you'd been a man! But they had to send a boy! A bliddy schoolboy! Well, it isn't over yet! I'm leaving England, do you see? That's my ticket out of here! They'll never find me! And one day I'll be back. Next time, nothing will go wrong! And you won't be here to stop me! This is where you die! | " |
| | ~ Sayle to Alex Rider; his last words. | |
Herod Sayle is the main antagonist of Stormbreaker, the first book in the Anthony Horowitz series Alex Rider, and the 2006 film adaptation.
In the film adaptation, he was portrayed by Mickey Rourke, who also played Whiplash in Iron Man 2, Gorman Lennox in White Sands and Hyperion in Immortals.
Biography
Background
Sayle was born in Beirut, Lebanon, one of thirteen children. His parents were a failed hairdresser and a washerwoman and he grew up on the streets. One day, he saved a rich American couple by pushing them out of the way of a falling grand piano. When they found out about his poverty, they adopted him and sent him to school in London. However, from the day he arrived he was severely bullied by the other students because he was short and couldn't speak English well. They would call him names like Goat-boy and play tricks on him like shoving his head in the toilet and hanging his trousers from the flagpole. The lead bully grew up to be the Prime Minister of Britain. Sayle grew to hate Britain and British schoolchildren in particular because of his experiences.
After leaving school, he attended Cambridge University and got a first in economics. He went on to build up a billion-pound business empire, with his own record label, radio station, computer software and racehorse team. He also owns a pet Man-O'-War jellyfish that he came across diving in the South China Sea, seeing it as an outsider like himself. His latest development is the Stormbreaker - a revolutionary new type of computer which is 90% cheaper to manufacture due to new technology that means it doesn't need to be made in a sterile environment. Just before the events of the book, Sayle announces his intention to gift one Stormbreaker to every secondary school in Britain in return for British citizenship. However, MI6 are suspicious of Sayle because he has contacts in hostile nations such as Russia and China and has his own private army at the Stormbreaker manufacturing plant in Port Tallon. Agent Ian Rider investigates, but soon after telling MI6 he found something important he is murdered by Yassen Gregorovich.
Stormbreaker
MI6 chief Alan Blunt blackmails Ian's nephew Alex Rider into investigating Sayle, sending him to stay with Sayle at Port Tallon under the identity of Felix Lester, a teen who won a contest to stay with Sayle. Upon arriving at Port Tallon, Alex meets Sayle and his henchmen, Nadia Vole and Mr. Grin, and is allowed to test the Stormbreaker. He also plays a round of snooker with Sayle and beats him after goading him into betting a hundred pounds a point. Sayle at one point shows off his pet Man-O'-War and launches into an unsettling monologue about his love of killing fish and the "exquisite death" granted by the Man-O'-War.
In the course of his investigations, Alex observes Nadia Vole and Yassen Gregorovich unloading crates from a submarine. He later comes across a biocontainment lab before being captured by Mr. Grin. He is tied to a chair by Sayle, who explains how he intends to take revenge on the Prime Minister for bullying him at school. He has obtained R-5, a variant of smallpox modified to be deadlier and faster working, from Yassen's employers Scorpia. A strain of R-5 is contained in every Stormbreaker and is currently harmless; however, later that day a ceremony will be held at the Science Museum in London at which the Prime Minister will push the button to activate the Stormbreakers all over the country, releasing the R-5 and infecting every schoolchild in Britain. The Prime Minister's career will be ruined due to his having killed all the children and Sayle will flee the country before anyone realizes what he did. He then leaves for London, leaving Alex to be killed by Nadia Vole.
Alex kills Nadia Vole and escapes, forcing Mr. Grin to fly him to London. Just as the Prime Minister is about to press the button, Alex parachutes from Sayle's plane and into the Science Museum, where he opens fire, wounding the Prime Minister in the wrist and shooting out the button and an electrical connection. Sayle himself is wounded but manages to escape.
After his debriefing at MI6 headquarters, Alex attempts to get a taxi back home only to find the driver is Sayle. He forces Alex into a nearby building at gunpoint and brings him up to the roof, where he intends to shoot him and escape in an approaching helicopter before returning in a few years to try his scheme again. As Sayle prepares to kill Alex, Yassen gets out of the helicopter and shoots him dead. He explains to Alex that his employers ordered him to kill Sayle for embarrassing them (although a later book, Russian Roulette, reveals that he was actually ordered to kill Alex but decided to spare him because he knew his father).
Film Biography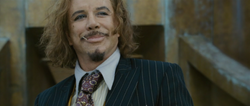 Sayle's role in the 2006 film adaptation is somewhat changed from his role in the book. His name is changed to Darrius Sayle, and he is changed from Lebanese to an American whose parents won the lottery. The most significant change, however, is his ultimate defeat. In the film, it is revealed that Sayle has a backup plan after the Stormbreaker's launch is foiled; he has a second transmitter on top of one of his skyscrapers. Alex unplugs this and is thrown from the balcony by Sayle, who is about to finish him off when Yassen shoots him for embarrassing Scorpia, sending him falling to his death.

Villains

Villains