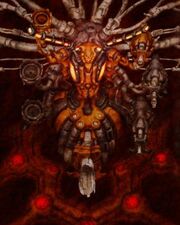 Hibachi is a recurring antagonist from the DonPachi series, acting as the final boss/true final boss in all games. Hibachi is a giant bee-shaped robot, created by Schwarlitz Longhener (named as Longhena) to be the ultimate killing machine, intended to exterminate humanity, so Longhener could recreate it upon his image of perfection.
Being a robot, Hibachi only follows it's original programming. It is capable of self-repairing, the reason it has come time-to-time again to terrorize humanity even centuries after Longhener's demise. It usually has two forms: the first is that of a gigantic bee, while the second is a much smaller bee in flames.
Titles
Ultimate Demonic Arsenal Hibachi (最終鬼畜兵器 火蜂)
Extreme Murder Arsenal Hibachi (極殺兵器 緋蜂)
Hibachi (]-[|/34<#!) - Written in codified letters
Hibachi (陽蜂)
Inbachi (陰蜂)
Gallery
Trivia
In the latest game of the series (DoDonPachi SaiDaiOuJou), Hibachi assumes the form of a Elemental Doll (referred to as Hina), but since SaiDaiOuJou is an alternate continuity, that Hibachi has no relation to the original one.
Hibachi is also being praised as the hardest Shoot Em' Up boss among Japanese community.
Community content is available under
CC-BY-SA
unless otherwise noted.