Jurassic World: Dominion Dominates Fandom Wikis - The Loop
Play Sound
This article's content is marked as Mature
The page Mature contains mature content that may include coarse language, sexual references, and/or graphic violent images which may be disturbing to some. Mature pages are recommended for those who are 18 years of age and older.


If you are 18 years or older or are comfortable with graphic material, you are free to view this page. Otherwise, you should close this page and view another page.
| | | |
| --- | --- | --- |
| " | DON'T... threaten me. | " |
| | ~ Hilary Briss to a schoolboy after the latter attempts to threaten him into giving him some of his Special Stuff | |
Hilary Briss is a major character in the BBC Comedy franchise The League of Gentlemen. He is a sadistic and malicious butcher well known for getting an elite few of the townsfolk addicted to his "special stuff".
He appears as a major antagonist in season one, one of the two main antagonists (alongside Harvey Denton) of season two and the deuteragonist of the 2018 live tour. He also appears in the non-canon movie The League of Gentlemen's Apocalypse as one of the three protagonists, appearing more as an anti-hero in contrast to a villain like on the show.
He was portrayed by Mark Gattis who also portrayed Val Denton and Sir Nicholas Sheet-Lightning in the same series as well as Richard Lazarus in Doctor Who.
History
The League of Gentlemen (TV Series)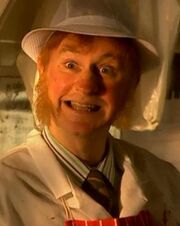 Hilary appears as a somewhat mysterious man and the owner of Hilary Briss & Sons, Royston Vasey's local butchers shop. His wares include a secret foodstuff known as the "Special Stuff", which, while never revealed, is shown to be both highly illegal and hideously immoral. A small group of high authority figures are in on Briss's activities, all of whom are helplessley addicted. Among this group includes Police Inspector Cox, Magistrate Maurice Evans, and Counciler Samuel Chignell. Hilary is supplied his Special Stuff by a tall man accompanied by a short, hunhcbacked figure, both of whom are shrouded in darkness; it is evident that even he is terrifed by the duo when he and Maurice collect one such "special delivery" in Series 2.
During the second series, the Special Stuff led to an epidemic in Royston Vasey, resulting in the deaths of many from chronic nosbleeds, including Mayor Larry Vaughn. Maurice's wife Eunice had managed to get her hands on the Special Stuff, her husband having got her and the rest of his family addicted; unknowing of it's nature, she began putting it in her sandwhiches to sell at her food stall, which quickly proved popular among the town populace. While a pure dose of Special Stuff distributed by Briss is relatively safer to consume, Eunice cut hers up and mixed it in her paste, making it poisonous; however, repeated and frequent consumption of Hilary's Special Stuff will eventually result in nosebleeds. Despite selling the substance, Hilary reveals that he does not eat it himself, explaining that "someone has to stay in control". The epidemic was blamed on Edward and Tubbs, the owners of the Local Shop. Ironically, despite being prolific serial killers, they were on this occasion innocent.
While Cox, Eunice, Sam, and Maurice were arrested by the authorities, Hilary fled to a tropical island before he could be caught, leaving behind his wife (who was revealed to be a brown cow). Bris continues to sell the Special Stuff, this time in the form of burgers, which become very popular on the island.
Hilary doesn't appear the third series, but a newspaper headline reveals a string of nosebleeds occurring in the Caribbean, most likely all down to Briss. His shop is also seen boarded up, with numerous graffiti that includes "Murderer" sprawled over it.
The League of Gentlemen's Apocalypse
Hilary returns for the feature length movie as an anti-hero and one of the three protagonists alongside Herr Lipp and Geoff Tipps. Hilary is seen on the run from the police in handcuffs being chased across the moors. He takes Herr Lipp hostage and stops Geoff's car. They arrive at a church and end up in a room which opens a gateway to the real world. They are confused at first, but are told by Papa Lazarou and Tubbs and Edward that they were fictional creations and sends Briss along with Lipp and Geoff to seek out The League of Gentlemen who had abandoned Royston Vasey to work on other projects.
Briss has Steve Pemberton kidnapped and lures Mark Gatiss and Reece Sheersmith to Royston Vasey to show them the destruction of the town. Characters from the League's new project "The King's Evil" including villain Dr. Pea arrives and tries to convince Briss to join him in the King's Evil world, but Briss refuses to abandon Royston Vasey. Briss fights a massive monster created by Dr. Pea, and is victorious until Pea stabs him in the back. Briss dies in Geoff's arms and convinces him to save Royston Vasey before dying. Geoff later avenges Briss by killing Dr. Pea.
The League of Gentlemen Live Again!
In the 2018 stage show, Briss makes a cameo at the end. When Edward Tattsyrup rescues his wife Tubbs from Papa Lazarou's wife mine, she asks what will happen to the rest of the women that he has imprisoned. Edward reveals that he has already come to a solution to that problem, and introduces Briss, who assures the Tattsyrups that he will take "special" care of the other women.
The Special Stuff
It is never revealed in the show what exactly the "Special Stuff" is, and the League of Gentlemen themselves weren't certain what it was when they began writing the series. It is a highly addictive, illegal substance which causes heavy nosebleeds to those who consume it on a frequent basis. It has been assumed that the Special Stuff is cocaine-laced sausages, as misuse of cocaine can cause addiction and nosebleeds due to the damage to the nasal passage. When cocaine is cut, it can be even more dangerous, similar to how Eunice cutting the Special Stuff and selling it in her sandwiches led to the nosebleed epidemic. Other clues to the ingredients is the fact that Briss's surname is a play on the Yiddish word bris, a slang term for the Brit Maleah, the Jewish circumcision ceremony. This, along with a clue from the live shows being that it rhymed with 'drawstring', led to the suggestion that the Special Stuff is in fact circumcised foreskins. Some fans have combined the two theories, concluding the the Special Stuff is sausages containing cocaine enclosed in foreskin sausage casing. However, the League of Gentlemen have stated in interviews that cannibalism is too mundane, and that the Special Stuff is not human meat, but something much worse. They have also stated that the Special Stuff is not cocaine, as they consider it more mundane that cannibalism. 
Trivia
While The League of Gentlemen have denied that the Special Stuff is human meat, one of the ideas conceived during a brainstorming session for the show was a butcher who sold human organs supplied from the local hospital.
Hilary's age is currently unknown; when asked, he says that his age "spans great oceans of time". What he exactly means by this is unclear.
In Series 2, Episode 2, Edward Tattsyrup is seen butchering something in the back room of the Local Shop. This has led to the revelation that Edward and Tubbs were the suppliers for Hilary Briss' butchers.

Villains

Villains
League of Gentlemen
Edward and Tubbs Tattsyrup | Pauline Campbell-Jones | Ross Gaines | The Dentons (Harvey, Val, Chloe & Radclyffe) | Geoff Tipps | Hilary Briss | Samuel Chignell | Bernice Woodall | Judee Levinson | Oliver Plimsoles | Papa Lazarou | Herr Lipp | Lotte Lipp | Pop | Cathy Carter-Smith | Simba, Pebbil & Tiktik | Dr. Erasmus Pea |Sir Nicholas, Lemuel & Father Halfhearte
Psychoville
Mr. Jelly | David Sowerbutts | Maureen Sowerbutts | Oscar Lomax | Michael Fry | Joy Aston | Robert Greenspan | Kerry | Brian MacMillan | Mr. Jolly | Nurse Kenchington | Andrews Corporation (Grace Andrews, Detective Finney, Kelvin) | Peter Bishop | Hattie | Jeremy Goode | Silent Singer | Dr. Friedrich Ehrlichmann
Inside No. 9
Sardines: Pip Harrison | Andrew
A Quiet Night In: Ray & Eddie | Gerald | Paul
Tom & Gerri: Tom | Migg
Last Gasp: Graham | Sally | Si
The Understudy: Kirstie | Felicity
The Harrowing: Hector and Tabitha| Shell | Castiel
La Couchette: Dr. Maxwell
The Trial of Elizabeth Gadge: Elizabeth Anne Gadge | Mr. Warren | Sir Andrew Pike | Richard Two Shoes
Cold Comfort: George
The Devil of Christmas: Dennis Fulcher | Kathy | Krampus
The Riddle of the Sphinx: Professor Squires | Dr. Jacob Tyler | Nina Noona
Empty Orchestra: Fran
Diddle Diddle Dumpling: David
Private View: Maurice | Jean Quinn
Zanzibar: Henry
Once Removed: Viktor | Charles
To Have & to Hold: Adrian
Tempting Fate: Keith | Hare Statue | Maz
Deadline: Ghosts of Granada Studios
Death be Not Proud: David Sowerbutts | Maureen Sowerbutts | Beattie
Misdirection: Neville Griffin | Gabriel
Thinking Out Loud: Galen | Bill
The Stakeout: SPC Varney
Wuthering Heist: Arlo, a Fool | Pantalone, a Rogue | Scaramouche, a Soldier | Columbina, a Maid | The Doctor
Simon Says: Spencer Maguire | Simon Smethurst
Lip Service: Iris
Hurry Up and Wait: Bev | Oona and Stan
How Do You Plead?: Webster | Urban Bedford | The Lift Attendant
Last Night at The Proms: Brian
Mr. King: Mr. Edwards | Winnie | Ceri
Nine Lives Kat: Ezra | Matilda
Kid/Nap: Lara | Shane | Clifford
A Random Act of Kindness: Bob | Rudolph
Wise Owl: Wilf