Jurassic World: Dominion Dominates Fandom Wikis - The Loop
Play Sound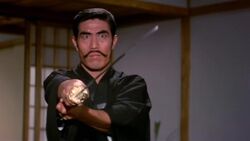 Click To Help DIO!

DIO has declared that this article has stopped in time, and any and all information on it may be outdated.
Help improve this article by checking and updating it's info wherever necessary
And now time resumes!

✓
Hiroshi Suzuki (Nihongo: 鈴木宏, Suzuki Hiroshi) is the main antagonist of Bruce Lee's Fist of Fury. He is portrayed by the late Riki Hashimoto. He is a Japanese martial arts master and the master of the Hongkou dojo, a Japanese martial arts school in Shanghai and the rival school of the Jingwu School (the main martial arts school of the film and in which Chen Zhen, the protagonist of Fist of Fury, is one of the best students).
After murdering Chen Zhen's teacher, he finds out who did this. After hearing Tien, the cook in Jingwu School revealing to the caretaker, that he killed Chen's teacher by poisoning him, Chen kills them both. Suzuki tells a policeman to arrest Chen but avoids them.
Suzuki then reports Chen and sends his henchmen to kill everyone inside at the Jingwu School. Chen enters the dojo unaware of the attack in the Jingwu School, takes out a couple of students and Suzuki's friend, Petrov. Suzuki then runs off and hides, offering an attack at Chen with a sword but misses. When Suzuki jumps at Chen, Chen gives him a high flying kick to his neck, killing Suzuki.
Trivia
It is implied that Hiroshi Suzuki would use his martial arts school as a front for far more shady business. This is shown due to some very sinister signs shown during the movie:

Auzuki's main friend and business partner Petrov (who is also one of the main antagonists in the film along with Suzuki) is revealed to be a Russian Mafia boss.
In one of the scenes in which a business meeting is shown inside Suzuki's dojo, the guests are entertained by a Geisha dancing. But what you see in the scene would not be a normal Geisha, but an Oiran (a geisha who is also a courtesan, that is, she works in prostitution). That's because the dance that the Geisha is dancing there is not a normal dance, but striptease. And usually those who work with striptease also work with prostitution. This implies that the Geisha seen in this scene also works in prostitution, which also implies that one of the shady businesses that Suzuki would handle would be the prostitution business.
In the scene where Chen Zhen disguises himself as a telephone company employee and pretends to fix the Dojo's phone, Suzuki is seen in a much more formal attire, more precisely darker formal attire: a black suit with a dark blue tie. The fact that he wears this costume (whose tie can be dark blue or black), and that he smokes a cigar implies that he would be linked to the Yakuza, as this costume and the fact that he smokes cigars are associated with the Yakuza (the Japanese mafia). If this is true, this indicates that Suzuki would be the boss of a Yakuza group in Shanghai and his dojo would be the headquarters of this criminal group.