Jurassic World: Dominion Dominates Fandom Wikis - The Loop
Play Sound
| | | |
| --- | --- | --- |
| " | But some sacrifices have to be made. Just not self-sacrifices. Ah well. Time to lay low again. To plan. To scheme. To rise anew. Have your victory today, Osborn. You earned it. To you, my old foe. And to Goblins everywhere. | " |
| | ~ Hobgoblin | |
The Hobgoblin is one of Spider-Man's enemies from Marvel Comics. He accidentally discovered the Green Goblin's secret hideout and modified the costume and weapons to become the next goblin villain in Spider-Man's life. Hobgoblin clashed with the Green Goblin several times and have developed a strong hatred for each other since. The Hobgoblin also has joined various villain groups as the Sinister Six and the Sinister Seven.
His true identity was kept a secret for a long time, until it was revealed to be Roderick Kingsley, a fashion designer that was involved in shady business practices. Since then, the Hobgoblin mantle has been worn by many individuals over the years, most of which have been either pawns or murdered by Roderick Kingsley, who is perhaps considered to be the most iconic to wear the mask to this day.
In other media
Spider-Man: The Animated Series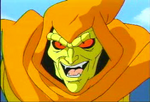 The Hobgoblin (Jason Phillip Macendale) is one of the recurring antagonists of the series (along with Kingpin, the Green Goblin, Doctor Octopus, and Venom). He was voiced by Mark Hamill, who's voice is similar to the Joker, who also voiced him in Batman: The Animated Series.
In his first appearance, he was a criminal-turned-assassin hired by Norman Osborn to kill New York's most feared criminal mastermind, Wilson Fisk, also known as the Kingpin, in which the Hobgoblin himself did not know that Fisk was the Kingpin. Osborn was indebted to the Kingpin for various shady loans that Osborn was unable to repay. After the assassination is foiled by the appearance of Spider-Man and Peter Parker when they save Fisk when he was going to create a criminology school and cause the Hobgoblin to flee, the Hobgoblin demands Osborn to pay him and he will take another chance to kill Fisk. But Osborn refuses to pay him and fires him. This sets off a chain of events in which the Hobgoblin is curious about why Osborn wants Fisk dead and while snooping around Fisk's building, he is captured and realizes Fisk is the Kingpin.
Just when the Kingpin would kill the Hobgoblin, the Hobgoblin asks for a chance for a partnership with the Kingpin and defeat Norman Osborn, the man who hired the Hobgoblin to kill Fisk. Kingpin was so despised at hearing this news and Osborn for what he did that he aligns with the Hobgoblin and sends him to kidnap Harry Osborn, Norman's son, in order for the elder Osborn to make good on his payment. But when Hobgoblin sees that Kingpin will not pay him immediately, he eventually betrays the Kingpin by going to Norman for better weapons to kill the Kingpin and so that Osborn can have his company and son.
Osborn gives him a better glider and weapons, and gets into a prolonged battle with Spider-Man across New York, ending with the Hobgoblin presuming that Spider-Man died in an explosion. Later, by the time the Hobgoblin returned to the Kingpin, Hobgoblin realizes the Kingpin knows he was going to double-cross him, causes the Kingpin to flee, having the Hobgoblin think he died and took over his empire. The story concludes with the Kingpin, Osborn, and Spider-Man all loosely allying themselves to defeat the Hobgoblin, where Spider-Man fights the Hobgoblin in the Kingpin's lair and nearly destroys it. The superhero saves Harry, bringing him back to Norman and expelling the Hobgoblin from Fisk's empire, having the crime lord reclaim it as his own. The Hobgoblin tries one more time by trying to kill Osborn and his son, but Spider-Man saves them and has the Hobgoblin crash into a nearby river. In the end, Osborn sells 50% of his company to the Kingpin in order to repay his debt, Harry Osborn is returned safely, and the Kingpin rebuilds his headquarters.
The Hobgoblin went on to make two more appearances, starting with the crossover of X-Men: The Animated Series. He discovered that Dr. Herbert Landon, who was said to cure mutation, (and secretly promising to make a mutant army for the Kingpin) was planning to exterminate all mutantkind. The Hobgoblin blackmailed Landon that if Landon did not give him the money he thought he deserved, then Landon's real intentions will be revealed to the public. However, Spider-Man tracked the Hobgoblin down and learned that Landon could potentially make good on his threat. Teaming up with Wolverine, Spider-Man tracked Landon to his lab. They battled Hobgoblin, who managed to escape with discs outlining Landon's master plan. Spider-Man and the X-Men managed to defeat an ironically mutated Landon after the Hobgoblin escaped, and Landon was taken into a hospital to be cured of his mutation.
The Hobgoblin's next appearance was in the second Green Goblin story arc, in which his identity was revealed to be Jason Philip Macendale, fiancé to Felicia Hardy and had a portal-creating machine called the Time Dilation Accelerator. Once his identity was revealed to his fiance, he and Felicia were kidnapped by the Green Goblin who stole the Accelerator from the villain and took both fiancé to their doom at OsCorp where they will be killed in an acid pool. Spider-Man forced the Goblin into limbo (right before he would return in the next episode), saved Macendale and Felicia and their relationship ended. The Hobgoblin was then immediately taken into custody afterward.
An alternate-reality version of the Hobgoblin appeared in Part One in the series finale of Spider-Man as an enemy of the Scarlet Spider. He battled the various Spider-Men from different realities to try to stop Spider-Carnage from destroying all of reality, suffered defeat, and was tied up. In the last episode of the series, the Kingpin's building (where the beaten Hobgoblin was kept) exploded. Madame Web used her powers to save Spider-Man, his associates, and the Kingpin, but Hobgoblin apparently perished in the explosion. An interesting fact is that in his first appearance his skin was not white, but black.
Spectacular Spider-Man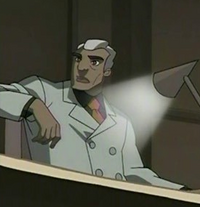 Roderick Kingsley appears in season 2 of The Spectacular Spider-Man voiced by Courtney B. Vance. In the series he owns a perfume factory and is African American. He successfully outbids Tombstone, Silvermane, and Dr. Octopus for the specifications to the Rhino armor. After collecting the specifications, Silver Sable and Hammerhead attempt to steal them for their respective employers only for Kingsley to hand them a decoy. He almost got away before being confronted by the original and very angry Rhino and fled due to the subsequent three way brawl between Hammerhead, Silver Sable, and the short-lived alliance of Spider-Man and Rhino. Spider-Man and Rhino manage to destroy the case with the specifications inside. Unknown to any of them, that was another decoy that was destroyed, with the real specifications being in Norman Osborn's possession. He does not appear as the Hobgoblin; creator Greg Weisman says the Hobgoblin would have shown up had the show gotten a third season, but did not specify if Kingsley would have been the one in the role.
Games
Hobgoblin 2099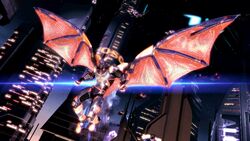 Main article: Hobgoblin (Spider-Man: Shattered Dimensions)
In the videogame Spider-Man: Shattered Dimensions, the future 2099 version of Spidey battles the 2099 version of Hobgoblin as his first boss. This Hobgoblin had nanofiber wings instead of a glider, and could form firey pumpkin bombs from his hands. In the game, he used the Tablet of Time's power to make minion copies of himself. He was invented for the game, as there is no Hobgoblin 2099 in the comics.
Other
The Amazing Adventures of Spider-Man
In the ride The Amazing Adventures of Spider-Man at Universal's Islands of Adventure, Hobgoblin is one of the members of the Sinister Syndicate. He appears in most of the ride's scenes and one of them owns a real life-loose.
Gallery
Images
Videos

Villains
Comics
Abomination | Absorbing Man | Agony | A.I.M. | Alistair Smythe | Annihilus | Answer | Arcade | Ares | Arnim Zola | Attuma | Awesome Android | Baron Mordo | Baron Zemo | Basilisk | Batroc the Leaper | Beetle | Beyonder | Big Man | Black Cat | Black Widow | Blackie Drago | Blastaar | Blizzard | Blob | Bolivar Trask | Bombshell | Boomerang | Brothers Grimm | Burglar | Bulldozer | Bullseye | Bushwacker | Cadaverous | Calypso | Carlton Drake | Carnage | Carrion | Chameleon | Chance | Constrictor | Count Nefaria | Crime-Master | Crossbones | D'Spayre | Daemos | Dark Avengers | Deadpool (Earth-1610) | Demogoblin | Destroyer | Diablo | Doctor Doom | Doctor Faustus | Doctor Octopus | Doppelganger | Dormammu | Dracula | Dreadknight | Electro | Enclave | Enforcers | Equinox | Fancy Dan | Firelord | Fixer | Freak | Frightful Four | Gabriel Stacy | Galactus | Ghost | Gibbon | Gog | Goliath | Grant Ward | Graviton | Green Goblin (Norman Osborn (Earth-1610), Harry Osborn and Bart Hamilton) | Grey Gargoyle | Grizzy | Hammerhead | Hand | Hazmat | High Evolutionary | Hitman | Hobgoblin | Hood | Human Fly | Humbug | Hybrid | HYDRA | Hydro-Man | Ironclad | Impossible Man | Inheritors | Iguana | Jackal | Jack O' Lantern | Jester | Jigsaw | J. Jonah Jameson | Johnny Ohm | Jonas Harrow | Juggernaut | Justin Hammer | Kangaroo | Kang | Kaine | Karn | Killer Shrike | King Cobra | Kingpin | Knull | Kraven the Hunter | Kristoff Vernard | Lady Octopus | Lasher | Lady Deathstrike | Leader | Leap-Frog | Lee Price | Life Foundation | Lightmaster | Living Brain | Living Laser | Lizard | Loki Laufeyson | Lucia Von Bardas | Mad Thinker | Madame Masque | Madame Viper | Maestro | Maggia | Magneto | Mandarin | Man-Spider | Man-Wolf | Mania | Masked Marauder | Master Mold | Masters of Evil | Maximus | Menace | Mephisto | Mesmero | Mister Brownstone | Mister Fear | Mister Hyde | Mister Negative | M.O.D.O.K. | Mojo | Mole Man | Molten Man | Montana | Moonstone | Morbius | Morlun | Moses Magnum | Mysterio (Quentin Beck, Daniel Berkhart and Francis Klum) | Nebula | Nekra | Nightmare | Niles Van Roekel | Nitro | Onslaught | Overdrive | Orka | Owl | Ox | Phage | Phil Urich | Piledriver | Princess Python | The Prowler | Psycho-Man | Puma | Punisher | Punisher (Earth-95126) | Puppet Master | Quasimodo | Quicksilver | Ramrod | Raze | Red Ghost | Red Skull | Rhino | Rhino II | Richard Fisk | Ringer | Ringmaster | Riot | Roland Treece | The Rose | Roxxon Energy Corporation | Sabretooth | Sandman | Sarah Stacy | Sauron | Scarecrow | Scarlet Witch Scorcher | Scorpion | Scorn | Scream | Sebastian Shaw | Secret Empire | Serpent Society | Sentinels | Seth Youngblood | Shocker | Shriek | Sin-Eater | Silvermane | Silver Sable | Sinister Six | Skip | Skrulls | Solus | Songbird | Patton Parnel | Spider-Carnage | Spider-Man Revenge Squad | Spider-Slayers | Spot | Stegron | Street | Super-Apes | Supercharger | Swarm | Symbiotes | Tarantula | Taskmaster | Terminus | Terrax | Thanos | The Thousand | Thunderball | Thunderbolt Ross | Thunderbolts | Tiger Shark | Tinkerer | Titania | Titanium Man | Toad | Tombstone | Trapster | Turner D. Century | Typhoid Mary | Tyrannus | U-Foes | Ultimatum | Ultron | Vapor | Vanessa Fisk | Vector | Venom (Eddie Brock) | Vermin | Vulture | Walrus | Whiplash | White Rabbit | Whirlwind | Will-O'-The-Wisp | Wizard | Worthy | Wrecker | X-Ray | Zodiac | Zombie Spider-Man | Zombie Giant-Man
Movies
Spider-Man: Green Goblin | Dennis Carradine | Bank Robbers | Harry Osborn | J. Jonah Jameson
Spider-Man 2: Doctor Octopus | Harry Osborn | J. Jonah Jameson | Green Goblin
Spider-Man 3: Venom | Sandman | New Goblin | J. Jonah Jameson | Green Goblin | Dennis Carradine
The Amazing Spider-Man: Lizard | Gustav Fiers | Cash Register Thief | Norman Osborn
The Amazing Spider-Man 2: Electro | Green Goblin | Donald Menken | Rhino | Alistair Smythe | Ashley Kafka | Felicia Hardy | Gustav Fiers | Norman Osborn
Spider-Man: Homecoming: Bestman Salvage (Vulture, Tinkerer, Shocker #1, Shocker #2 & Randy Vale) | Mac Gargan | Aaron Davis
Spider-Man: Into the Spider-Verse: Kingpin | Doctor Octopus | Prowler | Tombstone | Scorpion | Green Goblin | Vanessa Fisk | Richard Fisk
Spider-Man: Far From Home: Mysterio's Crew (Mysterio, William Ginter Riva, Victoria Snow, Gutes Guterman, Janice Lincoln, & Doug) | Elementals (Molten Man, Hydro-Man, Sandman, Cyclone and Elemental Fusion) | Skrulls (Talos) | Obadiah Stane | J. Jonah Jameson
Spider-Man: No Way Home: Raimiverse (Green Goblin (Earth-TRN925), Sandman (Earth-TRN927) & Doctor Octopus (Earth-TRN926)) | Webbverse (Electro (Earth-TRN929) & Lizard (Earth-TRN928)) | J. Jonah Jameson | Venom | Mysterio

Television
Spider-Man (1967)
Vulture | Green Goblin | Electro | Rhino | Mysterio | Doctor Octopus | Scorpion | Human Fly | Kingpin | Lizard | Spider-Slayer | Sandman | Dr. Matto Magneto | Enforcers (Cowboy and Ox) | Frederick Foswell | Mole Man | J. Jonah Jameson
Spider-Man (1981)
Doctor Doom | Kingpin | Doctor Octopus | Lizard | Black Cat | Sandman | Silvermane | Magneto | Mysterio | Ringmaster | Green Goblin | Sidewinder | Kraven the Hunter | Red Skull | Chameleon | Vulture | Hammerhead | Wizard | Medusa
Spider-Man and His Amazing Friends (1981)
Green Goblin | Kraven the Hunter | Doctor Doom | Swarm | Chameleon | Electro | Brotherhood of Mutants (Magneto, Blob, Toad, and Mastermind) | Mysterio | Loki Laufeyson | Ymir | Mordred | Kingpin | Doctor Faustus | Red Skull | Juggernaut | Shocker | Sandman | Dracula | Scorpion | Beetle | Doctor Octopus | A.I.M.
Spider-Man: The Animated Series
Kingpin | Green Goblin (Norman Osborn and Harry Osborn) | Doctor Octopus | Hobgoblin | Venom | Vanessa Fisk | Richard Fisk | Silvermane | Insidious Six (Scorpion, (Spider-Man (clone), Rhino, Mysterio, Chameleon, Shocker, and Vulture) | Black Cat | Lizard | Morbius | Spider-Carnage | Spider-Slayers (Alistair Smythe) | Carnage | Baron Mordo | Dormammu | Silver Sable | Hydro-Man | Prowler | Doctor Doom | Red Skull | Electro | Hammerhead | Tombstone | Punisher | Kraven the Hunter | Calypso | Herbert Landon | Jackal | Owl | Spot | Beyonder | J. Jonah Jameson
Spider-Man Unlimited
High Evolutionary | Venom | Carnage | Electro | Kraven the Hunter | Green Goblin | Vulture | Man-Wolf | J. Jonah Jameson
Spider-Man: The New Animated Series
Harry Osborn | Electro | Kraven the Hunter | Turbo Jet | Kingpin | Lizard | Shikata | Silver Sable
The Spectacular Spider-Man
Green Goblin | Tombstone | Doctor Octopus | Hammerhead | Venom (Eddie Brock) | Sinister Six (Rhino, Vulture, Electro, Sandman, Mysterio, and Kraven the Hunter) | Chameleon | Tinkerer | Enforcers (Shocker, Ricochet and Ox) | Molten Man | Silvermane | Silver Sable | Harry Osborn | Lizard | J. Jonah Jameson | Black Cat | Miles Warren | Frederick Foswell | Calypso | Roderick Kingsley | Morris Bench | Cletus Kasady
Ultimate Spider-Man
Doctor Octopus | Green Goblin | Harry Osborn | Taskmaster | HYDRA (Arnim Zola, Crossbones, Morbius, and Baron Mordo) | Sinister Six (Kraven the Hunter, Rhino, Electro, Scorpion, Vulture, and Hydro-Man) | Toad | Batroc the Leaper | Beetle | Lizard | Frightful Four (Wizard, Trapster & Klaw) | Juggernaut | Sandman | Venom | Loki Laufeyson | The Collector | Grandmaster | Carnage | Wolf Spider | Ultimate Green Goblin | Shocker | Shriek | Swarm | Dracula | Spider-Slayers (Kaine) | Absorbing Man | Abomination | Annihilus | Arcade | Attuma | Awesome Android | Blastaar | Blizzard | Boomerang | Chitauri | Deadpool | Destroyer | Doctor Doom | Dormammu | Skurge | Enforcers (Montana, Fancy Dan, Ox) | Frost Giants | Grizzly | Hammerhead | Jack O'Lantern | Korvac | The Leader | Living Laser | Man-Wolf | Maximus | Melter | Mesmero | M.O.D.O.K. | Molten Man | Mister Negative | Mysterio | Nightmare | Norma Osborn | Phalanx | Sabretooth | Skaar | Galactus | Ulik | Whirlwind | Wrecker | Piledriver | Thunderball | Bulldozer | Ymir | Zodiac | Scorpio | Zzzax | J. Jonah Jameson
Spider-Man (2017)
Symbiotes (Venom, Scream, Scorn, and Mania) | Dark Goblin | Hobgoblin | Doctor Octopus | Vulture/Goblin King | Alistair Smythe | Rhino | Jackal | Hammerhead | Electro | A.I.M. (M.O.D.O.K.) | Spider-Slayers | Lizard | Tinkerer | Swarm | Scorpion | Sinister Six | Kraven the Hunter | Man-Wolf | Silver Sable | Beetle | Spot | Prowler | Molten Man | Mister Negative | Chameleon | HYDRA (Crossbones and Arnim Zola) | Black Cat | Ghost | Blizzard | Absorbing Man | Crimson Dynamo | Overdrive | Mysterio | Jack O'Lantern | Silvermane | Lady Octopus | Paladin | Puma | Shocker | Living Brain | Sandman | Technovore | Baron Mordo | Knull | J. Jonah Jameson
Spidey and His Amazing Friends (2021)
Green Goblin | Doctor Octopus | Rhino
Video Games
The Amazing Spider-Man & Captain America in Dr. Doom's Revenge: Doctor Doom | Electro | Hobgoblin | Rhino | Boomerang | Grey Gargoyle | Oddball | Batroc the Leaper | Mysterio
Spider-Man: Return of the Sinister Six: Sinister Six (Doctor Octopus, Electro, Hobgoblin, Mysterio, Sandman and Vulture)
Spider-Man vs. The Kingpin: Kingpin | Doctor Octopus | Lizard | Electro | Sandman | Hobgoblin | Venom | Tinkerer | Mysterio | Vulture | Bullseye | Typhoid Mary
Spider-Man & X-Men: Arcade's Revenge: Arcade | Carnage | Rhino | Apocalypse | Juggernaut | Selene Gallio | Sentinels | Master Mold
Spider-Man and Venom: Maximum Carnage: Carnage | Shriek | Doppelganger | Demogoblin | Carrion
Spider-Man and Venom: Separation Anxiety: The Jury | Sentry | Ramshot | Screech | Bomblast | Firearm | Wysper | Life Foundation | Symbiotes (Carnage | Riot | Phage | Lasher | Agony | Scream)
Spider-Man (2000): Doctor Octopus | Symbiotes | (Carnage, Venom) | Jade Syndicate | Monster Ock | Scorpion | Rhino | Mysterio, J. Jonah Jameson, Lizard
Spider-Man 2: Enter Electro: Electro | Beetle | Hammerhead | Lizard |Sandman | Shocker
Spider-Man (2002): Green Goblin | Shocker | Vulture | Spider-Slayers | Scorpion | Kraven the Hunter | Dennis Carradine | Harry Osborn | J. Jonah Jameson
Spider-Man 2: Doctor Octopus | Harry Osborn | Rhino | Mysterio | Shocker | Puma | Black Cat | Vulture | Calypso | J. Jonah Jameson
Ultimate Spider-Man: Bolivar Trask | Venom | Vulture | Silver Sable | Shocker | R.H.I.N.O. | Electro | Beetle | Green Goblin | Sandman | Carnage
Spider-Man 3: Venom | Sandman | New Goblin | Lizard | Scorpion | Kraven the Hunter | Calypso | Kingpin | Rhino | Morbius | Shriek | H-Bombers (Mad Bomber) | J. Jonah Jameson
Spider-Man: Web of Shadows: Spider-Man | Venom | Kingpin | Black Cat | Vulture | Electro | Tinkerer | Rhino
Spider-Man: Shattered Dimensions: Mysterio | Kraven the Hunter | Hammerhead | Hobgoblin | Electro | Sandman | Vulture | Scorpion | Deadpool | Juggernaut | Silver Sable | Goblin | Serena Patel | Carnage
Spider-Man: Edge of Time: Peter Parker | Atrocity | Walker Sloan
The Amazing Spider-Man: Spider-Slayers (Alistair Smythe) | Lizard | Rhino | Vermin | Scorpion | Felicia Hardy | Iguana | Nattie
The Amazing Spider-Man 2: Carnage | Kingpin | Green Goblin | Shocker | Kraven the Hunter | Black Cat | Electro | Chameleon | Norman Osborn | Cash Register Thief
Marvel's Spider-Man: Sinister Six (Doctor Octopus, Mister Negative, Electro, Vulture, Rhino and Scorpion) | Inner Demons | Norman Osborn | Silver Sable | Kingpin | Shocker | Tombstone | Taskmaster | Black Cat | Screwball | Hammerhead | Walter Hardy | Yuriko Watanabe
Marvel's Spider-Man: Miles Morales: Roxxon Energy Corporation (Simon Krieger) | The Underground (Tinkerer) | Prowler | Rhino | Kingpin | Norman Osborn | Doctor Octopus | Vulture
See Also
Black Cat Villains | Cloak & Dagger Villains | Morbius: The Living Vampire Villains | Prowler Villains | Punisher Villains | Scarlet Spider Villains | Silk Villains | Silver Sable Villains | Solo Villains | Sony's Spider-Man Universe Villains | Spider-Girl Villains | Spider-Gwen Villains | Spider-Man 2099 Villains | Spider-Man Noir Villains | Spider-Woman Villains | Toei's Spider-Man Villains | Venom Villains

Villains
Comics
Absorbing Man | Adolf Hitler | A.I.M. | Aleksander Lukin | Anaconda | Arcade | Arnim Zola | Awesome Android | Baron Blood | Baron Wolfgang von Strucker | Baron Zemo | Batroc the Leaper | Beetle | Bi-Beast | Black Cat | Black Talon | Black Mamba | Black Widow | Blitzkrieg | Blizzard | Blood Brothers | Boomerang | Boomslang | Brothers Grimm | Bulldorzer | Bullseye | Cache | Carnage | Carrion | Chemistro | Constrictor | Cottonmouth | Controller | Count Nefaria | Cowled Commander | Crimson Dynamo | Crossbones | Dark Avengers | Darren Cross | Death Adder | Demogoblin | Doctor Faustus | Doppelganger | Eel | Electro | Famine | Fer-De-Lance | Firebrand | Fixer | Flag-Smasher | Ghost | Gorgon | Grand Director | Grant Ward | Graviton | Grey Gargoyle | Griffin | Grim Reaper | Grizzly | Heinz Kruger | Herr Kleiser | HYDRA | Hydro-Man | Iron Monger | Ironclad | Jack O' Lantern | Kang the Conqueror | Killer Shrike | King Cobra | Kingpin | Klaw | Korath the Pursuer | Korvac | Kraven the Hunter | Lady Deathstrike | Living Laser | Lizard | Loki | Lucia Von Bardas | Machinesmith | Madame Viper | Madcap | Magneto| Man-Ape | Mandarin | Master Man | Masters of Evil | Mentallo | Mesmero | Mister Hyde | M.O.D.A.M. | M.O.D.O.K. | Mole Man | Moonstone | Namor | Nightmare | Nightshade | Nitro | Piledriver | Princess Python | Puff Adder | Punisher | Punisher (Earth-95126) | Quicksand | Rattler | Red Ghost | Red Skull | Rhino | Ringmaster | Rock Python | Ronan | Roxxon | Säurespritze | Scarecrow | Scorpion | Sebastian Shaw | Secret Empire | Selene Gallio | Serpent Society | Shocker | Shockwave | Shriek | Sidewinder | Silver Sable | Sin | Sinister Six | Skeleton Crew | Slither | Slug | Songbird | Super-Adaptoid | Super-Apes | Superia | Super Patriot | Supreme Intelligence | Tarantula | Taskmaster | Terminus | Thanos | Thunderball | Thunderbolt Ross | Thunderbolts | Tiger Shark | Tinkerer | Titania | Titanium Man | Trapster | Typhoid Mary | U-Foes | Unicorn | Ultron | Vapor | Vector | Vermin | Vulture | Whiplash | Whirlwind | Winter Soldier | Wizard | Worthy | Wrecker | X-Ray | Yellow Claw | Zahnmörder | Zodiac
Movies
Captain America (1990): Red Skull | Valentina de Santis
Captain America: The First Avenger: HYDRA (Red Skull, Arnim Zola, Heinz Kruger, HYDRA Lieutenant, & Velt) | Adolf Hitler | Roeder | Hutter | Schneider
Heroes United: Iron Man and Captain America: HYDRA (Red Skull & Taskmaster)
Captain America: The Winter Soldier: HYDRA/STRIKE (Alexander Pierce, Winter Soldier, Crossbones, Jack Rollins, Jasper Sitwell, Russo, Senator Stern, Arnim Zola, Wolfgang von Strucker, List, Scarlet Witch, & Quicksilver) | Georges Batroc | Ferdinand Lopez | Gerald Durand
Captain America: Civil War: Helmut Zemo | Thunderbolt Ross | Winter Soldier | Scarlet Witch | HYDRA (Vasily Karpov, Josef, & Winter Soldiers) | Hero Mercs (Crossbones)
TV Series
The Falcon and The Winter Soldier: Winter Soldier | Flag Smashers (Flag-Smasher, Dovich, Gigi, DeeDee, Lennox, Nico, Matias, & Diego) | Sharon Carter | Baron Zemo | LAF (Georges Batroc & Louie) | Senator Atwood | Valentina Allegra de Fontaine
What If...?: Red Skull | Arnim Zola | Heinz Kruger | HYDRA's Champion

Video Games
The Amazing Spider-Man & Captain America in Doctor Doom's Revenge: Doctor Doom | Electro | Hobgoblin | Rhino | Boomerang | Grey Gargoyle | Oddball | Batroc the Leaper | Mysterio
Captain America and the Avengers: Red Skull | Crossbones | Klaw | Living Laser | Whirlwind | Sentinel | Grim Reaper | Wizard | Mandarin | Juggernaut | Ultron
Captain America Super Soldier: HYDRA (Red Skull, Arnim Zola, Madam Hydra & Baron Strucker) | Baron Zemo
Captain America: The Winter Soldier: Winter Soldier | Sin | Taskmaster | Shockwave | Serpent Society (King Cobra, Puff Adder & Diamondbak)
See Also
Agent Carter Villains

Villains
Comics
Abomination | Abominatrix | Absorbing Man | Adolf Hitler | Agony | A.I.M. | Air-Walker | Alkhema | Aleksander Lukin | Alistair Smythe | Amatsu-Mikaboshi | Amora | Anaconda | Annihilus | Ani-Men | Answer | Apocalypse | Arcade | Ares | Arnim Zola | Atlas | Attuma | Avalanche | Awesome Android | Badoon | Barracuda | Baron Blood | Baron Mordo | Baron Wolfgang von Strucker | Baron Zemo | Basilisk | Batroc | Beetle | Beyonder | Bi-Beast | Black Knight | Blackout | Black Order | Black Cat | Black Mamba | Black Talon | Black Widow | Blackie Drago | Blastaar | Blitzkrieg | Blizzard | Blob | Blood Brothers | Bombshell | Boomerang | Brothers Grimm | Brotherhood of Evil Mutants | Bulldozer | Bullseye | Burglar | Bushmaster | Bushwacker | Cache | Cannibals (Marvel Universe Vs) | Carnage | Carrion | Calypso | Celestials | Centurion | Chameleon | Chance | Chemistro | Chester Goudal | Chitauri | Collector | Colonel Ross Whittaker | Commander Kraken | Constrictor | Corruptor | Cottonmouth | Count Nefaria | Cowled Commander | Crime-Master | Crimson Dynamo | Crimson Widow | Cristu Bulat | Crossbones | Crossfire | D'Spayre | Daken | Damage | Daniel Whitehall | Dark Avengers | Dark Elves | Deadpool | Deathbird | Deathurge | Death Adder | Deke Wainscroft | Demogoblin | Diablo | Diamondback | Doctor Doom | Doctor Faustus | Doctor Octopus | Doctor Spectrum | Dormammu | Dracula | Dreadknight | Druig | Eddie Brock | Eel | Egghead | Ego the Living Planet | Electro | Elementals | Elements of Doom | Enclave | Enforcers | Equinox | Exodus | Ezekiel Stane | Fabian Cortez | Famine | Fin Fang Foom | Finn Cooley | Firelord | Fixer | Fold | Frost | Frost Giants | Frightful Four | Galactus | Gargantus | Garthan Saal | Ghost | Giganto | Goliath | Gladiator | Godzilla | Grand Director | Grandmaster | Grant Ward | Graviton | Green Goblin (Norman Osborn, Harry Osborn) | Grey Gargoyle | Grey Goblin | Griffin | Grim Reaper | Grizzly | Growing Man | Grotesk | Hammerhead | Hand | Hazmat | Hela | Hera | Herr Kleiser | Heinz Kruger | High Evolutionary | Hitman | Hive | Horsemen of Apocalypse | Hobgoblin | Hood | Hydro-Man | HYDRA | Immortus | Impossible Man | Inner Demons | Ironclad | Iron Monger | Jackal | J. Jonah Jameson | Jack O' Lantern | Jester | Jigsaw | Johnny Ohm | Jonas Hambleton | Jormungandr | Juggernaut | Justin Hammer | Kaine | Kang the Conqueror | Killer Shrike | King Cobra | Kingpin | Klaw | Knull | Korath the Pursuer | Korvac | Kraven the Hunter | Kree | Kristoff Vernard | Lady Deathstrike | The Leader | Lightmaster | Living Brain | Living Laser | Living Monolith | Lizard | Loki Laufeyson | Lucia Von Bardas | Ma Gnucci | Machinesmith | Mad Pharaoh | Mad Thinker | Madame Masque | Madame Viper | Madcap | Madelyne Pryor | Maelstrom | Maestro | Maginty | Magneto | Magus | The Maker | Malekith the Accursed | Man-Ape | Mandarin | Mandrill | Man-Spider | Man-Wolf | Master Man | Master Pandemonium | Masters of Evil | Masked Marauder | Maximus the Mad | Medusa | Melter | Menace | Mentallo | Mercurio the 4-D Man | Mesmero | Mephisto | Mister Fear | Mister Hyde | Mister Negative | Mister Payback | Mister Sinister | M.O.D.A.M. | M.O.D.O.K. | Mojo | Molecule Man | Mole Man | Molten Man | Monica Rappaccinni | Moonstone | Morbius the Living Vampire | Morgan le Fay | Moses Magnum | Mystique | Mysterio | Namor | Nebula | Nekra | Nicky Cavella | Nightmare | Nightshade | Niles Van Roekel | Nicky Cavella | Omega Red | Onslaught | Orka | Overdrive | Owl | Paladin | Phalanx | Phil Urich | Piledriver | Pluto | Presence | Princess Python | Proctor | Psycho-Man | Punisher | Puppet Master | Puma | Purple Man | Quasimodo | Quicksand | Quicksilver | Radioactive Man | Ragnarok | Ramrod | Rattler | Reavers | Red Ghost | Red Skull | Reverend Samuel Smith | Rhino | Rhino II | The Rose | Ringer | Ringmaster | Riot | Ronan the Accuser | Roxxon | Sabretooth | Sandman | Säurespritze | Sauron | Savage Land Mutates | Scarecrow | Scarlet Witch | Scorcher | Scorpion | Screaming Mimi | Sebastian Shaw | Secret Empire | Selene Gallio | Sentinels | Sentry 459 | Serpent Society | Shriek | Shocker | Shockwave | Sidewinder | Silver Sable | Sin | Sinister Six | Skaar | Skeleton Crew | Skrulls | Skurge | Slug | Space Phantom | Spider-Man Revenge Squad | Spider-Slayers | Spot | Squadron Sinister | Stranger | Street | Sunstroke | Superia | Super-Adaptoid | Super-Apes | Super Patriot | Super-Skrull | Supreme Intelligence | Superia | Surtur | Swarm | Swordsman | Symbiotes | Tarantula | Taskmaster | Technovore | Temugin | Ten Rings | Terminus | Thanos | Thorr Odinson | Thunderball | Thunderbolts | Thunderbolt Ross | Thundersword | Tiger Shark | Tinkerer | Titania | Titanium Man | Toad | Tombstone | Trapster | Trick Shot | Terrax the Tamer | Typhoid Mary | Tyrannus | U-Foes | Ulik | Ultimus | Ultron | Unicorn | Universal Church of Truth | Uranos | Vapor | Vector | Venom | Vermin | Vulture | Walrus | Warlord Krang | Whiplash | Whirlwind | White Rabbit | Will-O'-The-Wisp | Winter Soldier | Wizard | Wonder Man | Wrecker | Worthy | X-Ray | Yellow Claw | Ymir | Yon-Rogg | Zahnmörder | Zodiac | Zombie Giant-Man | Zombie Sentry | Zzzax
Movies
Ultimate Avengers 1 & 2: Herr Kleiser | Chitauri
Next Avengers: Heroes of Tomorrow: Ultron
The Avengers: Loki Laufeyson | Chitauri (The Other & Leviathans) | HYDRA (Gideon Malick & Jasper Sitwell) | Georgi Luchkov | Thanos
Avengers: Age of Ultron: Ultron | Ultron Sentinels | HYDRA (Wolfgang von Strucker, List, Scarlet Witch & Quicksilver) | Ulysses Klaue | Madame B | Chitauri (Leviathans) | Thanos
Avengers: Infinity War: Black Order (Thanos, Ebony Maw, Proxima Midnight, Corvus Glaive, Cull Obsidian, Nebula, Outriders, Chitauri & Leviathans) | Red Skull | The Collector | Loki Laufeyson | Winter Soldier | M'Baku | Scarlet Witch | Thunderbolt Ross
Avengers: Endgame: Black Order (Thanos, Ebony Maw, Proxima Midnight, Corvus Glaive, Cull Obsidian, Nebula, Outriders, Sakaaran Mercenaries, Chitauri, Leviathans & Chitauri Gorillas) | HYDRA/STRIKE (Red Skull, Alexander Pierce, Crossbones, Jasper Sitwell & Jack Rollins) | Loki Laufeyson (Variant L1130) | Winter Soldier | M'Baku | Scarlet Witch | Kraglin Obfonteri | Dark Elves | Thunderbolt Ross | Akihiko
Television
The Avengers: United They Stand
Ultron | Kang the Conqueror | Swordsman | Ringmaster | Masters of Evil (Baron Zemo, Absorbing Man, Boomerang, Moonstone, Tiger Shark & Whirlwind) | Attuma | Zodiac (Taurus & Scorpio) | Egghead | Scarlet Witch | Grim Reaper | Quicksilver | Namor | Doctor Doom | Baron Strucker | HYDRA | A.I.M. | Black Knight | The Collector
The Super Hero Squad Show
Doctor Doom | Mole Man | Fin Fang Foom | Abomination | Wrecker | Thunderball | Piledriver | Bulldozer | M.O.D.O.K | Klaw | Toad | Melter | Dormammu | Sabretooth | Juggernaut | Pyro | Whirlwind | Zzzax | Enchantress | Baron Mordo | Punisher | Egghead | Ringmaster | Skrulls (Super-Skrull) | Trapster | Mystique | Impossible Man | The Leader | Mad Thinker | Skurge | Crimson Dynamo | Batroc the Leaper | Loki Laufeyson | Magneto | Quicksilver | Scarlet Witch | HYDRA (Red Skull , Arnim Zola & Baron Wolfgang von Strucker) | Galactus | Terrax the Tamer | Firelord | Stardust | Thanos | Kree | Ego the Living Planet | Grandmaster | Annihilus | Nebula | Ronan the Accuser | Nightmare | Ultron | Dark Surfer | Sentinels | Dracula | High Evolutionary | Screaming Mimi

Avengers: Earth's Mightiest Heroes
HYDRA (Red Skull, Baron Von Strucker, Grim Reaper, Arnim Zola, Doughboy & Madame Viper) | Masters of Evil (Baron Zemo, Enchantress, Skurge, Chemistro, Abomination, Crimson Dynamo & Grey Gargoyle) | A.I.M. (M.O.D.O.K) | Kree Empire (Supreme Intelligence, Colonel Yon-Rogg & Ronan the Accuser) | Absorbing Man | Klaw | Ultron | Wrecker | Thunderball | Piledriver | Bulldozer | Red Hulk | Frost Giants (Loki Laufeyson & Ymir) | Technovore | Bi-Beast | The Leader | Whirlwind | Kang the Conqueror | Man-Ape | Malice | Mad Thinker | Mandrill | Graviton | Fenris Wolf | Lucia Von Bardas | Zzzax | Blizzard | Constrictor | Griffin | Living Laser | Whiplash | King Cobra | Magneto | Wendigo | Skrulls (Super-Skrull) | Ulik | Malekith the Accursed | Hela | Doctor Doom | Surtur | Glenn Talbot | Winter Soldier | J. Jonah Jameson | Destroyer | Annihilus | Purple Man | Galactus | Firelord | Stardust | Terrax the Tamer | Red Ghost | Super-Apes | Mandarin | Bushmaster | U-Foes (Vector, Vapor, X-Ray & Ironclad) | Crossfire | Serpent Society | Rattler | Death Adder | Anaconda | Air-Walker

Avengers Assemble
HYDRA/A.I.M. (Red Skull, M.O.D.O.K, Blood Brothers, Grim Reaper, Crossbones & Baron Wolfgang von Strucker) | J. Jonah Jameson | Doctor Doom | Ulik | Impossible Man | Dracula | Attuma | Hyperion | Wrecker | Thunderball | Piledriver | Bulldozer | Destroyer | Loki Laufeyson | Chitauri | Justin Hammer | Mojo | Galactus | Ringmaster | Black Order (Thanos) | Hela | Winter Soldier | Nighthawk | Zarda | Crimson Dynamo | Radioactive Man | Zzzax | Dormammu | Ultron | U-Foes (Vector, Vapor, X-Ray & Ironclad) | Roxxon Energy Corporation | Absorbing Man | Titania | Whirlwind | Fin Fang Foom | Maximus | Medusa | Masters of Evil/Thunderbolts (Baron Zemo, Beetle, Screaming Mimi, Moonstone, Fixer & Goliath) | Klaw | Ghost | A.I.M. (Kang the Conqueror, Whiplash & Spymaster) | Abomination | Kree Empire | Egghead | The Leader | Crimson Widow | Arnim Zola | Enchantress | Skurge | Typhoid Mary | Ares | Taskmaster | Doughboy | Ulik | Beyonder | Baron Mordo | Symbiotes | Morgan le Fey | Tiger Shark | Erik Killmonger | Princess Zanda | Man-Ape | Madame Masque | Kraven the Hunter | Vulture | Orka

Marvel Disk Wars: The Avengers
Loki Laufeyson | A.I.M. (M.O.D.O.K.) | Abomination | Baron Zemo | HYDRA (Red Skull, Crossbones) | King Cobra | Whirlwind | Tiger Shark | Whiplash | Diamondback | Crimson Dynamo | Dormammu | Sabretooth | Diablo | Graviton | Juggernaut | Lizard | Absorbing Man | Wrecking Crew (Bulldozer, Piledriver, Thunderball, Wrecker) | Silver Samurai | Green Goblin (Norman Osborn) | Venom | Ultron | Cottonmouth | Doctor Octopus | Mandarin | Ronan | Fin Fang Foom | Baron Blood | Vampires | Bi-Beast | Obadiah Stane | Predator X | Mystique | Taskmaster | Blizzard

Marvel Future Avengers
Masters of Evil (Ares, Enchantress, Leader, Winter Soldier) | Loki Laufeyson | Kang the Conqueror | Maximus | HYDRA/A.I.M. (Red Skull, M.O.D.O.K., Arnim Zola) | Green Goblin (Norman Osborn) | Super-Adaptoid | Deadpool | Morgan le Fay | Klaw | Crossbones | Blizzard | Diamondback | The Hood | Ezekiel Stane

Marvel's M.O.D.O.K.
M.O.D.O.K. | A.I.M. | Monica Rappaccini | The Anomaly | Hexus | Super-Adaptoid | Austin Van Der Sleet | Mister Sinister | Madame Masque | Whirlwind | Mandrill | The Leader | Arcade | Fin Fang Foom | The Brood | Frost Giants

What If...?
Infinity Ultron | Yellowjacket | Loki Laufeyson | The Destroyer | Brock Rumlow | Jack Rollins | Thunderbolt Ross | Whiplash | Arnim Zola | Prince Killmonger | Strange Supreme | Georges Batroc | Ego | Zombies (Scarlet Witch)
Video Games
Captain America and The Avengers: Red Skull | Crossbones | Klaw | Living Laser | Whirlwind | Sentinel | Wizard | Grim Reaper | Mandarin | Juggernaut | Ultron
Avengers in Galactic Storm: Kree (Ronan, Korath & Supreme Intelligence)
Marvel Avengers: Battle for Earth: Skrulls
Marvel Disk Wars: The Avengers - Ultimate Heroes: Red Skull | Loki Laufeyson | Baron Zemo | A.I.M. (M.O.D.O.K.) | Abomination | Graviton | Tiger Shark
LEGO Marvel's Avengers: Loki Laufeyson | Malekith the Accursed | Kurse | Various Villains
Marvel's Avengers: M.O.D.O.K. | Monica Rappaccinni | Abomination | Taskmaster | Super-Adaptoid | Lyle Getz | Maestro | Klaw | Crossbones
See Also
Avengers Academy Villains | Marvel Avengers Alliance Villains | Young Avengers Villains