This article's content is marked as Mature
The page Mature contains mature content that may include coarse language, sexual references, and/or graphic violent images which may be disturbing to some. Mature pages are recommended for those who are 18 years of age and older.


If you are 18 years or older or are comfortable with graphic material, you are free to view this page. Otherwise, you should close this page and view another page.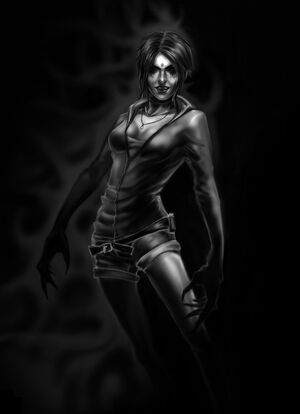 Hollow Kat is an antagonist in the DLC Pack Vergil's Downfall in the videogame DmC: Devil May Cry.
History
After revealing that Vergil has three holes in his heart, Hollow Vergil sends him to a hellish facsimile of Limbo City. He eventually comes across "Kat" being chased by an Imprisoner. Vergill manages to dispatch the demon just after it corners her, however "Kat" reveals herself that she's a demon and starts to mocks Vergil, telling him she chose Dante over him. In a rage, Vergil kills her. After Hollow Kat dies, Hollow Vergil tells Vergil that one of the holes in his heart has been filled.