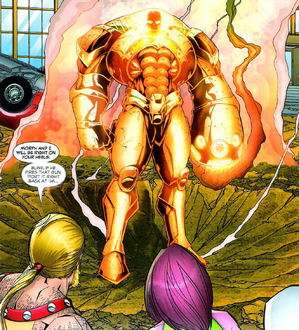 Holocaust, also called Nemesis, was a powerful mutant native to the Age of Apocalypse time-line who has clashed with the X-Men on behalf of Apocalypse - although Holocaust claimed to be the son of Apocalypse it is all but impossible to verify and given Holocaust's death at the hands of King Hyperion the truth will likely never be revealed. For a while Holocaust was named Nemesis but by the time of his demise he was back to using the name Holocaust.
History
Holocaust was sent  to kill as many of Magneto's young students as he could while the X-Men were off fighting Apocalypse's Horsemen. He was defeated in battle by the Scarlet Witch, although he was able to kill her. He left before the X-Men returned and was embraced by Apocalypse as his newest Horseman.
During Apocalypse's blitzkrieg, Nemesis joined with Sunfire's energies, was left to take care of Japan. A small squad of X-Men attacked him. Using Sunfire's energy, Nemesis was about to murder Quicksilver. Enraged, Magneto used his powers to tear Nemesis apart from the inside out. The X-Men retreated, many of them injured, and left the burnt corpse of Nemesis for dead.
Nemesis awoke defeated in Indianapolis by the X-Men, the beaten Holocaust returned to his father's side. In the final battle of the Age of Apocalypse, Greysent both of them into the mainstream Marvel universe where Holocaust continued to wreak havoc.
Eventually Holocaust interrogated the research staff who told him there was another object making similar energy emissions as the crystal made of effectively killing Holocaust.
Powers and Abilities
Holocaust's primary mutant power  must continuously absorb the life energies of others in order to maintain his form outside of his armor. Holocaust's reflexes were heightened to levels that are beyond the natural physical limits of the finest human athlete.
Holocaust could generate concentrated beams of plasma. He did so by creating super heated air currents that propelled him. While at his peak, he was able to reach speeds up to MACH-1, approximately 760 miles per hour. Onslaught was able to alter Holocaust's brain engrams that rendered him resistant to most forms of telepathic assault
His engrams were altered to such a degree that he was rendered undetectable telepathically. As Nemesis, he was also able to redirect that energy into a negation effect on others' powers. Since losing his physical form, he no longer seemed to possess this ability.

Villains
Comics
Abomination | Adversary | Ahab | A.I.M. | Apocalypse | Arcade | Archangel | Arkon | Avalanche | Azazel | Badoon | Bastion | Batroc | Belasco | Beyonder | Blastaar | Blood Brothers | Bolivar Trask | Blob | Brotherhood of Evil Mutants | Bullseye | Cameron Hodge | Cassandra Nova | Children of the Vault | Clan Akkaba | Count Nefaria | Crossbones | Dark Beast | Dark Phoenix | Dark X-Men | Deadpool | Doctor Doom | Doctor Octopus | Dracula | Emma Frost | Exodus | Fenris | Freedom Force | Friends of Humanity | Galactus | Graydon Creed | Hand | Hela | Hellfire Club | High Evolutionary | Holocaust | Horsemen of Apocalypse | HYDRA | Impossible Man | Juggernaut | Kang | Kid Omega | Kingpin | Krakoa | Kraven | Lady Deathstrike | Legion | Leper Queen | Lilith | Living Monolith | Lizard | Loki | Madelyne Pryor | Magneto | Magus | Mandarin | Marrow | Masters of Evil | Master Mold | Mesmero | Mikhail Rasputin | Mister Jip | Mister Sinister | Mojo | Mole Man | Morlocks | Moses Magnum | Mutant Response Division | Mystique | N'Astirh | Nanny | Nekra | Neo | Nimrod | Nitro | Obnoxio the Clown | Omega Gang | Omega Red | Onslaught | Orphan-Maker | Ozymandias | Pandemonia | Phalanx | Pilgrimm | Predator X | Proteus | Psycho-Man | Purifiers | Pyro | Quicksilver | Reavers | Red Ghost | Red Skull | Rhino | Right | Rogue | Sabretooth | Sat-Yr-9 | Sauron | Savage Land Mutates | Scarlet Witch | Sebastian Shaw | Selene Gallio | Sentinels | Serpent Society | Shadow King | Shadow Xavier | Shocker | Silver Sable | Silver Samurai | Simon Trask | Skrulls | Spiral | Stranger | Stryfe | Stephen Lang | Sublime | Sugarman | Super-Adaptoid | Supreme Intelligence | Toad | Trevor Fitzroy | Typhoid Mary | Tyrannus | Unus | Vulcan | Wendigo | William Stryker | Xemnu | Xorn
Movies
X-Men: Brotherhood of Mutants (Magneto, Mystique, Sabretooth & Toad) | Pyro
X2: William Stryker Jr. | Lady Deathstrike | Jason Stryker | Brotherhood of Mutants (Magneto, Mystique & Pyro)
X-Men: The Last Stand: Brotherhood of Mutants (Magneto, Dark Phoenix, Pyro, Juggernaut, Multiple Man & Mystique) | Omega Gang (Callisto, Psylocke, Quill, Arclight, Avalanche, Spike, Glob Herman & Phat) | Archangel
X-Men: First Class: Hellfire Club (Sebastian Shaw, Emma Frost, Azazel, Angel Salvadore & Riptide) | William Stryker Sr. | Magneto | Mystique
X-Men: Days of Future Past: Trask Industries (Bolivar Trask, William Stryker Jr. & Sentinels) | Magneto | Mystique | Toad | Horsemen of Apocalypse (Apocalypse)
X-Men: Apocalypse: Ashir En Sabah Nur/Horsemen of Apocalypse (Apocalypse, Magneto, Psylocke & Archangel) | Dark Phoenix | Mystique | William Stryker Jr. | Blob
Dark Phoenix: Dark Phoenix | D'Bari (Vuk & Jones) | Brotherhood of Mutants (Magneto & Selene Gallio) | Mystique
Community content is available under
CC-BY-SA
unless otherwise noted.