✔
This Villain was proposed and approved by Villains Wiki's Pure Evil Proposals Thread. Any act of removing this villain from the category without a Removal Proposal shall be considered vandalism (or a futile "heroic" attempt of redemption) and the user will have high chances of being terminated blocked.
| | | |
| --- | --- | --- |
| " | Yes, yes my soldiers. Soon the Black Cauldron will be mine. Its evil power will course through my veins... and I shall make you... Cauldron-born. Yes, oh yes. Then, you will worship me! Me... oh, my soldiers, how long I have thirsted to be a god among mortal men. | " |
| | ~ The Horned King explaining his goal to a bunch of skeletons which would later become his Cauldron Born army. | |
| | | |
| --- | --- | --- |
| " | Now I call on my army of the dead: the Cauldron Born! Arise, my messengers of death! Our time has arrived! | " |
| | ~ The Horned King's infamous quote, as he begins summoning his undead army. | |
The Horned King is the main antagonist in Disney's 25th full-length animated feature film The Black Cauldron, which is based on the 1960s fantasy novel series The Chronicles of Prydain by the late Lloyd Alexander, wherein he is a major antagonist. He is a treacherous, vindictive, malicious and spiteful monarch who plans to find the Black Cauldron and use its power to unleash an army of deathless warriors called the Cauldron Born. He is Taran's arch-nemesis.
He was voiced by the late John Hurt, who also played General Woundwort in Watership Down, Mr. Mole in Don Bluth's Thumbelina, Claudandus and Professor Preterius in Felidae, Professor Broome in Hellboy, Lord Cotys in Hercules, Sailor John in Sodor's Legend of the Lost Treasure, Harry in Pride, and Adam Sutler in V For Vendetta.
Roles
The Chronicles of Prydain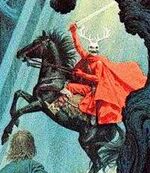 In
The Chronicles of Prydain
series, the Horned King appears only in the first book "
The Book of Three
". He is
Arawn
's champion and the War Leader of Annuvin. The Horned King is described as a huge man wearing armor (except for his arms, which are naked and stained crimson), a red cape and an antlered skull mask. The antlers are presumably where he gets his name.
Arawn sends the Horned King to capture the oracular pig named Hen Wen from Caer Dallben. He follows Taran across Prydain in search of the pig Hen Wen, but cannot find her. In the end, he marches his army to Caer Dathyl and attacks Taran when he and Eilonwy try to warn the Sons of Don of the impending attack. Taran tries to fight him with the sword known as Dyrnwyn, but is nearly slain by the sword's fire in his attempt to draw it. Gwydion is able to defeat the Horned King by speaking and uttering his true name (Cornelius presumably), and upon the utterance of his name, the Horned King is struck by a flash of lightning and destroyed by flames.
The Black Cauldron
The Horned King serves as the main antagonist here. However, the main antagonist was originally to be Arawn. In spite of this, the animators felt that people would prefer him better since he had horns (such as
Maleficent
and
Chernabog
). But in
The Black Cauldron
, the Horned King is depicted as an elderly and sinister king with gnarled antler horns and a red robe covering undead, green, rotting skin of his body which indicates his appearance to be ghoulish.
His main plan in the film was to find the Black Cauldron and use its power to unleash an army of undead Cauldron Born. He tries by any means to find the cauldron, such as Princess Eilonwy's magic bauble and Taran's oracular pig named Hen Wen. After the Horned King unleashes his army of Cauldron Born at his Castle using the power of the Black Cauldron, Gurgi flings himself into the cauldron to stop the army. After facing off against Taran, he is sucked into the cauldron and presumably perishes. The Horned King has a vast army of servants at his disposal including the troll-like goblin named Creeper, the Huntsmen of Annuvin, the dragon-like creatures known as the Gwythaints, and (of course) his Cauldron Born.
The Black Cauldron has never widely resounded with audiences. In theaters, the film's PG-rated intensity frightened children and upset parents expecting wholesome entertainment from the "Disney" name. However, those who have never avoided it often sing the film's praises, rather than singling it out as one of the weakest animated features in the studio's canon. The Horned King's increased role in the film renders him a treacherous, affecting and scary villain. His efforts to gain possession of the magical titular cauldron are drastic, as he calls forth an army of dead soldiers to find this key to ruling the world. Later, the Horned King while trying to pull himself away from the Black Cauldron before reviving his undead army again, was ultimately destroyed by the power of the very artifact he now possessed, with him, his plans to dominate all life.
Personality
The Horned King is in great contrast with his predecessors and successors. While he exhibits the same outwardly arrogant and narcissistic qualities, desiring to become "a god among mortal men", he is very cold, brutal, composed, imperturbable and blasphemous, showing no outward anger until his plan fails at which point he lunges at Taran, believing it to be his doing (on Creeper's suggestion). He is also quite mysterious and inscrutable, and it is implied that not even his minions appear to know what he is, and is one of the less active villains, his only motion in the film (that is not carried out by his lackeys) is his role in the birth of the Cauldron Born.
Also, he has no reservations about his intentions, as he is very open, practicable and nondiscriminatory on his dream of becoming "a god among mortal men" and then wiping out all living things with an undead army. He is notable for seldom exhibiting a sense of humor or giving wicked laughs. On the one occasion he demonstrates a sense of humor, it is notably snide, sarcastic, manipulative and traitorous. Unlike a lot of Disney villains who are instead driven by revenge, he is also driven by personal desire.
Powers and Abilities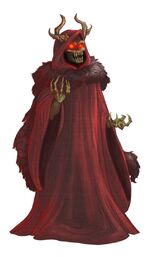 Although it is implied that the Horned King is a sorcerer of some sorts, he actually performs very little magic, only displaying his powers to teleport into his castle's main hall and calling upon the spirit of the Black Cauldron. How he got into the position of King is merely unknown. Perhaps he was a great warrior or soldier, but then again he is never seen wielding a sword unlike in the book series where he was a warlord wielding a sword. However, he does have great physical strength, as he used that to assault Taran in the climax.
Other Appearances
Television
The Horned King (who is called "Mr. Cauldron" by Donald Duck) makes appearances in several episodes of House of Mouse. He is also notable to be one of the only characters from The Black Cauldron to appear in the series along with the Cauldron Born.
In "Gone Goofy", he enters the club and shakes hands with Donald.
In "Goofy for a Day", while Goofy sings a song that is a spoof of the song "Supercalifragilisticexpialidocious" from Disney's 1964 film Mary Poppins, he is seen at a table where a penguin waiter serves him his dinner.
In "Max's Embarrassing Date", he sits at a table and laughs with other characters after seeing Goofy fall into a gopher hole dug by Gopher.
Videogames
The Horned King appears as both main antagonist and final boss of the 1986 videogame adaptation of Disney's
The Black Cauldron
.
The Horned King appears as the final boss of the 1992 video game Land of Illusion starring Mickey Mouse under the name "The Phantom", having stolen a magical gem from a village and taken away the valley's good magic that protects its once happy inhabitants. He is clad in dark blue and plum robes instead of his red and brown robes. The Horned King's Castle becomes a floating medieval palace in the sky under the name "Cloud Castle", serving as the game's final stage.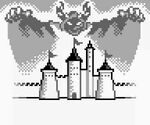 The wicked Horned King is the final boss in the 1989 action/puzzle video game Mickey Mouse, in which he is greatly larger than the titular Mickey. In the beginning of the game, he had kidnapped Minnie Mouse, a similar trait shared by a wicked queen named Mizrabel from who have crossed paths with Minnie and Mickey Mouse.
Disney Parks
The Horned King appeared along with the Cauldron Born and the Black Cauldron in the Tokyo Disneyland attraction Cinderella Castle Mystery Tour. In this tour styled walk-through attraction, the Horned King is the final Disney villain the guests confront. The tour guide will tell a guest the magic words to defeat the Horned King and his Cauldron Born army. At the end of the tour, the guest was awarded a medal for defeating him. The attraction served as inspiration for the final level of a Tokyo Disneyland-based game on the Super Famicom where Pete played the part of the Horned King.
Trivia
His voice is styled after the narrator of the Transformers cartoon, Victor Caroli.
He is the first Disney villain to be a king (while Prince John became the king of England, he was chronologically a prince and his subjects only saw him as a phony).
The Horned King's physical appearance is similar to that of Skeletor from the popular 1980s TV series He-Man and the Masters of the Universe.
The Horned King is one of the few Disney villains without a song. He shares this trait with the likes of Maleficent, Queen Grimhilde, and Shan-Yu.
In the Italian version of The Black Cauldron, Horned King was called Re Cornelius (King Cornelius) because the Italian word for "horned" ("cornuto") also means "a person that has been betrayed by the proper partner".
The Horned King's design later became an inspiration to many numerous villains. Some of the best-known examples would be the Lich from Adventure Time and Lord Hater from Wander Over Yonder.
The Horned King has one of the most brutal and graphic deaths in an animated Disney film, as the cauldron peeled off his skin and sucked off his bones onscreen.
During his death, the Horned King's scream keeps being heard a little time after his body has been entirely destroyed. It might be an animation mistake, but it is also possible that it is meant to imply that he is screaming from his very soul.

Villains
Animated Features
Queen Grimhilde | Magic Mirror | Honest John | Gideon | Stromboli | Coachman | Coachman's Minions | Monstro | Chernabog | Zeus | Vulcan | Boreas | Pink Elephants | Man | Ronno | Tetti-Tatti | Lumpjaw | Willie | Mr. Winkie | Rustlers | Headless Horseman | Lady Tremaine | Anastasia Tremaine | Drizella Tremaine | Lucifer | Queen of Hearts | Card Soldiers | Cheshire Cat | The Walrus and the Carpenter | Captain James Hook | Neverland Pirates (Mr. Smee) | Tick Tock the Crocodile | Rat | Si and Am | Maleficent | Maleficent's Goons (Diablo) | Cruella De Vil | Jasper and Horace | Madam Mim | Shere Khan | Kaa | Bandar Log (King Louie) | Edgar Balthazar | Prince John | Sheriff of Nottingham | Sir Hiss | Captain Crocodile | Rhino Guards | Wolf Arrowmen | Trigger & Nutsy | Heffalumps & Woozles | Madame Medusa | Mr. Snoops | Brutus & Nero | Amos Slade | Chief | Horned King | Horned King's Army (Creeper & Gwythaints) | Cauldron Born | Orddu, Orwen & Orgoch | Arawn | Padraic Ratigan | Thugs (Fidget, Felicia & Bartholomew) | Bill Sykes | Roscoe and DeSoto | Ursula | Flotsam and Jetsam | Glut | Percival C. McLeach | Joanna | Beast | Gaston LeGume | LeFou | Asylum D'Loons (Monsieur D'Arque) | Tom, Dick, Stanley & Walter | The Baker | Wolves | Jafar | Iago | Razoul | Gazeem | Cave of Wonders | Scar | Hyena Clan (Shenzi, Banzai & Ed) | John Ratcliffe | Claude Frollo | Frollo's Soldiers (Brutish Captain & Oafish Guard) | Hades | Pain & Panic | Fates | Cerberus | Titans (Lythos, Hydros, Pyros, Stratos & Cyclops) | Nessus | Hydra | Nemean Lion | Shan Yu | Hayabusa | Elite Hun Soldiers | Cecil Clayton | Sabor | Clayton's Pirates | Firebird | Black Triangles | Jack-in-the-Box | Kron | Bruton | Emperor Kuzco | Yzma | Kronk | Lyle Tiberius Rourke | Rourke's Mercenaries (Helga Katrina Sinclair) | Leviathan | Vikings | Gantu | Long John Silver | Pirates (Scroop, Onus, Hands, Turnbuckle, Blinko, Longbourne, Fayvoon, Grewnge, Krailoni, Hedley, Torrance, Mertock, Verne & Crex) | Nathaniel Flint | Alameda Slim | Rico | Mr. Wesley | DOR-15 | Mike Yagoobian | Dr. Calico | Dr. Facilier | Lawrence | Facilier's Shadow | Friends on the Other Side | Mother Gothel | Stabbington Brothers | Turbo | Cy-Bugs | Sour Bill | Wynnchel & Duncan | Prince Hans | Duke of Weselton | Erik & Francis | Yokai | Alistair Krei | Mr. Yama | Dawn Bellwether | Doug Ramses | Woolter | Jesse | Sheep Cops | Ram Thug | Duke Weaselton | Mr. Big | Polar Bear Thugs (Koslov, Raymond & Kevin) | Te Kā | Tamatoa | Kakamora | Arthur
Live-Action Movies
Long John Silver | Captain Nemo | Pony Sugrue | Prince John (1952) | Chato | The Marten | Kuala | Vicky Robinson | Ute Chief | Jacques Lebeau | Makoos | Durante | Barnaby | James Haggin | Cattlemen | Comanche Chief | Apaches | Mr. Dawes Sr. | Tanamashu | Judge Higgins | Mountain Ox | Peter Thorndyke | Vince Heber | Mrs. Satterfield | A.J. Arno | Chillie Walsh | Colonel Pierson | Ab Cross | Colonel Heller | King Leonidas | Bookman | Swinburne | Mr. Eben | Mark Pierson | Hugh McRae | Sam Eagle Speaker | Kerwood Krinkle | Frank Stillwell | Hnup Wan | Dr. Terminus | Gogans | Charles Olympus | Marshal Wooly Bill Hitchcock | Big Mac | Hans Reinhardt | The Watcher | Bluto | Vermithrax Pejorative | Master Control Program | Sark | Ed Dillinger Sr. | Mark Jennings | Kelly | Mr. Dark | Mike | Rosie Little | Hunters | The Nome King | Princess Mombi | Connie | Bullwhip | Parker | Buzz | Wolf's owner | Timber Wolf | Hunter | Eagle | Alistair Patton | Patton Snr. | Judge Doom | Toon Patrol (Smarty, Greasy, Psycho, Wheezy & Stupid) | Abdullah | Mr. Patel | Nigel | John Merrick | Beauty Smith | Luke and Tinker | Sykes | Cherokee | Lip-Lip | Fritz | Neville Sinclair | Lothar | Jack Reilly | Nigel Snyder | Joseph Pulitzer | Delancey Brothers | Charles Hendrickson | Winifred Sanderson | Mary Sanderson | Sarah Sanderson | John Ricketts | The King & the Duke | Pap Finn | Cardinal Richelieu | Comte de Rochefort | Milady de Winter | Borg Guillarson | Leland Drury | Mr. Heath | Miners | Lloyd Halverson | William Boone | Buldeo | John Wilkins | Tabaqui (1994) | Sergeant Harley | Shere Khan (1994) | Bandar Log (1994) (King Louie (1994) & Kaa (1994)) | Juice (Blank Check) | Ranch Wilder | Injun Joe | Tony Perkis | Agent Woods | Jack and Ralph | Ashcan and Pete | Aunt Sponge | Aunt Spiker | Rhino | Skeleton Pirates | Shark | Cruella De Vil (1996) | Jasper & Horace Badun (1996) | Mr. Skinner | Jean-Pierre Le Pelt | Alonzo | Norman Snively | Ricky King | Charlotte | Lyle Van de Groot | Max & Thor | Lion | Beatrice Stanhope | Chester Hoenicker | Wilson Croft | Smith and Wesson | Bennett Hoenicker | Luanne LeSeur | Meredith Blake | Shere Khan (1998) | Tabaqui (1998) | Bandar Log (1998) | Eddie Taffet | Andrei Strasser | Elliot Coleye | Dr. Claw | Kramer | RoboGadget | Malcolm | Lana Thomas | Elliot T. Jindraike | Toy Santa | Louise Walker | Mr. Sir | Charles "Trout" Walker | Kissin' Kate Barlow | Linda Walker | Sheriff | Hector Barbossa | Crew of the Black Pearl (Bo'sun, Scratch & Pintel & Ragetti) | Ramsley | Zombies | Carla Santini | Lord Kelvin | Black Scorpions (General Fang) | Inspector Fix | Viscount Mabrey | Ian Howe | Captain Bill Fawcett | Zaphod Beeblebrox | Frankie and Benjy | Prostetnic Vogon Jeltz | Vogons | Humma Kavula | Gag Halfrunt | Royal Pain | Stitches | Lash | Speed | Penny Lent | Jadis the White Witch | Jadis' Secret Police (Maugrim & Vardan) | Ginarrbrik | General Otmin | Dr. Kozak | Jack Frost | Davy Jones | Crew of the Flying Dutchman (Maccus & Kraken) | Lord Cutler Beckett | East India Trading Company | Janice Avery | Queen Narissa | Mitch Wilkinson | Simon Bar Sinister | El Diablo | Henry Burke | Miraz | Telmarines (Glozelle & Lord Sopespian) | Nikabrik | Hag & Werewolf | Kendall Duncan | Tess Tyler | Speckles | Lucinda | Oswald Granger | Red Queen | Knave of Hearts | Card Soldiers | Jabberwock | Jubjub Bird | Hamish Ascot | Morgana le Fay | Morganians (Maxim Horvath, Abigail Williams, Sun Lok, Drake Stone & Marrok) | Nizam | Ms. Stout | CLU 2 | Rinzler | Blackbeard | Angelica Teach | The Spaniard | King Ferdinand VI | King George ll | Sab Than | Matai Shang | Tal Hajus | Jenny | Latham Cole | Butch Cavendish | Jay Fuller | Evanora | Theodora | Maleficent (2014) | Diaval | King Stefan (2014) | King Henry | The Witch | The Wolf | Lady Tremaine (2015) | Grand Duke (2015) | Anastasia Tremaine (2015) | Drizella Tremaine (2015) | Lucifer (2015) | David Nix | Shere Khan (2016) | Bandar Log (2016) (King Louie (2016)) | Kaa (2016) | Fleshlumpeater | Giants (Bloodbottler & Bonecruncher) | Pramod Kadam | Beast (2017) | Gaston LeGume (2017) | LeFou (2017) | Asylum D'Loons (2017) (Monsieur D'Arque (2017)) | Tom, Dick & Stanley (2017) | The Baker (2017) | Wolves (2017) | The King (2017) | Armando Salazar | Crew of the Silent Mary (Lesaro) | Scarfield | It | Heffalumps | Sugar Plum Fairy | Tin Soldiers | William Weatherall Wilkins | V.A. Vandevere | Neils Skellig | Pink Elephants (2019) | Rufus Sorghum | Jafar (2019) | Iago (2019) | Cave of Wonders (2019) | Scar (2019) | Hyena Clan (2019) (Shenzi, Kamari and Azizi)
Other Animated Movies
Br'er Fox & Br'er Bear | Giant Magnet | Evil Clown | Merlock | Dijon | Oogie Boogie | Lock, Shock and Barrel | Bill Bluff | BluffCo Industries (Guy Graham, Bob & Bluff Agents) | Phillium Benedict | Anti-Recess Legion (Kojak, Fenwick, Anti-Recess Agents, Anti-Recess Ninjas, Anti-Recess Scientists, Agent Henderson, Agent Smithson, Agent Underville, Agent Franklin, Agent Morrisey, Agent Goodman, Dr. Rosenthal, Dr. Lazenby & Dr. Steinheimer) | Gelman | Ivan Krank | Von Talon | Cufflingk & Underlingk | Kazar | Wildebeests (Blag) | Vidia | Supervisor | Mr. Whiskers | Shelley | Were-Rat | Sea Monkeys | Mr. Burgermeister | Ripslinger | Zed | Ned | Zarina
Sequels
Abis Mal | Sa'Luk | Forty Thieves | Maestro Forte | Fife | Jesters | Zira | Outsiders (Nuka & Vitani) | Mack McCro | Supreme Commander | Morgana | Undertow | Cloak & Dagger | Bradley Uppercrust III | The Gammas | Buster | Sarousch | Pom-Pom | Tad White | Jacques von Hämsterviel | Reuben | Sparky | Leroy | Erik Hellstrom | Lil' Lightning | Lord Qin | Bandits | Mama Gunda | Uto and Kago | Marina Del Rey | Cad Spinner
Shorts, TV Shows, Comics and Video Games
Peg Leg Pete | Phantom Blot | Skeletons | Grim Reaper | Mad Doctor | Demon Cats | Gustav | Lonesome Ghosts | Doctor Vulter | Solego the Chaos God | Arpine Lusène | Eli Squinch | Sylvester Shyster | Fantomius | Inquinator | Spectrus | Zafire | H. U. Hennessy | Jolly Roger | Witch | Zeke Midas Wolf | Captain Katt | Mortimer Mouse | Beagle Boys | Foxy Loxy | Ajax | Witch Hazel | Adolf Hitler | Nazi School Teacher | Little Hans | Fat Cat | Norton Nimnul | Aldrin Klordane | Baby Thaddeus | Stan & Heff | Wooster | Julius | Frankenollie | Mizrabel | Huntsman | Huntsgirl | Al Roker | Chuckles | Princess Irmaplotz | Sharky & Bones | Red Jessica | Beatrice Le Beak | ShiverJack | Grace Goodwin | Shadow Blot | False Shadow Blot | Foxy Loxy | Goosey Loosey | Cedric | Wormwood | Miss Nettle | Sofia the Worst | Mamanu | Princess Ivy | Wendell Fidget | Muck, Gunk & Grime | Crispy | Prisma | Twitch | Vor | Captain Hook | Shuriki | Fiero | Troyo | Rippen | Andrew | Varian | Cruz | Vestia | Oswald Gardner | King Edmund | Cassandra | Zhan Tiri | Tromus | Sugracha the Eternal
Disney Parks
Alien | Auctioneer | Bartholomew Gore | Black Prince | The Bride | Constance Hatchaway | Daisy de la Cruz | Executioner | Hatbox Blast-Ups | Hatbox Ghost | Hitchhiking Ghosts | Knight of the Living Dead | Lava Monster | Mad Hatter | Madame Leota | Master Gracey | Medusa | Monkey King Statue | Nebula Ghosts | Phantom | Pirates | Professor J.T. Wu | S.I.R. | Thunderbird | Werecat Lady | Yeti (Expedition Everest) | Yeti (Matterhorn Bobsleds)
Community content is available under
CC-BY-SA
unless otherwise noted.