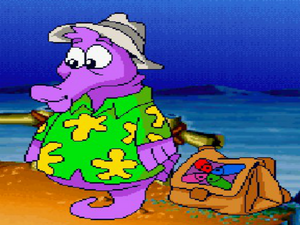 Horst Fedders is the possible main antagonist of the video game Freddi Fish 3: The Case of the Stolen Conch Shell. He is a purple seahorse with a Hawaiian shirt and a hat, showing that he is a tourist. His language is mixed-up. Although one of the six suspects, he is not shown to be the villain in every gameplay, but this is about when he is.
If the item in the thief's bag is a visitor's map, Horst Fedders is the thief. Like every perpetrator in any gameplay, he'll deny it being his, only to get bit on the tail by Old Soggy. He admits he did it because he meant for it to be a souvenir and a hearing aid for his grandmother, unaware that it was valuable. Freddi tells him that whether it was valuable or not, he was still wrong to steal, and that his grandmother would have agreed. Horst apologizes and gives back the Conch, but for his theft, he is convicted on a "525 Granny Larceny" and sentenced to writing a new foreign language phrasebook that wasn't nearly as silly as the last one.
Community content is available under
CC-BY-SA
unless otherwise noted.