| | | |
| --- | --- | --- |
| " | How does it feel to stand on the very stone that ran with your parents' blood? Do you feel sad? Full of rage? Or does that outfit help bury your feelings? Hiding your true self. You're truly an extraordinary specimen... I look forward to breaking you. | " |
| | ~ Professor Strange to Batman. | |
Professor Hugo Strange is a villain from the Batman series. He used to be a normal psychiatrist, but he got overly obsessed with the Batman and his true identity, and he has plotted numerous schemes that revolve around genetics and mind control.
Batman the Animated Series
In the episode "Strange Secret of Bruce Wayne" Hugo appears. Like in the comics he is able to use his psychiatrist skills to figure out Batman's identity and tries to sell it to Joker, Two-Face, and Penguin. However Batman makes it look like he is scamming them. The villains try to kill him however Batman saves him in time. Due to a decoy everyone including Hugo himself thinks he is crazy.
Justice League Unlimited
He makes a cameo in the episode "Doomsday Sanction" as a member of Cadmus. He was originally supposed to appear in the episode "Question Authority" however because of his appearance in the show The Batman the character was off limits. It is also possible that he told Amanda Waller Batman's identity.
Batman the Brave and the Bold
In the episode "The Knights of Tomorrow" he is shown as one of the villians in a montage of villians defeated by Batman and Catwoman.
Young Justice
In the episode "Terrors" he is shown as the physiatrist in Belle Reve prison. After a riot he ends up as the warden this is the real plan as he is secretly working with Icicle and The Light so he can end up helping the criminals in secret operations in the prison.
Batman: Arkham Asylum
Professor Hugo Strange doesn't appear as a villain in the game Batman: Arkham Asylum. One of the Riddler's riddles revolves around him.
Character Bio
He has an entry in the Character Bios. His profile states:
First gaining fame as a psychiatrist who declared that he'd fully analyzed the Dark Knight from afar, Professor Hugo Strange lent credence to his own claims by deducing Batman's true identity as Bruce Wayne. However, his interest in the Batman turned into a deranged obsession, and he's used his medical expertise to hatch a series of bizarre plots based around genetics and mind control in order to defeat the Batman and possibly take his place. Strange's fragile mental state has left him with intermittent knowledge of Batman's true identity, a fact that hangs over Bruce Wayne's head – for if Strange ever snaps completely, Batman's greatest secret might be revealed…
Batman Arkham City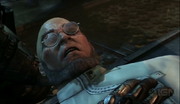 Main Article: Hugo Strange (Arkham City)
Side Story(s)
Strange is also involved in several side stories. He hired Deadshot to assassinate some of the Political Prisoners, Jack Ryder, Bruce Wayne, and Batman.
Attributes
Trained to physical perfection
Knowledgeable psychological analyst
Extensive knowledge of genetics
Obsessed with Batman and Batman's secret identity
Plagued by schizophrenic episodes that leave him confused and dangerous

Villains