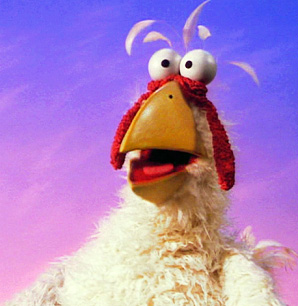 Humongous Chicken is a giant, slow-witted chicken who pesters Elmo as he tries to get to Huxley's castle to retrieve his blanket and the fourth antagonist of The Adventures of Elmo in Grouchland. He got sent by Huxley and Bug to defeat Elmo and mistakes Elmo for a worm. However, upon hearing Elmo sing "I'm a Little Teapot" to prove that he isn't a worm, the Humongous Chicken then thinks that Elmo is a teapot and declares that he can't have tea. He hasn't had his "din-din" yet. He is defeated when his boss, Huxley looks out of the window.
The chicken is a normal-sized hand puppet, but is superimposed over the landscape to appear bigger. He is one of Dave Goelz's few Sesame characters.
A similar varriation of the puppet has later been used on Sesame Street, such as for Super Chicken (with feminine eyelids). It has subsequently been used for multiple other characters on Sesamstrasse.
Community content is available under
CC-BY-SA
unless otherwise noted.